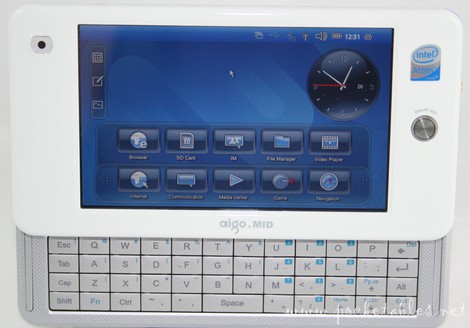 Launched in China in early August, the Aigo P8860 recently became the first (and currently only) Intel MID to be available worldwide. With the help of the Atom-powered device's first official reseller, Direct from Japan, the P8860 is now shipping to destinations all over the world.
Should your mailbox be its next stop? It's a loaded question with a complicated answer that you'll only find below.
System Specifications
| | |
| --- | --- |
| CPU: | 800MHz Intel Atom Z500 |
| Storage: | 4GB SSD with microSD expansion card slot |
| RAM: | 512MB DDR2 |
| OS: | Midinux for Aigo |
| Display: | 4.8" touchscreen (800 x 480) |
| Wireless: | 802.11b/g, Bluetooth 2.0, GPS |
| Size: | 6.0" x 3.1" x 0.9" |
| Weight: | 10.6 ounces |
Box Contents
Included with the MID are an AC adapter, carrying case (high quality, lightly padded, magnetic closure), English quick start guide, cleaning cloth, earphones with built-in mic, USB 2.0 cable, and recovery DVD.
It's a nice set of accessories and should be sufficient for most users to begin using/traveling with the device right away. Nothing spoils the unboxing experience like knowing you'll have to leave your new gadget at home because it only charges via USB or doesn't come with a protective case.
Design
Although I was incredibly underwhelmed by the P8860 hardware when I first unboxed it (I believe I used the words "big, thick, and cheap"), the plastic casing and creaking sounds it makes when just being picked up and held stopped bothering me within a few hours of actually using the MID. Today, after about two weeks of daily use, I still believe the device feels cheaply made, but it's undeniably portable and lightweight. It's bigger than I expected, yes, but it's considerably smaller and more pocketable than other devices with comparable capabilities and potential.
Even though the Aigo MID's rectangular slider design isn't new or innovative (as I said before, it looks very similar to the Nokia N810) and I don't care for the materials, the device still manages to look fairly stylish with its subtle curves and smooth/glossy plastic.
Size
Size comparisons are a common topic around here, so here are a few photos of the P8860 next to a few of my other gadgets to put the MID into some context.
Clockwise from top left: Sony Vaio UX180P, Aigo P8860, Nokia N810, Sony mylo COM-1, Sony mylo COM-2.
Left to right: Sony Vaio UX180P, Aigo P8860, Nokia N800, Nokia N810, Sony mylo COM-2, Sony mylo COM-2.

Left to right: Aigo P8860, Nokia N810, Archos 5, iPhone 3G, first-gen iPhone, first-gen iPod touch.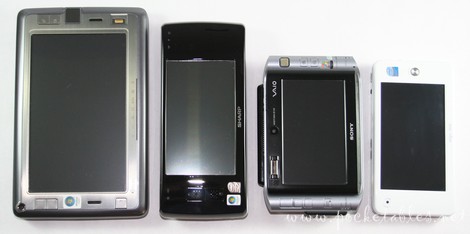 Left to right, bottom to top: HTC Shift X9500, Willcom D4 (with extended battery), Sony Vaio UX180P, Aigo P8860.
Display
The P8860 has a 4.8-inch passive touchscreen with a resolution of 800 x 480. It's bright and colorful and is a great size for enjoyable media playback. Viewing angles are very good from the front, left, right, and top, but are rather poor from the bottom. Tilting the device beyond a 90-degree angle (away from you) results in a darkened, slightly negatived screen.
Controls
Aside from the keyboard (discussed in its own section below), the touchscreen is the primary way to control the device. The screen responds well to finger tips and very well to the included stylus. Fingerprints are an issue, but they're easy enough to wipe away with the supplied cloth or whatever you're wearing.
Navigation would be a bit easier with a trackstick/pointer, as it would allow the MID to always be held between both hands, but the unit is so lightweight that having to hold it in one hand while the other interacts with the screen isn't a problem.
What was that? You thought the silver circle to the right of the display was an optical mouse or pointer? Don't be embarrassed. I thought that too.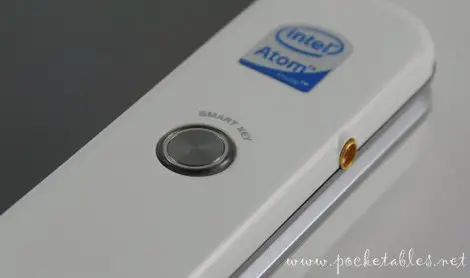 But no, instead of using that space for a navigational control, the manufacturers opted for a round Smart Key surrounded by a ring that glows blue when touched.
Touching the Smart Key calls up the Smart Menu, which slides out from the right and provides shortcut icons to the brightness settings, task manager, connection manager, and power options. While I like being able to access these items quickly, I'm not sure why a simple Fn key combination wasn't mapped to launch the Smart Menu instead. The menu doesn't need an entire hardware key dedicated to it; a mouse pointer would have made better use of the space (think iriver W7, but better).
Let's take a look at the rest of the hardware before moving on to the keyboard.
On the right side of the Aigo MID are the power LED indicator (green = on, orange = charging, blinking orange = low battery), external GPS antenna connector, and internet connection LED indicator (blue = connected).
The power port, microphone, and sliding hold/power switch are on the bottom of the unit.
On the top are a covered mini USB 2.0 port and microSD card slot, volume button, covered USB 2.0 host port, headphone jack, and a camera shutter button for the 3-megapixel rear camera that is not on the P8860 (it's on other models and rebrands like the Gigabyte M528; the P8860 has only a 300K-pixel webcam on the front).
The mini USB port allows the MID to be connected to a PC, but transfer speeds are appallingly slow. I connected the device to my Vaio TZ and saw transfer rates of a 700MB video file peak at only 943KB/s.
And finally, a loudspeaker (very loud!), removable battery cover, stylus slot, and reset pinhole are on the back of the device.
Keyboard
The display slides up with some guidance (it's not spring-loaded) to reveal a 48-key backlit QWERTY keyboard.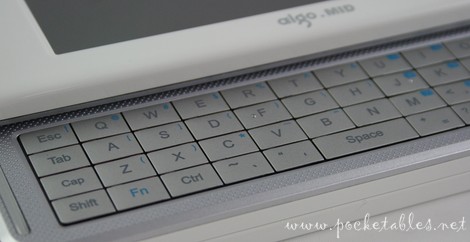 The keys have a matte, almost powder-like finish and are evenly sized (except for the space bar) at about 1 cm apiece. Though this is a nice size, thumb typing is made difficult by the lack of space between the keys and the proximity of the top row and the bottom of the screen bezel. The Nokia N810 keyboard has smaller keys but is plagued with these same issues. The size of the Aigo P8860's keys results in fewer mispresses, which is good, but the top row is actually a teensy bit closer to the bezel than the N810's, making bumping into it much more of a problem (for me, anyway) when thumb typing.
What happens to me is that my fingernails, which I had to cut short to type at all on this keyboard, actually get "caught" in that little crack between the thick white bezel and the thin layer of silver beneath it. This doesn't happen all the time, but it's often enough for me to notice.
It's difficult to make out in the photos, but each key is ever-so-slightly raised. It feels like small round buttons are underneath the keys, centered to provide optimal tactile feedback when pressed. For a set of keys that are so flat and lay so flush against the casing, feedback really is quite excellent. My only complaint is the space bar. It's twice as big as the rest of the keys and therefore has two "small round buttons" beneath it: one on the left side, and one on the right. This leaves the middle of the space bar (where my thumbs naturally try to press) almost completely flat. Pressing this area provides virtually no feedback and slows down typing because I can't tell whether or not the keystroke has registered. The space bar isn't big enough for my thumbs to "stay on their side," so to speak; they both aim for the middle.
Other factors that contribute to compromised typing are the single left Shift key and lack of a Sticky Keys feature, which make capitalizing "left-hand letters" very difficult. The left thumb is already occupied with holding down the Shift key, so unless you use the caps lock key (and can remember to "unlock" it immediately after use) instead, you'll need to stretch your right thumb across the entire keyboard just to start a sentence with a capital A.
Because of these issues, my thumb-typing speed (after two weeks of regular practice) is only 35% of my touch-typing speed on a full-size keyboard. You can see from my mobile device keyboard typing speeds chart that this is the same rate that I was typing on the iPhone and Nokia N810 (also after two weeks of practice). Continued use of the MID would yield improved results, but as shown in the chart, the Aigo's keyboard is one of the worst for me. Your mileage may vary.
User Interface
Preinstalled on the P8860 is the Midinux for Aigo operating system (version AG.030.5002). It is designed as a self-contained, closed system so unless you hack it (see "Hackability" section below), what you see is what you get. You cannot uninstall existing programs or install additional ones; everything that comes with the MID stays on the MID.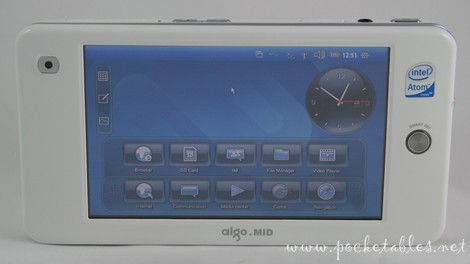 So aside from four seasonal themes ("Summer" is shown throughout this review) and a row of five user-selectable shortcuts, the user interface looks like this.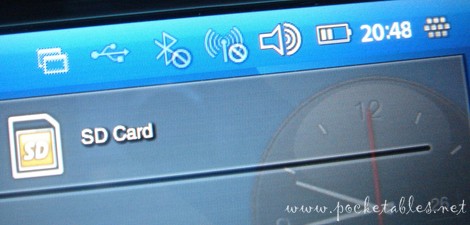 At the top of the home screen is the status bar. Tapping the icons brings up a window that allows you to change settings and view additional information. From left to right: task switch, USB, Bluetooth, wi-fi, volume, battery, time, and keyboard language layout.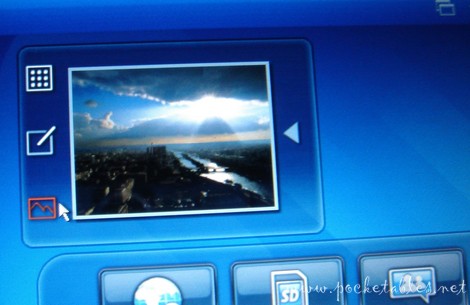 On the opposite side of a large, glassy clock are a stack of three widgets: calendar, to-do list, and slideshow. Tapping an icon will open the respective widget and expand the translucent "dock" to display its contents.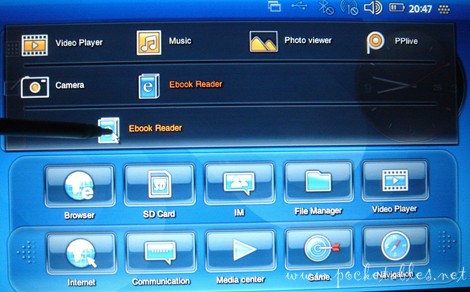 The lower half of the interface is dedicated to the main toolbar (bottom row) and the quick menu above it. The main toolbar includes nine application sets (internet, communication, media center, games, navigation, my financing, business center, tools, and system config), only five of which can be displayed at the same time. To view more app groups, you can drag your finger or the stylus across the toolbar or simply tap/press the bumpy-looking arrows on either end.
Tapping any group's icon will open a black pop-up panel containing applications in the top half of the screen. For example, the media center group includes a video player, music player, photo viewer, PPLive, camera (webcam), and ebook reader. These icons can be dragged into the quick menu, the static row of five apps above the main toolbar. Shown in the above photo: dragging the ebook reader icon to the quick menu.
Even though the interface is responsive, easy to use, and not bad to look at, I still find it too rudimentary for my personal taste, especially compared to some of the UIs on other MIDs.
Applications
As mentioned earlier, the only way to get rid of or add new applications to the Aigo MID is to hack the OS (or install a completely new one; again, see "Hackability" section below). Since not everyone has the skill set or interest to stray from a system's factory state, most consumers will leave the P8860 as is and either enjoy, tolerate, or ignore the following preloaded applications/utilities (listed by application group):
Internet: Coolfox browser (discussed separately below)
Communication: Pidgin IM, Tencent QQ (Chinese IM)
Media Center: Video player (XviD, DivX, and 480p HD H.264 play well; 720p and 1080p are a no-go), music player, photo viewer, PPLive (Chinese P2PTV), cam era, ebook reader
Game: OurGame (Chinese online games)
Navigation: GPS
My Financing: stocks, Alipay (Chinese version of PayPal)
Business Center: EIOffice (word processor, spreadsheets, presentations), mail/contact, PDF reader, calendar, audio recorder, dictionary, to-do list
Tools: File manager (photo below), calculator, microSD card manager
System Config: Connection, language, system info, sound setting, power, time config, theme, connect to PC, touchscreen calibration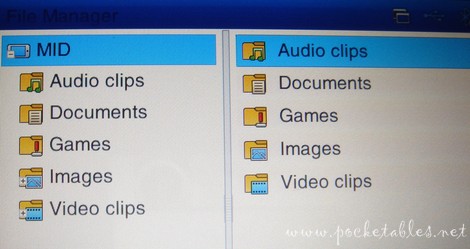 The default software may not be the best in its class, but the range is fairly complete. A flexible user who isn't already devoted to another title or too picky will find that nothing truly essential is missing. The Aigo P8860 wouldn't necessarily be able to replace a laptop (it wasn't designed to), but for a certain user it could on short business trips, for weekend getaways, and during commutes. In other words, while it would be great to be able to install third-party apps onto the MID by default (i.e., without hacking), not being able to do so won't be an automatic deal breaker for everyone across the board.
Connectivity
The P8860 doesn't not have built-in 3G, so the only way to get online is via Bluetooth DUN (PAN doesn't seem to work) or wi-fi.
The connection manager, though basic, is adequate for enabling/disabling wireless radios and controlling wi-fi settings.
Bluetooth
The Aigo P8860 MID uses BlueSoleil as its Bluetooth software. I can't find a complete list of supported profiles anywhere, but according to what BlueSoleil lists under services, the device only supports the file transfer, object transfer, and serial port profiles. This is obviously an incomplete list, as DUN and HID have also been proven to work, but I guess it's a start. I would assume that the headset profile is also supported; after several unsuccessful attempts at pairing my Aliph Jawbone headset, however, I can't confirm that it is.
Internet (Coolfox)
In addition to being unable to connect the P8860 to my Bluetooth headset, I also can't connect to my home router (802.11g with WPA2-PSK security). I've explained the issue in the forum and have also contacted Aigo directly about it, but to no avail. The MID just won't connect. Fortunately for this review, it has no problem connecting to other networks in my area.
Once an internet connection is established, the Coolfox browser takes over (after you launch it, of course).
Coolfox is believed to be a slimmed-down version of Firefox. There's nothing particularly extraordinary about it, but it works well and is fine if you lack the know-how or interest in hacking the OS to install something better like real Firefox. I'd be happier with Fennec as the default browser, personally, but considering that it's still only in alpha, that obviously isn't a viable option at this time.
Tabbed browsing, Flash, javascript, pop-up blocker, copy-and-paste, and drag scrolling are all native features of Coolfox, so the internet experience on the P8860 is considerably fuller than on other devices. But it's not without its shortcomings.
For one thing, full-screen mode (above) isn't really full screen because the tab and navigation bars are both fixed in their locations.
And if you encounter a web page that has been optimized for resolutions higher than 800 x 480, then you've got a horizontal scroll bar to contend with as well. These three bars (scroll, tab, nav) take up one-fifth of the screen!
The fact that the navigation and tab bars cannot be hidden makes the inclusion of navigational controls in the menu rather curious.
That said, Coolfox is a good browser. It loads pages quickly (see page load times in my P8860 vs Archos 5 article) and renders them exactly as they should be. YouTube and UStream play relatively well, but full-screen YouTube, Hulu, Vimeo, and Blip videos are often unwatchable because of dropped frames and stuttering.
Hackability
One major advantage that the Aigo MID has over non-Intel "MIDs" is that in the right hands, it is extremely hackable. P8860 owners have already made great strides in opening up the system, loading applications from the Fedora 7 repositories, and even installing other operating systems (e.g., Ubuntu, UME, XP, and almost Vista).
At the time of this writing, Aigo is preparing the release of an official set of XP drivers. Some owners have already come very close to getting a fully functional XP onto their MIDs (the biggest sticking point has been the touchscreen), but these drivers are obviously highly anticipated and can't be released soon enough.

When the drivers do become available, the Aigo P8860 may very well be the smallest/lightest XP machine around. The only XP-based UMPC I have is the Sony Vaio UX180P (512MB RAM just like the P8860) and as you can plainly see above, it's nearly twice as thick as the Aigo. Even though I prefer Vista over XP (yeah, the cheese stands alone), the mere thought of being able to have a full-blown Windows OS on something of this size makes me giddy.
Battery Life
The Aigo P8860 is powered by a removable lithium polymer battery (3.7V, 2700mAh) estimated to be good for 3 to 5 hours of use, depending on various settings and factors. With the screen set at mid-brightness (level 4 of 7), I got just under 3 hours of wi-fi time browsing the web and watching a few online videos. Doing less intense activities like emailing or reading the news on a lower brightness setting could probably push wi-fi runtime closer to 4 hours.
Conclusion
The Aigo P8860 is a complex device with a target audience that is difficult to define.
On the one hand, it's a consumer-oriented gadget that provides everything the average user needs to stay connected, be productive, and be entertained with little compromise. Unfortunately, these same users could fail to see the difference between the P8860's capabilities and their current smart/feature phone's functions. They may be able to identify cert ain differences (e.g., Flash support, higher resolution screen, etc.), sure, but it is unlikely that these differences would outweigh the inconvenience of carrying two devices.
More technologically savvy users, on the other hand, will be better able to appreciate the technology involved in shrinking an x86-based system to this size. They could happily adopt a two-device strategy while on the go, but may be frustrated at the closed nature of the MID's operating system, unimpressed with its hardware, and unsatisfied with the available software.
Then there's the small percentage of expert users who will unbox the P8860 with pure delight and hack its software (and maybe even its hardware) without abandon. This is the group that is currently finding the unit most appealing. And while there's certainly nothing wrong with Intel MIDs being niche devices, marketing a product whose most exciting feature is its potential is a hard sell. It's absolutely fantastic that the P8860 can be made into much more than it is, but most people would rather purchase a device that "just works," not one that can work really well with the right modifications.
Without its potential, where would the Aigo P8860 be?
The Aigo P8860 MID is available now for $699 at Direct from Japan.
Visit the Aigo MID forum to get help, share tips, and chat with other Aigo P8860 owners.