Out of all the new digital media players shown off by iriver at CES 2008, the SPINN was probably the one that consumers were most excited about. Whether it was the way its first video demo "killed without words" or simply that people were intrigued by its unique wheel control, many have been waiting to get their hands on the flash-based player for months.
Good news for the impatient: the wait came to an end a few weeks ago. The iriver SPINN is now shipping worldwide in 4GB and 8GB capacities from Warehouse123.com.
But do good things really come to those who wait?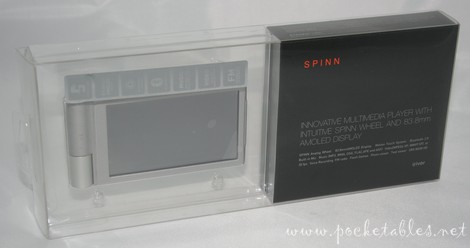 This review is based on the SPINN running firmware version 1.21.
System Specifications
Capacities:

4GB, 8GB
Supported audio:

MP3, WMA, OGG, FLAC, APE, ASF
Supported video:

MPEG4-SP, WMV9 SP
Extras:

Flash games, Bluetooth, photo viewer, FM radio,
FM and voice recorder, text viewer
Display:
3.3″ AMOLED touchscreen (480 x 272)
Dimensions:
3.9" x 2.0" x 0.4"
Weight:
2.5 ounces
Contents
Included with the SPINN is iriver's usual fare: earphones, proprietary USB cable, mini software CD, quick start guide, and warranty booklet.
Design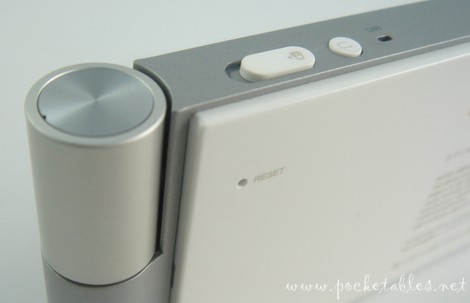 Looking decidedly less shiny than in early photos, the SPINN is a mixture of white matte plastic and various shades of silver metal. It feels very durable and is much better built than many of iriver's recent products.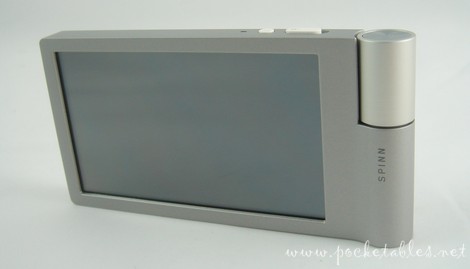 The edges are a little sharp, giving the SPINN a somewhat industrial look, but the hardware and form factor are undeniably striking.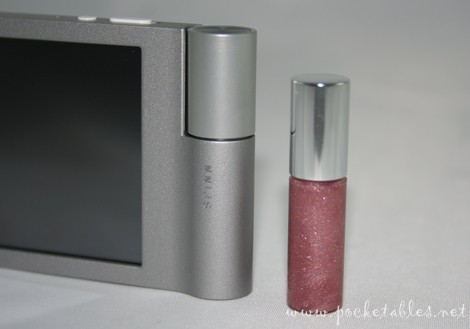 I don't care for the design myself, as I can't look at it without seeing a tube of lip gloss attached to a screen, but that's just me.
Size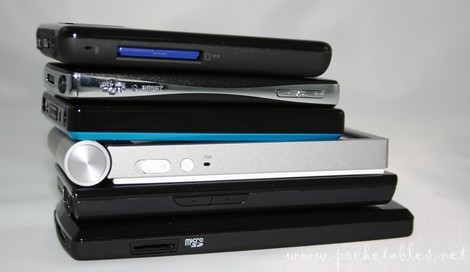 Display
Ever since the clix 2 swept me off my feet 1.5 years ago, I've been waiting for iriver to make another player with an AMOLED (active-matrix OLED) screen. AMOLEDs are superior to regular LCDs because they offer unlimited viewing angles, display colors more vibrantly, and are just brighter and more energy efficient. Needless to say, I was thrilled when iriver announced not just that the SPINN would be equipped with an AMOLED, but that it was bigger and had a higher resolution than the clix 2. My expectations were high.
But while the clix 2 thoroughly wowed me with its screen, the SPINN left me feeling just a little disappointed. The display is amazing, especially for a touchscreen, but it doesn't look as good as the clix 2. Not to me, anyway. Take a look at these comparison pictures, for example, and I think you'll see that the SPINN looks darker and less vivid. Maybe if the screen supported 16.7M rather than just 65K or 262K colors (both have been cited as part of the "official" specs), the clix 2 could have been dethroned. As it stands, however, the SPINN does not have the most beautiful display I've ever seen.
But it does have the only AMOLED touchscreen I've ever seen . . .
Controls
Though the touchscreen is fairly responsive and offers haptic feedback, the SPINN is better controlled using the hardware buttons and, of course, the player's namesake: the "spinning" cylinder that iriver calls the wheel.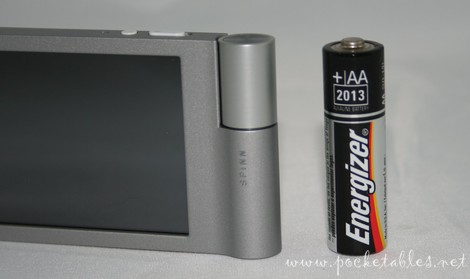 Truth be told, the SPINN should've been called the TURNN. The metal wheel doesn't really spin; it turns (in both directions) and clicks as it passes over 12 hidden notches/grooves. Turning isn't quite as fun as freely spinning, perhaps, but it allows for quick yet controlled scrolling.
The entire wheel also doubles as a giant OK button. A quick press selects an item, while a press and hold performs one of five Smart Key operations: displaying the "Now Playing" screen, playing/pausing, switching the display orientation, starting/stopping recording, or turning the display on/off. When the player is in hold mode, the wheel can also be used to control the volume.
While the wheel is undeniably versatile, it obviously can't do everything. That's where the rest of the ports and buttons on the SPINN come into play.
At the top of the player are the mic, back button, and hold switch.
A proprietary USB port and standard 3.5mm headphone jack are on the bottom.
On the left are volume controls and the power button.
And on the back is the reset pinhole.
User Interface
As with the iriver clix 2 and a few other players, the SPINN supports user-created themes (including fonts, images, and icons) designed in Adobe Flash Lite 2.1. The clix 2 came with six insanely colorful themes, each with seven different wallpapers, but the SPINN ships with only a dull gray-and-orange interface that makes a very weak first impression.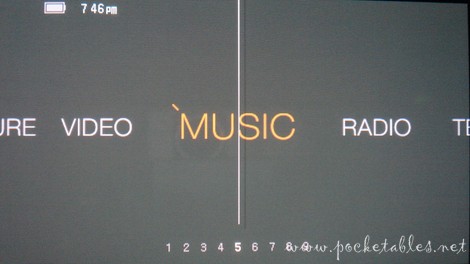 The interface is very usable, responsive, and well designed for the wheel control, but it isn't completely optimized for finger use. In fact, some elements are so small that I had to check the box again to make sure I didn't overlook a stylus (iriver designed a stylus-driven interface for the W7, so I thought it was a possibility).
Main menu and submenu items are listed horizontally, while media content and context menu items are listed vertically. It feels strange at first that the same action (i.e., spinning the wheel) performs both left-to-right and up-and-down movements, but it's easy enough to get used to. See the SPINN in action on YouTube.
Transferring Content
The iriver SPINN is both MTP- and MSC-compliant, which means that there are no restrictions on how content can be transferred from a computer. MTP is for PC users who prefer Windows Media Player, Rhapsody, and other music management software, while MSC is for people who use other operating systems and/or Windows users who want the SPINN to appear under the "devices with removable storage" section in My Computer. MSC is also required to use the supplied iriver plus 3 software.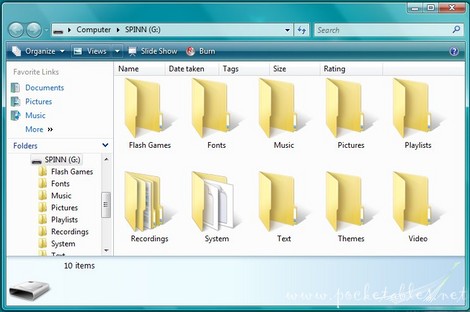 Both connection types support drag-and-drop, but software is needed for more advanced features like syncing and playlist management.
Audio
Except for the E100, great sound quality has always been a hallmark of iriver products. Their DAPs don't have the best sound quality, but it's definitely above average and more than satisfactory for casual listeners who use stock buds or a low-end set of IEMs.
With my Ultimate Ears super.fi 5 Pro and careful listening, however, the SPINN doesn't sound as bright or balanced as something like the Sansa Fuze/Clip. If music were a tangible object, I'd say that on the SPINN it sounds like it's been covered by a thin layer of plastic wrap. I get the sense that if the "film" could be lifted, the mids would sound maybe not as good as the Fuze/Clip, but pretty darn close. The highs, on the other hand, need to be softened (I actually winced a few times), while the lows need to picked out of the mud and washed off. I can only imagine how a true audiophile with top-shelf headphones would interpret that!
If this is how music on the SPINN sounds, let's see how it looks.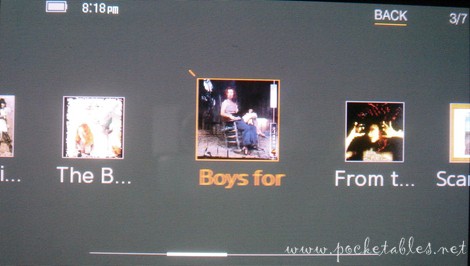 Even though iriver has always treated album art like an afterthought, it's still very disappointing to see a great opportunity for the 3.3-inch AMOLED to shine . . .  go to waste. Images are small and grainy; the entire "system" looks like a rejected prototype of Apple's Cover Flow.
The "Now Playing" screen is another wasted opportunity, as nearly half of it is empty.
Why the options menu (play mode, select EQ, scan speed, playback speed, and lyric display) couldn't open on the blank side of the screen is beyond me. Is it really that hard to switch the locations of the OPT and BACK controls?
Quibbles aside, there are some nice features of the music interface as well. One that pops out at me most is how sharp all the text is. Other fonts can be dragged into the Fonts folder and applied at will (Set -> Display -> Fonts), but the standard one is big, clear, and easy to read.
Though I find it strange that the touchscreen must be used to rate songs and add them to a Quick List, I like that both the Quick List and rated songs (1 to 5 stars) are grouped together in the playlists submenu. If used wisely, these are fine substitutes for six traditional on-the-go playlists.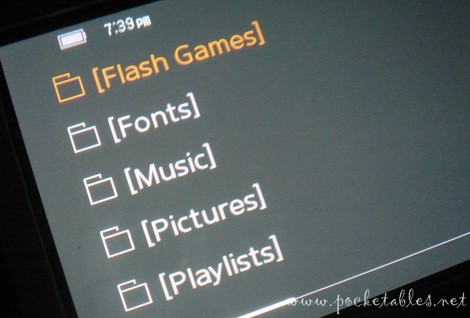 Another positive point is that music (and other content) can be browsed in their original folder structure through the SPINN's File menu item. Music can be displayed in file tree mode under the regular Music menu item too (SET -> Advanced -> Music Browse Type -> Database or File Tree).
Video
According to the product manual, the iriver SPINN only supports AVI and WMV9 video files with a resolution of 480 x 272 and bitrates up to 1Mbps and 850kbps, respectively. In reality, however, the player is not very strict with these parameters.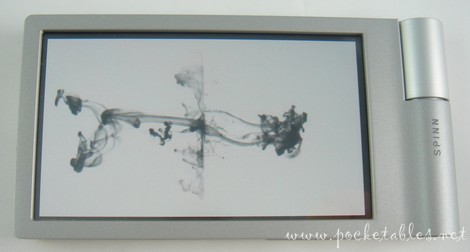 I transferred a 608 x 320 XviD and 320 x 240 DivX 4 without conversion onto the SPINN with no problem. Playback wasn't perfect with the XviD, as the player doesn't scale the resolution, but it was watchable and would certainly do in a pinch if conversion wasn't possible beforehand. The other file played as smoothly as if it had been preloaded by iriver.
Video playback features are pretty barebones, with nothing more than scan speed, resume, and sequence play listed in the options menu. Bookmarks and view mode (full screen, auto, etc.) would have been welcomed inclusions.
Extras
Flash games
In addition to Flash themes, the iriver SPINN supports Flash games (Flash Lite 2.1, less than 20 fps). Two games are preinstalled but more can be added by dragging SWF files into the Flash Games folder.
I said in my iriver W7 review that although games designed for the clix 2 run on the W7, they don't run particularly well because they were designed for the clix's 320 x 240 screen and D-Click navigational system. The same is true for the SPINN. Likewise, although there are many 480 x 272 Flash games designed for the PSP, they aren't necessarily a perfect fit for the SPINN.
Bluetooth
The SPINN is iriver's first player to have built-in Bluetooth 2.0 with A2DP support.
The Bluetooth implementation isn't as extensive as it is on the Samsung P2, but pairing a headset (even a non-stereo one like my Aliph Jawbone) is simple. Just go to Set -> Bluetooth -> Add New Headset, wait for the SPINN to discover devices within range, and select the one you want.
Photo viewer
There's never anything particularly remarkable about photo viewers on digital media players, and the SPINN is no exception. Pictures (JPG only) look great on the device's AMOLED screen, sure, but everything is still very commonplace: slideshows with transitions and delay intervals, zoom, and the ability to set an image as wallpaper.
FM radio
The FM radio is also exactly what you'd expect: automatic and manual scanning, presets, stereo/mono quality, and tuner region.
Unexpectedly, the tuner's sensitivity is lower than other players I've used. It missed some of the main stations here in Honolulu that other DAPs can pick up with no problem. The radio cannot be used with Bluetooth headsets, but it can serve as background music while viewing photos and reading text.
FM and voice recorder
FM and voice recordings are saved in MP3 format in their respective areas. You see that small stack of three lines in the bottom left corner of the FM radio image above? That's where the FM recordings are stored. The icon also appears on the voice recorder screen.
Text viewer
The SPINN's large screen makes the player work fairly well as a text viewer in either landscape or portrait mode. Features here include selectable font sizes, auto scrolling, and text language. The wheel, which is used to scroll up/down, performs this function nicely.
Battery Life
Built into the SPINN is a non-removable lithium polymer battery rated at approximately 25 hours for audio playback and up to 5 hours for video. Actual runtime varies according to usage and other factors, but I've found the estimates to be a tad inflated.
Conclusion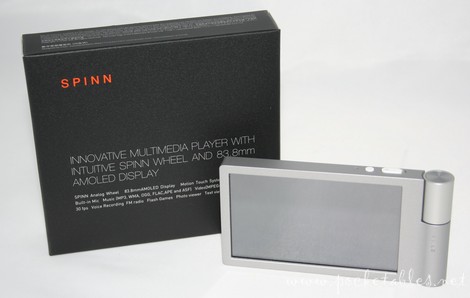 The SPINN is iriver's best DAP so far this year and a refreshing change from the string of budget players released before it. It's built well, sounds good, and sports a one-of-a-kind design with a beautiful display.
While this is proof that iriver hasn't completely lost its way, I can't help but wonder if the company peaked with last year's clix 2. Because while the SPINN may look like nothing else on the market, it acts like players we've seen before. AMOLED? Though smaller and not touch-enabled, we already saw it on the clix 2 about 18 months ago. Bluetooth? The Samsung P2 has it and does it better. Flash? Refer again to the clix 2 and also the W7. The SPINN doesn't have to do anything game-changing for it to be a solid product, of course, but I just expected more. This should be iriver's flagship product, but how can it be when it maxes out at 8GB, lacks an expansion slot, wastes opportunities afforded by its large display, and has a dull interface that doesn't make full use of its touchscreen?
The SPINN is still a great player and I can understand why consumers would adore it, but I'm frustrated by its unrealized potential. I just think it could have been so much more.
Carrying an MSRP of $250 (4GB) and $290 (8GB), the iriver SPINN is available now from Warehouse123.com for $197 and $234.