SFR launches M! PC Pocket: Subsidized MID for France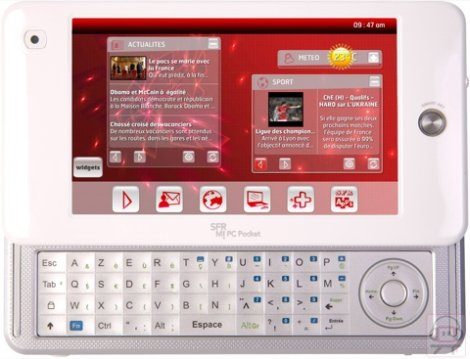 Talk about lost in translation. It turns out that the French issue of Stuff magazine that leaked Archos 5g and M! PC Pocket "pricing" didn't have their facts straight before they went to print. I've already updated the 5g post (subsidized: €249 with €19/month contract; unsubsidized: €449) with information from today's SFR event, but the M! PC Pocket needs to be addressed separately because Stuff got the specs mixed up too.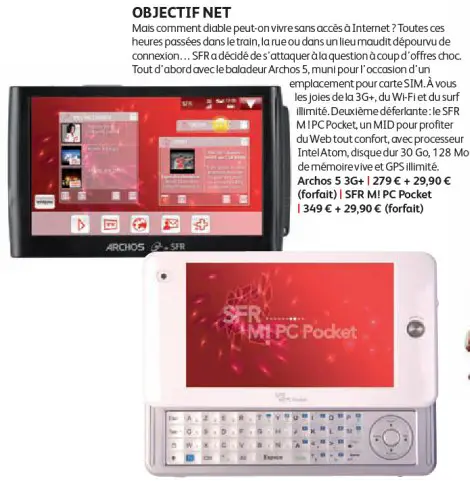 Contrary to what is printed in the blurb on page 32 of the magazine (above), the M! (despite the exclamation point, the word is pronounced "mi") PC Pocket MID does not have a 30GB hard drive or 128MB of memory. That's the Archos 5g.
Instead, the Compal-manufactured M! PC Pocket has this to offer:
4.8" touchscreen (800 x 480)
800MHz Intel Atom Z500
4GB SSD
512MB RAM
3-megapixel rear camera and VGA webcam
Wi-Fi, Bluetooth, 3G/3G+
5.98" x 3.15" x 0.87"
11.5 ounces
€249 (after €100 rebate) with €19.90/month contract for existing customers, €24.90/month for new customers; unlimited data may be limited to 128kbps (!) after 500MB is used
Two-year contract required
Available in France on November 19
Check out an abundance of hands-on photos from the press event at Le Journal du Geek and Mobiles-Actus.
[
BusinessMOBILE
(trans)]