Quick look: AT&T USBConnect Mercury 3G modem
The USBConnect Mercury
is AT&T's newest and smallest broadband USB modem. In addition to its size, what makes the Mercury unique are its integrated microSD card slot and plug-and-play software installation.
Released in September and often available for free with a two-year $60/month DataConnect contract, the modem has recently begun to show up new or used (but always contract-free) on eBay. That's where I picked mine up in brand new, still sealed-in-box condition a few days ago.
If you're looking for something portable, versatile, and HSPA-flavored to accessorize your UMPC, netbook, and/or the Aigo MID you could win (and hack), then the USBConnect Mercury could be the end of your search. Have a look below.
The reason I bought the Mercury when I already have the Option GT Max 3.6 Express is an obvious one: more devices have USB ports than ExpressCard slots. Simply put, I wanted a single accessory that would provide 3G connectivity to more than just my Vaio TZ and Kohjinsha SC3 (the HP 2133 has an ExpressCard slot, too, but it doesn't get along with the modem).
And the Mercury is it.
There isn't much to say that isn't conveyed below, so I'll let the following photos speak for themselves.
One thing I should mention here is that the Mercury will only self-install the required AT&T Communication Manager (ACM) software if you don't already have it installed. If you do, make sure you uninstall it before plugging in the modem for the first time. Otherwise, you'll get a series of "cannot find driver software" messages that will turn the Mercury into an overprized microSD card reader. Having an existing copy of ACM installed will also make the modem unable to switch between its two modes (software installation and modem).
Provided that your computer is ACM-free, the drivers will be installed in seconds and the software wizard will follow shortly after.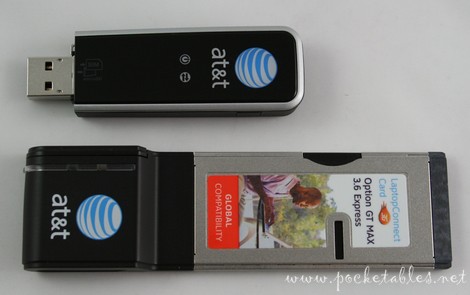 AT&T's 3G network typically tops out at 1.7Mbps down/1.2Mbps up and shouldn't be slower than 700kbps down/500kbps up, but actual speeds tend to vary by location and other factors.
Even though the Mercury sticks out about 2.5 inches from whatever it's plugged into, which is farther than the ExpressCard (as shown above), it's still one of the best accessory purchases I've ever made.
Now if only I could get it working with the CradlePoint CTR500 travel router. Orbital?