Sony Expo 2009 in Honolulu, Hawaii
Does anyone know which Sony department I should contact to request a refund of my time? Because I just spent an hour inside the Hibiscus Ballroom at the Ala Moana Hotel for the annual Sony Expo today, and I'd like that time back.
This was the third consecutive Expo my husband and I have attended, and it will most certainly be our last. The event is never exciting, as it isn't used to launch new products, but it was never this lame.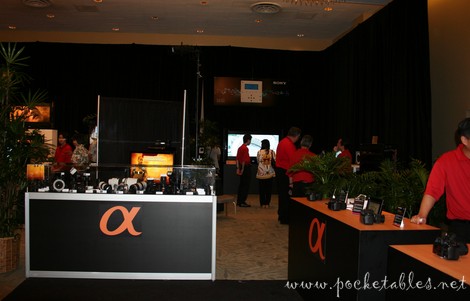 For starters (and unlike in previous years), there wasn't even a sign indicating what was going on in the ballroom . . . which probably explains why red-shirted workers/reps outnumbered the amount of attendees.
If it weren't for the 11.1-inch OLED TV (shown under glass as a prototype last year) and the HomeShare HS-KP1 Keypad (you know, of course, I mistook it for something else from afar), I wouldn't have stopped to get a closer look at anything on display.
The Vaio UX wasn't there (no surprise) and the only mylo 2 in attendance was the one you can sort of make out above. I don't understand why it was laying there between a PSP and Sony Reader on a cushioned bench with no identification, but the evidence is certainly mounting that the internet device is on its way toward being replaced or discontinued. I will be very surprised if we don't see a bonafide Sony MID at CES 2009.
There was a very palpable swap meet or flea market feel to the ballroom, with various accessories unappealingly arranged on makeshift walls. Whether or not this is actually true, the whole event felt slapped together by people who didn't care about it to me.
I mean, look at this asinine display of a garden gnome getting ready to slide into an inflatable pool full of crumpled cellophane and a couple of waterproof camera casings. Really, Sony?
Equally baffling was this little airplane setup that featured seats with way too much legroom sitting beside a wall of earphones and DAPs. Wouldn't the ultraportable size of a subnotebook (or a UMPC or netbook, if Sony made them) be better conveyed on a tray table than DAPs that already fit into palms and earphones that can be put in pockets? I just don't get it.
So anyway, if you know who I should contact about getting a refund of my time, let me know in the comments. And if you've scrolled through all of this, then you'll probably want a refund of yours as well.