15 tips for new Sony Ericsson Xperia X1 users
The Sony Ericsson Xperia X1 smartphone works pretty well right out of the box, but since Windows Mobile works better when tweaked and the X1 isn't perfect in its factory condition, I've put together a list of 15 tips to help users get the most out of their devices as quickly and easily as possible.
Whether it's a software/utility recommendation, a little trick, or a simple tweak that doesn't require a registry editor, all of the following tips are sure to enhance and improve the Xperia X1's user experience.
These tips can be used in any order and combination, so feel free to pick and choose.
Click on a tip below for more information.
Please note that this is not an exhaustive list.
Download more panels.
Since one of the highlights of the X1 is its panel interface, it only logical to make the most of it. Some have commented that the panels are too gimmicky to be useful; while there is certainly an element of novelty involved, the panels have the potential to be powerful because of their ability to make so much information accessible so quickly.
The seven preinstalled panels (3D Fish, Xperia Radio, two Sony Ericsson layouts, Media Xperience, Google, and Microsoft Today) can all be rearranged and removed at will. Even better, more panels can be added by downloading them directly to the X1. Just tap the Panels button on the default home page in Opera 9.5 or Internet Explorer.
Create your own panels.
At the time of this writing, there are six additional panels that can be downloaded to the X1: Cool Hunting, Dashwire, FaceBook, Slideshow, Spb Mobile Shell, and Windows Live. If you don't find any of these appealing and/or you don't want to wait for more to become available, then go ahead and make your own! Developers can use the official SDK, while others can hone their skills with the unofficial panel creator.
Install XperiaTweak.
Editing the X1's registry to modify default settings and system configurations isn't for the uninitiated.
That's why a free application like XperiaTweak (via xda-developers) is an absolute must-have. Among other things, it allows you to change the LED illuminations, use different fonts, and disable certain behaviors . . . all with a simple tick of a checkbox.
Map soft keys.
Although certain Xperia panels and various plug-ins/themes let you add program shortcuts to the Today screen for quick access to applications and utilities, too many icons can turn to clutter and make finding what you're looking for more difficult.
So I keep my preferred panel clean and rely on the hardware soft keys for launching my most-used apps. To do this, just go to Start -> Settings -> Personal tab -> Buttons. Highlight a key and select the desired action from the "Assign a program" drop-down menu.
If you want to map more than just the soft keys, take a look at X1ButtonMapper.
Use VistaHide Battery Gauge.
My favorite battery meter for Windows Mobile devices is VistaHide Battery Gauge (freeware).
It's an unobtrusive color-coded gradient bar that sits at the top of the screen and "shortens" as the battery depletes. Very nice.
Patch Skype with audio output fix.
If you're an avid Skype user, then you've probably already installed Skype for Windows Mobile 2.5. And if you've made your first call, then you also already know that the audio is only output (poorly) through the X1's small speaker. To redirect the sound to the earpiece speaker, download MarceloFB's sound output switch and run it before launching Skype.
Switch to VGA resolution as needed.
There aren't too many third-party applications out there that natively support the Xperia X1's WVGA (800 x 480) resolution, so if you're upgrading to the X1 from a Windows Mobile device with a lower resolution, a lot of your old apps may not work.
If these programs support VGA (640 x 480), however, you can grab a free copy of WVGAFIX2 and toggle between the two resolutions at any time.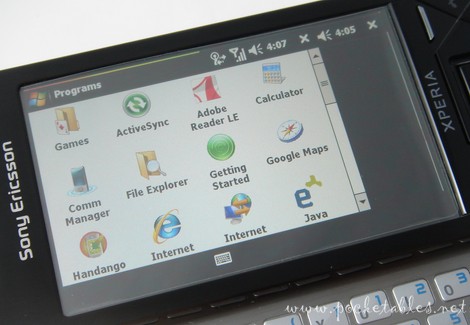 The emulated VGA screen isn't pretty, but I think being able to use your favorite VGA apps is more important than some temporarily blacked out pixels.
Unlock 802.11g wireless standard.
This may not really apply to the X1 (I haven't looked at the registry and am getting mixed results), but it's worth sharing since it doesn't do any harm and is a nice general tip for all Windows Mobile Professional devices.
Apparently, many smartphone WLAN cards have the faster 802.11g wireless standard disabled by default. Naturally, ena bling "g" mode results in increased WiFi speeds. You can test your speed at DSLreports before and after installing the CAB file to see for yourself whether it makes a difference on your X1. My speeds ranged between 520kbps to 1318kbps without the "g tweak" and maxed out about 1797kbps with it.
Keep tabs on data usage with Spb Wireless Monitor.
We've all heard horror stories of people receiving huge bills after being slammed with fees for excessive data usage. Don't be one of them! Since even "unlimited" data plans can sometimes be capped (check your carrier's fine print), it's a good idea to keep an eye on your usage. Better yet, let Spb Wireless Monitor ($19.95) do it for you.
Get YouTube app (and panel).
If you live and breathe YouTube and aren't content to get your fix using Opera and Flash Lite 3, then waste no time in getting zenkinz's beautiful YouTube app.
When you're done, you can install Mole91's YouTube Panel and add it into your panel rotation.
Enable optical joystick.
Navigation on the X1 is so versatile that you'll probably find yourself using some combination of the touchscreen, your finger, the stylus, the keyboard, and the 4-way navigation key. Don't forget about the optical joystick! Just because it's clickable doesn't mean it's just an OK key; it's actually more like an optical mouse.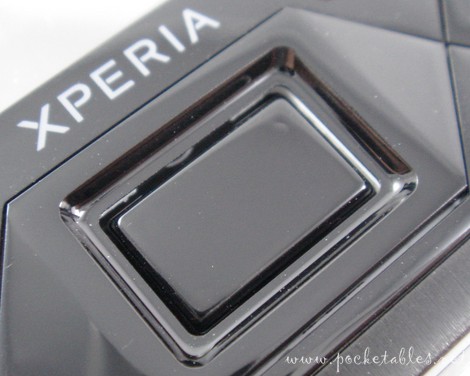 To enable the joystick, go to Start -> Settings -> System tab -> Optical Joystick. Once it's enabled and you have the sensitivity set to your liking, you can glide your finger across the optical surface to move the on-screen highlight. It can also be used for scrolling and swiping in certain applications, which I really like.
Try VirtuaMouse.
Ever wish the X1 had an on-screen mouse pointer?
Then download a 30-day free trial of Innovisoft's VirtuaMouse One-Hand ($24.95), a customizable application that gives you just that. Movement isn't as fluid as a real mouse pointer and it only works with the 4-way navigation key (no optical joystick support, unfortunately), but it's certainly worth a look.
Demo PocketPlayer.
I prefer dedicated DAPs for my audio needs, but if you're a one-device person who's satisfied with the sound quality of phones, then check out Conduits' Pocket Player.
It's more finger-friendly than the included Windows Media Player and it supports kinetic scrolling, an extensive array of file formats (Ogg Vorbic and FLAC included), gapless playback with adjustable crossfading, and Bluetooth stereo headphones.
You can demo a full version of Pocket Player free for 30 days.
Make touchscreen vibrate.
Haptic feedback is all the rage on mobile devices with touchscreens these days. The Xperia X1 doesn't have it out of the box, but Snailslug's TouchResponse utility "gives" it to the phone in seconds. Once installed, the X1's touchscreen will vibrate when touched, providing feedback to let your fingers know that their touch has been registered. The vibration can be disabled/re-enabled at any time and other settings are configurable.
Buy accessories.
Customization isn't limited to software and there are definitely some glaring omissions in the X1 retail box, so accessorizing your device is worth looking into. From cases and microSD cards to headsets and screen protectors, accessories are a great way to protect, personalize, and enhance your investment. Update: Read my Noreve leather case review.
Here are some online retailers that carry a nice selection of X1 accessories:
****************
If you know of other tips and tricks that would make the Sony Ericsson Xperia X1 even better, please share them in the comments section below.