A few weeks ago, iriver quietly added a new digital audio player to its catalog: the T6. It features a very basic set of features and doesn't support video playback, but a thin design, affordable price tag, and exceptional build quality make it worth a look.
Read my full review below and see what you think of the new iriver T6.
This review is based on the iriver T6 running firmware version 1.10.
System Specifications
| | |
| --- | --- |
| Capacities: | 2GB, 4GB |
| Supported audio: | MP3, WMA, OGG, WAV |
| Extras: | Photo viewer, FM radio, FM & voice recorder |
| Display: | 1.8" LCD (128 x 160, 262K colors) |
| Dimensions: | 3.6" x 1.6" x 0.4" |
| Weight: | 1.9 ounces |
| Colors: | Black, white |
Contents
Like all iriver players, the T6 is bundled with a standard set of accessories.
In the box you'll find earphones, software CD, USB cable, quick start guide, and warranty information.
Design
The T6 looks decidedly candy bar-like and is somewhat reminiscent of the Samsung K3, but its rounded corners and smooth lines also give it a clean and polished style.
Unlike some of iriver's other 2008-released products and contrary to its low price tag (the 2GB model retails for $50), the T6 feels like a high quality player with its brushed metal back and glossy hard plastic front. The metal shell provides a nice bit of heft that makes the unit feel good and durable when held.
Unfortunately, the metal back also picks up and holds onto finger oils pretty ruthlessly; you really need to rub off the marks. Fingerprints and smudges on the face of the device, on the other hand, wipe away cleanly with little effort.
Size

Left to right: SanDisk Sansa View, Samsung P2, Samsung S3, iriver T6, Microsoft Zune 4, second-gen Apple iPod nano, and Sony Walkman A810.
Display
The T6 has a 1.8-inch 262K-color display with a resolution of 128 x 160.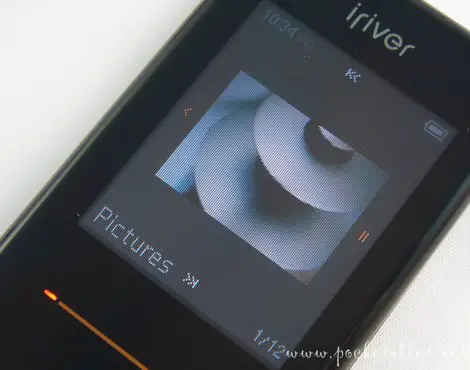 As you can see, the screen is nothing to write home about. It's bright and colorful enough for viewing photos, but it won't impress anyone with its viewing angles, color saturation, or accuracy. The T6 doesn't support video playback, though, so maybe that doesn't matter. While a higher resolution would have been better, as you can literally see every pixel in the picture above, the display is good enough for its intended purpose.
Controls
Though not a unique feature in the DAP world, the most unique element about the T6 is its illuminating touch-based control pad.
The controls glow orange not when touched, but when the player is on. Period. Even when the screen is off (backlight timer is accessed through Settings -> Display -> Backlight), the touchpad remains lit.
The absence of tactile or haptic feedback make the T6 difficult to use blindly but since the controls are so standard, it isn't impossible to do. The touchpad itself is responsive and the up/down arrows can be held down for faster scrolling, so navigation isn't too cumbersome.
I would've preferred hardware volume buttons, personally, but the touch ones work fine. Worth noting here is that the horizontal line connecting the + and – symbols is purely decorative (i.e., it doesn't light up).
The T6's minimalistic design is carried on past the navigational controls and down to the I/O ports and switches.
At the bottom of the player are a mini USB port, lanyard loop, and 3.5mm headphone jack.
There's a reset hole on the right side and power/hold switch and mic on the left.
User Interface
The gray, white, and orange color scheme seen on the iriver SPINN makes a reappearance on the T6. Unlike with the SPINN, though, users can't create their own themes to change the look of the T6's interface.
The main menu includes a vertical band of six items: Music, Pictures, FM Radio, Recordings, File Browser, and Settings. Very basic.
Transferring Content
The iriver T6 is a MSC/UMS device, which means that it shows up as standard removable storage on your PC, Mac, or Linux computer (just like a USB flash drive).
Loading music and photos on the player, then, is a simple exercise in drag-and-drop. Putting media into the pre-existing Music folder will allow the albums and songs to be viewable in the Music menu item; music dropped into other folders are accessible through the File Browser menu item.
Audio
Regardless of signal-to-noise ratio, frequency range, and other data, sound quality is very subjective: it depends on your ears, your personal taste, and your headphones. That's why some people are happy to use stock buds with their iPods, while others buy high-end canalphones or full-sized cans and wouldn't come within 10 feet of an iPod. So take my assessment of the iriver T6's sound quality with a grain of salt.
Using the supplied earphones and even an upgraded sub-$100 pair, there's little to complain about. It's typical iriver: good and full.
Plug in some IEMs that are 5 to 10 times more expensive than the T6 itself, however, and . . . well, let's just say that you'll unplug them within minutes. With my Ultimate Ears triple.fi 10 Pro, bass is tinny, electric guitars sound whiny (it actually gave me the sensation that I get when biting into a squeaky green bean, if anyone can relate to that), mids sound muffled, and highs don't sparkle. If your head feels like it fills up with sound from a DAP with excellent SQ (e.g., Sansa Clip), the iriver T6's output feels like something you could hold in your hand. It's small.
Your ears/headphones may tell you a different story, but that's what mine tell me.
Extras
The T6's extra features are limited to a photo viewer (slide show, zoom, etc.), FM radio and recorder, and voice recorder. The usual suspects. Recordings are saved in WAV format.
Battery Life
A non-removable lithium polymer battery gives the T6 an estimated continuous runtime of 28 hours for audio playback. Actual battery life depends on screen brightness, bitrate, and other factors.
Conclusion
For its price, the iriver T6 is a good choice for a secondary player to keep at work or in the car. Though sound quality with premium earphones isn't the device's strong point, it's sufficient for casual listening through basic computer/home speakers and the supplied buds. The player itself is thin and stylish, and it's great to see iriver using high quality materials in their products again. The feature set is weak and boring compared to other DAPs, but build quality, clean design, and price point make it a respectable addition to iriver's stable.
The iriver T6 is available now from Warehouse123.com.