Unboxing the Samsung S3 (YP-S3)
With Christmas only about a week away and my fiber-optic tree still in the closet, what better way to get into the spirit of belated holiday decorating than to unbox a Christmas-colored digital audio player?
This is the Samsung S3 (YP-S3) that came out a few months ago. I don't have the time or interest to review it, but when else am I going to have an excuse to unbox a green DAP? I only chose this color because delivery of the black one I originally ordered got delayed until mid-January (not sure why, as the S3 is hardly a must-have this season), but I have to say that I don't mind it too much.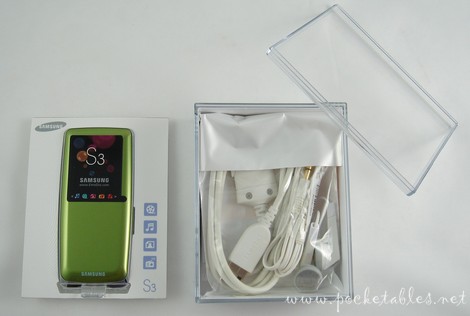 I'm not a Samsung DAP completist, so the S3 is only my fourth experience with the company's portable media products. The one thing I've always liked about their DAP line, though, is the presentation. It isn't spectacular or anything, but I like the reusable plastic box and the overall compactness of the package. Apple does this with their iPods, but somehow I'm always just a little more impressed by Samsung's packaging.
The S3 is similar to the K3 I reviewed last year and essentially a pared down version of the S5 that I still use and enjoy. The main difference, from a cosmetic standpoint, is that the player and its included accessories (even the proprietary cable!) are now more cheaply made.
The S3 may not look like a toy with its glossy finish, silver accents, and rounded corners, but it sure feels like one to me. It creaks under the "squeeze test" and feels like it could be snapped in half without much effort.
Though it's smaller and newer than my other Samsung players (left to right and bottom to top: P2, S5, K3, S3), there's nothing remarkable or new about it. The interface is colorful, animated, and rather fetching, but since it's nearly identical to older models (see my S5 review for lots of UI photos), it just feels like more of the same.
Frankly, I don't understand why it was made. By no means is the S3 a bad product: it sounds good, is easy to use, is stylish and slim, and has great battery life (25 hours audio, 4 hours video). But it just seems unnecessary . . . a product refresh disguised as an upgrade.
I wouldn't discourage anyone from getting one, as there's nothing horribly wrong with it and it costs less than $100
, but I wouldn't exactly encourage it either. Simply put, there are better choices in the long-and-lean flash DAP market (e.g., Zune 4/8/16, iPod nano 4G).
Oh well. At least I have something sort of Christmas-y out of its box right now!