There's not much that isn't known about the Atom-based ClarionMiND since 1) it's been available for purchase for a few months and 2) it was first announced (in slightly different form) at last year's CES. But because this year's CES isn't exactly brimming with new product announcements, we couldn't ignore the MID when we saw it at two different booths.
There was one ClarionMiND in Intel's MID display, but there was a whole wall of them at the Clarion booth.
They were all working models with fairly strong WiFi signals, too, so visitors could really get a feel for what the device could do.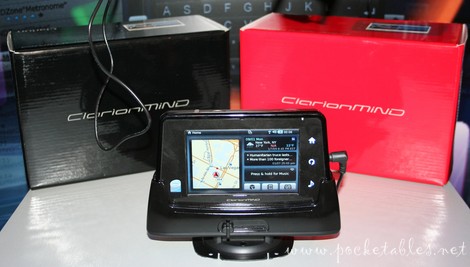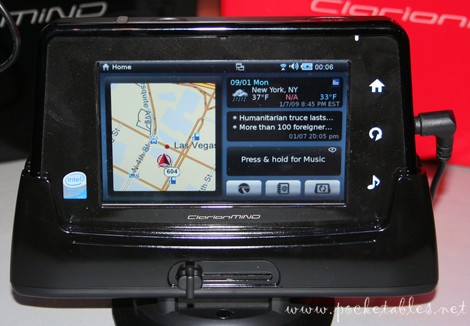 Clarion's booth was in the North Hall of the Convention Center, which is dedicated to in-vehicle technologies, so most people who were checking it out had never heard of an Intel MID before and seemed really impressed with the ClarionMiND's capabilities.
I was a tad more jaded, stopping the booth rep from reciting his memorized spiel by mentioning that I had been following the unit for a year, but came away feeling pretty impressed. The touchscreen is very responsive (an absolute necessity for a navigation device designed to be mounted and used in a car), the user interface is finger-friendly, navigation is straightforward, and browsing is fast with a good virtual keyboard.
I don't care for the trapezoid-inspired form factor and overly thick bezel, but it's a pretty slick GPS uber-unit to have for the car. Clarion is doing right to market this to consumers already looking for ways to trick out their rides.