Inside the Palm Pre lounge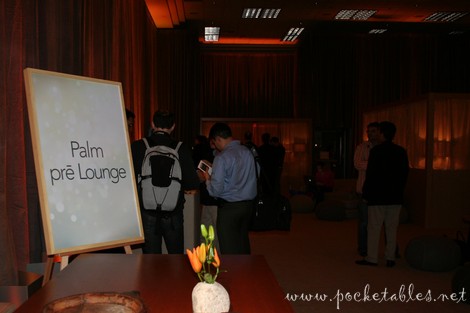 After the Palm Pre announcement, company representatives handed out small VIP lounge passes inviting attendees to take a closer look at the new smartphone in a private meeting room.
Assuming we'd get some actual hands-on time with the webOS-based device, we stopped into the lounge an hour before closing and got to watch employees give us one-on-one demos. The closest we got to actually holding the Pre was when I asked the demonstrator if it was okay to take those Xperia X1 comparison shots. It was disappointing, sure, but we got our questions answered and took a bunch of pictures, so I'm glad we went.
The lounge had a cool Zen-like feel to it with "stone" furniture, simply presented food, and lots of room to flow around the four draped couch areas. Have a look.
Two Palm employees, stationed in the front corners of the room, stood behind tables with projectors hooked up to large flat-screen TVs. Beneath the projectors were Palm Pre smartphones.
Beside one of the projectors was an early prototype retail box.
It's a shame that the Touchstone wireless charger won't be included in the box. I like that the Pre "sticks" to it and that the speaker automatically turns on if a call comes in while the phone is charging.
Now on to the Palm Pre.
Here are some quick notes I jotted down on the back of my CES preshow planner (yes, very professional!) during the demo:
Capacitive touchscreen
No memory card expansion because Palm "provided all the storage you need" with 8GB
Larger capacity models could be released in the future
WebKit-based browser with no Flash support
1200mAh battery; no battery life figures being announced yet
No soft keyboard for when device is in landscape mode
All apps auto save
Apps do not need to be manually closed; just flick "card" up/off the screen
Web browsing over WiFi can continue when using the phone
Keyboard is narrow; the demonstrator had trouble typing on it
Not sure if keyboard is backlit
Palm is very proud of the removable battery and standard headphone jack (they mentioned it several times)
Forgot to ask about backwards compatibility with Palm OS
Phone shape reminds me of Motorola Pebble
UI is very slick, though comparisons to the iPhone are tough to shake
More impressed with software than hardware
Should've asked about the rationale behind the Pre name
Anyone going to get one? I admit that Windows Mobile 6.1 looks clunky and unintuitive in comparison, but I'm not giving up my Sony Ericsson Xperia X1.