Toshiba future mobile device concepts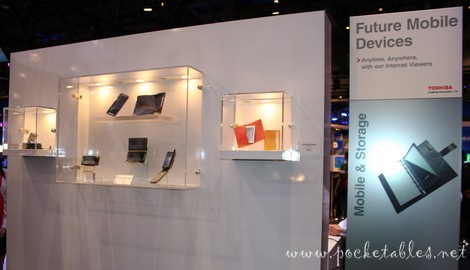 You got a peek at the unfinished Toshiba's Future Mobile Devices display before CES started; now see how it looks complete and officially ready for the gaze of show attendees.
Toshiba's vision of the future doesn't include the MID or UMPC terms. Instead, the company has grouped all of its shiny units, including the T-swivel device I showed you yesterday, under the general name of "Concept Internet Viewers."
To the left of the main case is a DMFC internet viewer set atop a swiveling base. DMFC stands for direct methanol fuel cell, which Toshiba was fond of at last year's CES too.
Inside the yellow and orange pouches to the right of the main case are those card-sized devices from the other day.
There are two devices in their own showcases in front of the primary display, both of which you saw yesterday.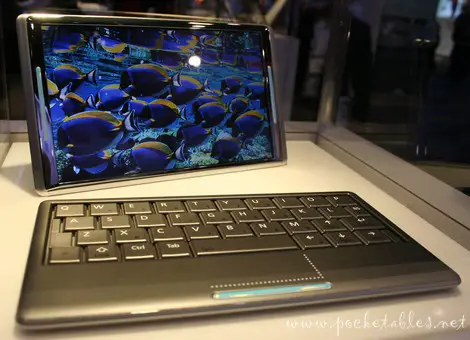 There's the gorgeous wide LCD/DMFC internet viewer.
And that crazy water-resistant one.