Add a stylus holder to your tablet for $2
Even though most tablets these days are capacitive and don't stricly need a stylus, many people (including me) still find styli useful in some situations. Maybe you're taking notes, drawing, or walking around a classroom with your iPad strapped to you hand while teaching math using Air Sketch. Having a stylus does however bring up the issue of where to put it when you're not using it. I've been known to put mine behind the ear, simply because I don't want a dedicated case to hold it and the alternative is too small to work as a stylus. Luckily, you can make something to do the job yourself- in 5 minutes, with $2 worth of "materials".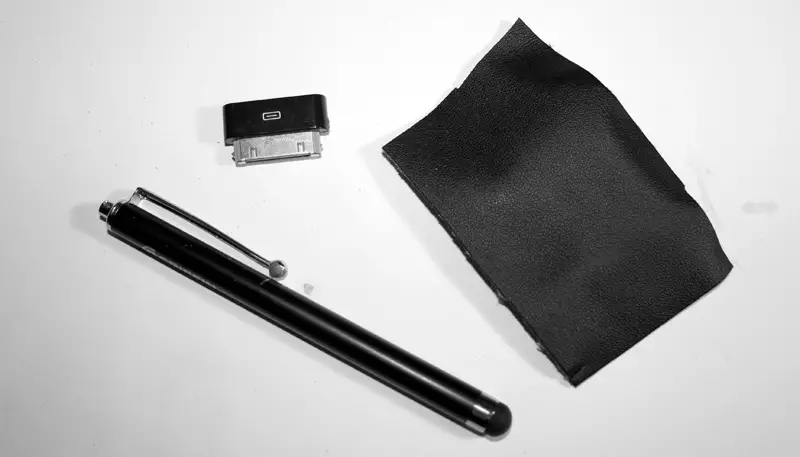 To do this you need a connector that will fit into your tablet. I have an iPad so I'm using a cheap 30 pin/USB cable. Depending on what tablet you have, you can use normal USB, mini/micro USB, HDMI, or whatever you have available. If you get a spare cable from China you shouldn't have to spend more than $2 either way. It doesn't even have to work as long as you can cut off a connector plug from it that you can use. You also need some glue (I used a hot glue gun)and some leather, flexible plastic, cardboard or whatever you have available that can do the job of the fake leather piece I used.
Cut whatever flexible material you're using into a thin strip that fits the connector you're using. Glue one end to the bottom of the connector and stretch it around the stylus so you get a good fit. Glue it to the top of the connector and cut off excess material.
Were you expecting more steps? If so, I'm sorry to disappoint you, but you're done.
In place on the tablet, with the stylus held securely. I wouldn't recommend keeping this piece on when the iPad is in a bag etc because you can damage the tablet's connector if you bend it, but when you're using the tablet and only need a quick place to store the stylus there shouldn't be an issue.