Geek rule #27- do you live by it?
The above comic is from mentalvasectomy.com, and brought to you via Google+Reader" target="_blank">Geeks Are Sexy. As far as geek rules go, this is one that I myself definitely live by. Just hit the break and I'll prove it.
I stumbled across this comic earlier while I was reading RSS feeds in Reeder. It was more than a little bit ironic to see the comic as I was watching an episode of Two and a Half Men on my computer monitor while reading through RSS feeds on my iPad at the time. I couldn't resist stretching over to my gear bag and grabbing my point-and-shoot camera to capture the scene before continuing: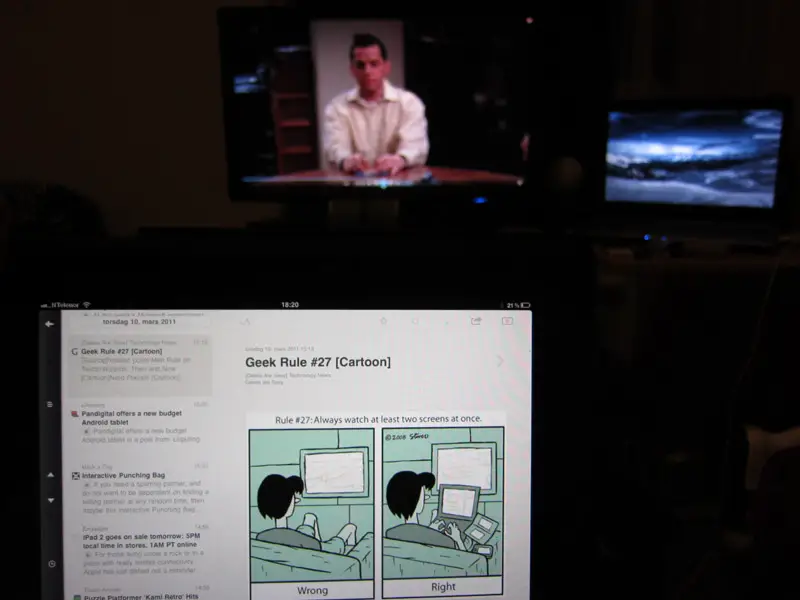 It got me thinking though about how many people use their tablets in similar fashions; as secondary screened devices while watching TV or something else. This is the main way I use my tablet and I'm infamous for having many things going on at once. Sometimes it causes a bit of an information overload, in which case I concentrate on just one thing, but I generally find that this way of doing things make me fit more into the limited time there is in a day.
Tablets are often considered couch surfing devices as well, which makes them especially well suited for doing this sort of thing. Heck, there are even apps now that are specifically designed to be companions to watching TV, which starts pulling mainstream consumers into this way of geeking out as well. Question is if this sort of multitasking is really necessary or if it's just a side effect of having too many options of things to do and too little time to do it. Roger Waters' song "Amused to Death" comes to mind, though I won't turn this into too much of a philosophical issue.
So, do any of you go about business in a similar fashion, by rocking multiple displays and/or multiple devices? Do you find it relaxing, or does it just add to the stress?