Asus announces offical Transformer accessories
Asus seems to be doing everything right with the Transformer. With a new line of accessories just announced, the feature packed dockable tablet gains even more features- iPad style.
Here on the good'ol Internet, one of the favorite pass times of people is to complain about proprietary accessories on the iPad. All while completely ignoring the fact that tablets that have universal connectors lacks most of the accessories altogether, universal or not. Asus seems to have found a golden middle ground and is now releasing a bunch of Transformer accessories that add new functionality to the Transformer by using proprietary adapters to supplement existing universal ports.
The first new accessory is a case that looks suspiciously like the official iPad 1 case and the Smart Cover had a baby. That doesn't mean it doesn't look good though! I doubt it'll work with the dock, however.
They're also releasing a travel charger that should charge the tablet anywhere in the world. Quite pointless since generic ones are probably a lot cheaper, but still.
One of the most interesting new accessories is the mini HDMI to VGA adapter. Again very similar to Apple's adapter, though you can't really make these adapters much differently. Lack of VGA has been a major downside for Android tablets from a business point of view, so this should help sell the Transformer on those fronts.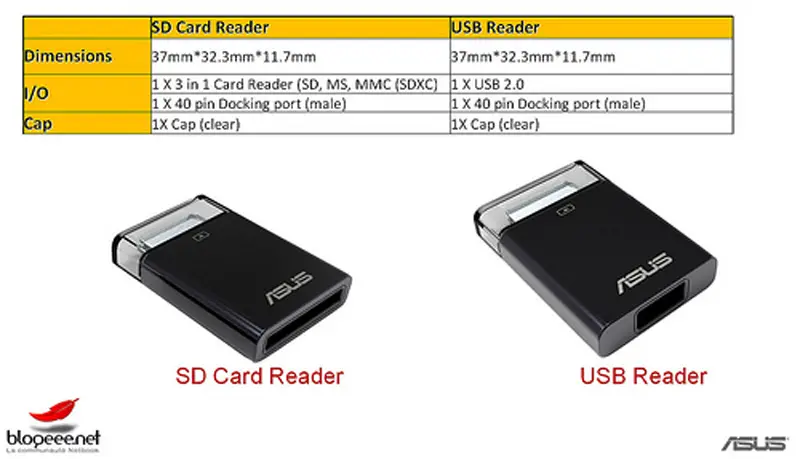 Again, guess where the inspiration came from. This SD and USB adapter set seems capable of connecting any USB drive though- not just for photos- making it jump ahead of the iPad one in that respect. No info whether it will support MIDI and audio devices like the iPad one, though. These are a bit redundant on the TRansformer as the dock has USB, but nice for those who don't have the dock or want a more portable solution.
Lastly, a dock/stand/charger that also has USB ports and audio output. Again something that is redundant if you have the keyboard dock, but nice if you don't- or don't want the keyboard pointing towards you.
All in all a great range of accessories that help make the Transformer even more of an epic tablet than it already is. Good job Asus!
[
Eeepc.it
via
Google+
Reader" target="_blank">Liliputing]