Beta preview: Air Scanner for iOS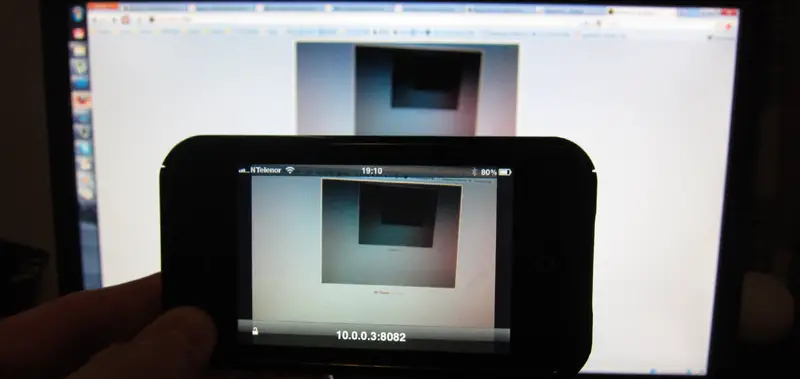 Qrayon, the company behind Air Sketch, is expanding their array of Wifi streaming apps that would fit right into a classroom or meeting room. They're now beta testing a new app called Air Scanner, and I was lucky enough to get access to the beta. Air Scanner is basically a documentcamera version of Air Sketch and Air Projector, allowing you to use the camera on an iOS device to film documents and stream it directly to a HTML5 capable browser that's connected to the same local Wifi network (or via ad-hoc mode).
Document cameras are more or less overhead projectors V2, allowing you to project documents and books onto a projector screen without using transparencies. My teacher tried to get the school to buy one when we started this fall, and while the thing is now actually at the school they haven't set it up yet, with one week of lectures left. This app would allow you to use an iOS device to do the same thing as such a camera, without the expensive, giant piece of hardware that a document camera consists of.
The usefulness of such an app can't be overstated, and it's one of those apps that (for the right people) changes everything. The beta version (and like the final version) is very basic though, but the concept has so much potential. Right now you just start up the app, connect to the given IP (with optional user name and password) and then you can move the device around to get a good shot of the document, enable LED lighting (if on iPhone 4) and freeze the image. The image will then appear in the browser, where the resolution will depend on the device's video resolution; 1280×720 on the iPad 2, iTouch 4 and iPhone 4 and 640×480 on the iPhone 3GS.
I don't have any of the iDevice 4s here to try, but the iPad 2 camera- which we already know is crap- actually did an OK job at showing the documents. I didn't put it in any sort of stand/holder and the lighting was questionable, yet I was able to see what the document said both when filming the entire document at once and especially when doing part of it at a time.
Since the terms of the beta access included giving some feedback on the app, I thought I'd put my thoughts on future improvements in this article:
Future potential
This kind of app has a lot of potential if done right. My first thought when testing all of this was "wouldn't it be cool if I could draw on the real time imagine using my iPad?". In other words combine the features of Air Sketch and Air Scanner into a single app.
Imagine this scenario: You have a custom made setup that holds an iPhone 4 above the document/book, maybe even with some external LED lights to provide better lighting. The image from the iPhone is then sent to an iPad on the same network which will see the document on the screen and be able to draw on top the way that you can with Air Sketch. The final image- scanned photo plus annotations- is then transmitted to the browser which is displayed on a large screen like a projector screen. Sounds complicated, but it really isn't that far off what the different apps do today- heck, if Air Sketch was updated to pull inn websites as backgrounds (like smartNote can do) you could already have done this, so it really isn't a far stretch of the imagination. Here's my mockup of how it would look: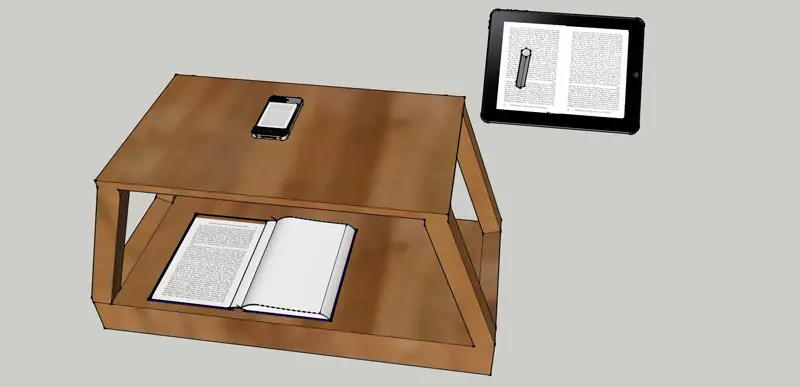 Alternately, an iPad 2 could both scan and annotate at the same time:
The pause functionality is certainly key here, as you wouldn't want the picture to change while you're annotating- which would be a likely problem in the scenario with the iPad 2 doing both tasks.
Speaking of the paused mode, it has a lot of room for added functionality as well. When looking to improve something that in the end scans documents, what better app to look for ideas from than Scanner Pro? It has two specific features that I'd like to see duplicated in Air Scanner's pause mode. First off, the image stbilizer. What this does in Scanner Pro is simply to use the accelerometer to sense if the device is moving and then take the picture at the moment it isn't. This would fix the issue where you're holding the device still but actually end up making it shake when you press the lock button. Press the lock button, wait a second until the device is steady again, then pause it- it would improve the image so much.
The second feature from Scanner Pro I'd like to see is the ability to turn gray photos of documents into black and white documents that look like they've been scanned, not photographed. Scanner Pro can adjust the contrast/brightness/colors to make this happen in just a couple of seconds, and that's on much higher resolution images than the 1280×720. My suggestion here is that an option in the settings allows you to turn on automatic scan improvements which then runs the image through this process whenever you lock the image in Air Scanner. It would cause close to no delay and make a world of difference.
The final thought I had with this app (for now) is actually more of a physical partnership between Qrayon and a clever guy with cardboard. The 3D model I created to make the images above show the iPhone and iPad suspended over a book using a wooden contraption with a hole for the camera. "No one is going to make one of those", you might say. Well, if you're a teacher or office worker who use this setup every day, an hours labor in a woodshop and a few bucks worth of wood would be worth it. If you don't have the necessary skill, tools or time however, there's always the product that I got the idea for this setup from; the ScanDock. The ScanDock, its double sided sibling and their slightly more solid MDF cousin are all products created by Kyle A. Koch and sold through Ponoko. You can either buy one starting at $10, or just use the free plans to make your own out of cardboard or whatever. I think that Qrayon should contact this guy and somehow work out a partnership so that people using Air Scanner are linked to his products, since they're perfect for this app.
Conclusion
Air Scanner is a great idea that can prove to be one of the most important apps out there for teachers, lecturers, professors, office people and really anyone who needs to show documents on a screen. While the beta is already bug free as far as I've seen and it already does what it promises, the potential that this app has if developer further is even more amazing. It's app like this, Air Sketch and ReplayNote that makes me want to become a teacher just to show schools that you do not need $10000 equipment to do certain things these days.