Could an iPad 2 be equipped with an add-on e-ink display?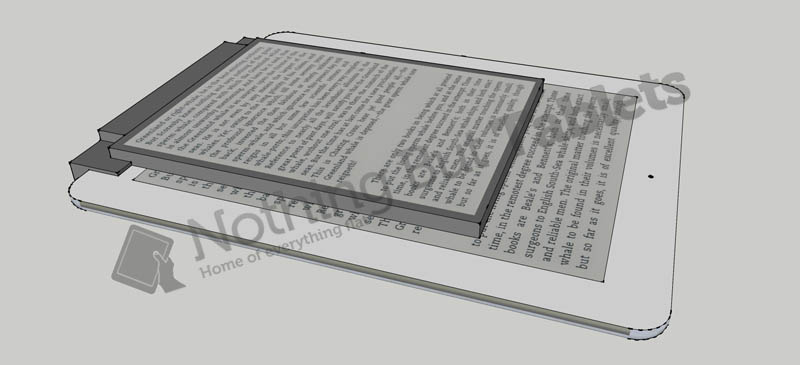 We already know that e-ink is far superior to LCD screens in direct sunlight, as well as comfort-wise. Unfortunately, even with the low price of the Kindle and other ereaders these days many people still go with tablets as they're more universal and versatile. With the iPad 2 though, it's theoretically possible to get the best of both worlds.

Before I start with my crazy 3D concepts again, let's look at some facts:
The iPad 2 supports screen mirroring in all aspects of the OS
E-ink displays use very little power
The iPad can provide "very little power" to accessories through the dock port
Anyone see where I'm going with this? Imagine an add-on display that you slide into the dock connector of the iPad 2 while upside down, so that the new screen slides over the old one. This attachment would have a 768×1024 e-ink display (approx 8″)be hinged so you could flip it up to see the entire iPad screen. Power would be provided by the iPad, and through screen mirroring the extra display would display a pixel perfect e-ink version of what's on the iPad display.By leaving a small area at the bottom exposed, navigation in ebook readers, magazine readers etc would still be possible using the iPad screen since these require just swiping the edge to switch pages. To get around the issue of syncing the e-ink's refresh with the iPad screen changing, you could even have a physical button on the e-ink part that would both activate the e-ink refresh and press down on the iPad screen with a capacitive tip, making it switch pages. E-ink only uses power when refreshing, and such a setup would let you turn the iPad screen's brightness all the way down, so theoretically you should see an increase in battery life with this setup even if the iPad is powering the e-ink screen.
The point of this would of course be to turn the iPad into an ereader. A dedicated ereader would have several advantages, such as weight, size and battery life, however this setup would have its share of advantages too. First off, no more choosing one ebook store based on what reader you have. Kindle, iBooks, Nook etc would all be available since they're just apps on the iPad. Magazine readers, document viewers, comic readers, newspaper readers etc would all be usable, albeit with the update speed and greyscale of e-ink. I've been considering an e-ink device for ages, but always put the thought aside because they're quite limited content wise compared to the iPad and the resolution of the cheapest Kindle is quite useless for magazines, newspapers and such.
The cost of something like this is hard to predict, but the only read expensive is the 8″ 768×1024 e-ink display. No battery, CPU/RAM etc, wireless modules or anything like that would be required. I'd be willing to pay the price of a Kindle for such an accessory, but I might be the only one. Either way, concept picture time: