iPad 3 specs leak trough Apple website slip-up (April fools)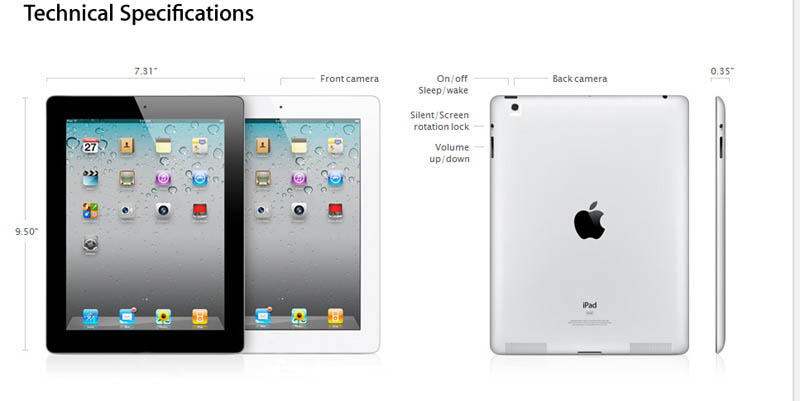 There have been rumors about the iPad 3 coming later this year ever since the iPad 2 was announced, enough to drive even Gizmodo crazy. More recent rumors say that the iPhone 5 will be delayed, and that they will both join the release of a delayed iOS 5 later this year which will be the first "full" overhaul of iOS since it came out. This now appear to be true as a slip-up on Apple's own iPad site now show the iPad 3 specifications are ready and set for release, meaning that the thing itself can't be that far off.
Apple has always been very organized with their releases, taking down their site and Apple store for only a short while when new products are being added. This seems to have worked against them this time as someone noticed that you could change the URL of the current iPad spec sheet to get the spec sheet of the iPad 3. About half an hour after the link leaked it no longer works but I was lucky enough to be awake at the time and grab a full site screenshot of the spec page which you can see in full by clicking the thumb below:
I've been going crazy for the last half hour trying to compare this to the current iPad spec sheet as the spec sheet doesn't specify what's changed like the "features" page does, and here's what I've found so far. If you see anything else, leave a comment.
The size is practically identical, with it being only 0.01″ thicker. This might just be a difference in rounding off as it would be weird for them to not keep the exact same size if they're this close. The weight is also almost identical, with the Wifi model being a tiny bit heavier than the current model.
The back camera is now listed as being capable of 1080p recording and 5 megapixel stills! Considering the quality of the camera in the iPad 2, this is a welcome upgrade that brings it on par with many Android tablets.
The screen is now 1536×2048! That's the same 4x bump in resolution that the iPhone got, something I'm not a big fan of. How they're going to solve it with performance etc I don't know, and the HDMI output is now actually LOWER resolution than the screen, which I guess could work (there aren't big screens this resolution anyways). I still refuse to call this a retina display, it's simply high res.
Storage space is now doubled! The lowest capacity model is now 32GB, the highest 128GB. This makes sense as the prices we're seeing for competing devices gives you more capacity for the money, and SD card slots as well. The actual cost of adding more storage is very low so I'm assuming the price won't be affected.
The CPU is called an A6 and rated at 1.5Ghz (dual core). Not a big surprise as we're already seeing this sort of speed in other tablets and the Sony NGP is even promising quad cores, so it's simply keeping up. Depending on when the iPad 3 will be out, it might already be outdated.
There are now both stereo speakers and stereo microphones. The speakers are clearly visible in the picture on top, but the microphones aren't marked nor visible. That is- the original mic is visible, but not a secondary one. Chances are it's located by the docking connector, as both Facetime and video recording would mean that you'd normally hold it in landscape mode, where that sort of top/bottom mic placement would make sense for stereo.
The battery is bigger, but battery life isn't. The battery is now rated at 30Wh, vs 25 on the iPad 1 and iPad 2. This is likely to combat the power required by that stupid screen resolution, as the actual battery life rating is the same. The power adapter is also bumped to 12.5W, which means that at 5V it's now 2500mAh instead of 2000. This is likely to keep the charge time the same as the current models even with the bigger battery. How exactly they'll fit a bigger battery in the same space I have no idea.
The Home-button is gone! It's not visible nor listed on the top picture. Again this has already been rumored as the iOS 4.3 beta included some multitouch gestures that were disabled in the final version but that can be re-enabled with a "hack". The home button has been a failing point of iDevices for years and moving this to a mutltitouch gesture will also free up space on the front of the iPhone 5 which is rumored to have a physically bigger screen. No sense in having it on one device and not the other, so no home button on the iPad 3 either. I won't miss it; less stuff that needs cutting out for screen protectors and cases!
Bluetooth 3.0 is now listed where Bluetooh 2.1 is listed on the old version. Again, a logical update as Bluetooth 3.0 is already available on competing devices.
While the iPad 3 sound like a nice update, I still don't think it's revolutionary. With the higher screen resolution it will likely be as fast as it is today as the increased CPU speed (and assumed GPU speed increase, though they don't list that in specs) and the bigger battery will just go to waste keeping up with the screen. I think iOS 5 will be a bigger deal, and that will work on the new iPad 2 as well (they have to allow that, or people would revolt). I'm guessing that the reason why the specs are already set in stone like this is that they planned much of it for the iPad 2 but couldn't get the cost down in time. Another half a year or so of Moore's law in effect should definitely help bring down the cost, resulting in the existence of a finished iPad 3 that's just waiting for the cost of parts to drop.
Personally I'll go enjoy my iPad 2 and deal with this monstrosity when it gets here. I'm perfectly happy with it and the only thing I am really excited about with the iPad 3 is that we now don't have to deal with rumors for the next 6 months.
[thanks
copeys
]
Update: April fools! Got some of you, but despite frantically deleting comments to keep it from being spoiled for others I had to give up. Oh well, I gave it my best.