Just Mobile AluPen review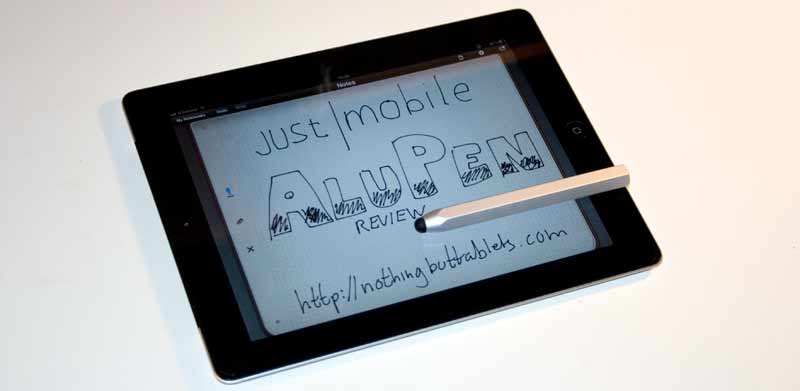 The AluPen from Just Mobile aims to be the most exclusive looking stylus out there. Shaped like a giant pencil and made out of aluminum, it simply looks like it belongs with an iPad. The question is; are the looks deceiving, or is it really any good?
Just Mobile's whole "thing" is to make accessories for Apple products that look like they're designed by Apple themselves. Brushed aluminum is used for pretty much everything and that fits rather well with products like the MacBook Pro and iPad. I've been wanting to try their AluPen for a while because I like that size better for capacitive styli but their shipping method costs more than the thing itself to Europe. Ebay was always an option, but I never got around to ordering one. A few days ago however I stumbled across the thing on webshop here in Norway, and it was even cheaper than Just Mobile's MSRP. I couldn't resist getting one and I don't regret it.
The first thing you'll notice is that the box is about 114382 times bigger than it needs to be to hold a stylus. The box is very Apple-esque, and the inclusion of two stickers with the company logo just goes beyond ridiculous in proving who they're trying to emulate. Since this stylus works on any capacitive screen, marketing it that much towards Apple users might come back to bite them in their asses. Anyways, the gigantic box also has a small paper brochure which is basically just full of ads for their other products.
The price and "exclusivity" of this stylus is further enhanced by a small fake leather pouch they give you to protect it when not in use. That is actually a very useful thing to include, and I'm definitely using it for my AluPen when it's in my bag.

The AluPen is ironically (considering the name) shaped like a pencil, not a pen. The entire outer casing is made up of aluminum, and that gives it a rather heavy, solid feel to it- which is nice. The company logo is printed on the aluminum in a color that isn't very visible on the brushed aluminum version, however there are lots of other colors to choose from for the AluPen itself.
I don't know what the deal is with the visible rubber core on the end. I somehow doubt the entire core of the AluPen is rubber, but I don't want to take it apart to find out. Maybe it's just to make it look more like a pencil, maybe it's like a cork to seal the end of a hollow tube rather than having the entire thing be a solid piece of aluminum, who knows.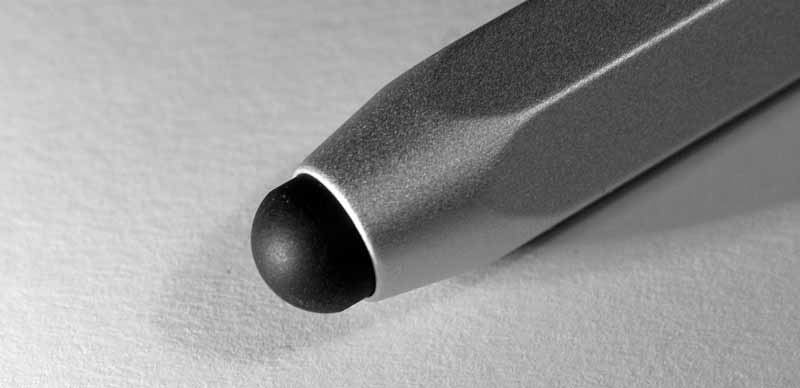 The actual tip is your standard, rubber dot that you find on nearly all capacitive styli. I'm not sure if it's always been this way or if it's degraded over time, but my Griffin Stylus is now at the point where the AluPen simply blows it out of the water both with regards to accuracy and smoothness (lack of friction). I can't tell if the two would be the same with two new styli as any degradation has happened too slowly for me to notice it suddenly going bad, but having this stylus is a game change for me in either case as it's very very good out of the box. Remind me of this review in a few months and we'll see if it's still holding up.
Ergonomically speaking, the thicker AluPen is definitely better to use than those pen sized styli you find everywhere- but we knew that already. I don't really have an opinion on the hexagonal pencil shape; it might improve the grip, it might not depending on your personal preferences.
The bottom line here is basically that the AluPen is a nice stylus that has a more intelligent thickness than most other styli and is designed and built much better as well. Compared to other rubber styli, this one will be hard to beat. Compared to the Dagi styli, it comes down to the same thing I mentioned in the Dagi review: do you need slow detail, go for the Dagi, but for everyday tasks like taking notes a rubber stylus is easier to use.
Just Mobile currently wants €20 for the stylus which for me went to €47 once shipping was added. It varies depending on country, but Just Mobile has enough resellers that it doesn't matter. You should be able to get it shipped worldwide for $30 or less total from eBay or just look around to see if it's available in your country. As far as I'm concerned it's totally worth it as it's not that much more than you'll end up paying for other styli.