Sony Ericsson MBS-200 review
Tablet accessories don't need to be made for tablets at all. Keyboards and audio related devices are great examples of that, and the Sony Ericsson MBS-200 falls into the latter category. It's a rechargeable portable speaker that also has Bluetooth built in, making it the perfect accessory for devices that support Bluetooth audio. Read on for a review.
The MBS-200 is the second generation "meteor speaker", a nickname given to the predecessor. The old "peculiar" design has been left behind and the new speaker looks a bit more stylish and "normal". Another addition from the old version is an OLED screen on top that shows various paring info and the song playing if your device supports this. Add to that a rechargeable battery, line in and line out functionality and you have a rather impressive little speaker, specs wise.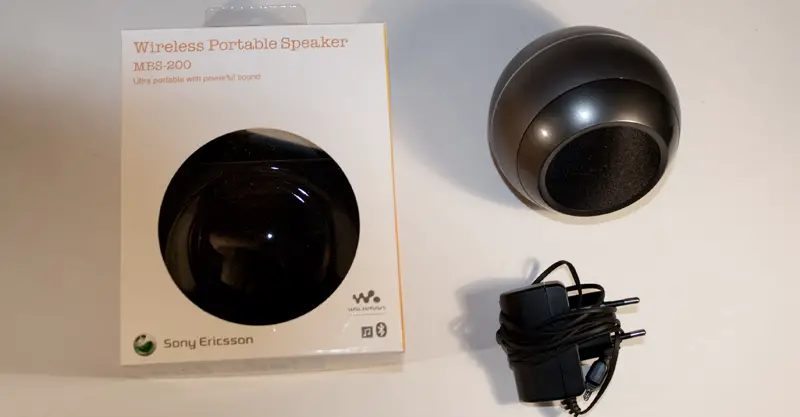 Since this is primarily a wireless speaker, there aren't many cables in the box- only an AC adapter. They could've included a 3.5mm cable I guess, those are fairly common.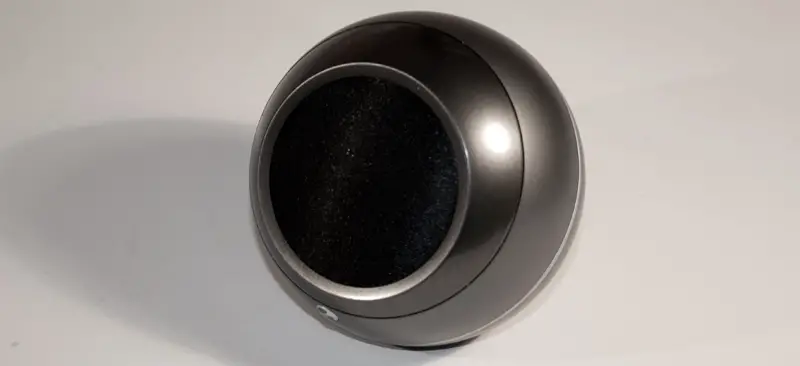 The front is very plain, unlike the old version. This new design would fit well into most homes and offices without looking out of place.Because it is a round ball though it's not as portable as they'd like you to think, as it wouldn't fit e.g laptop bags or many small messenger bags without creating a bulge.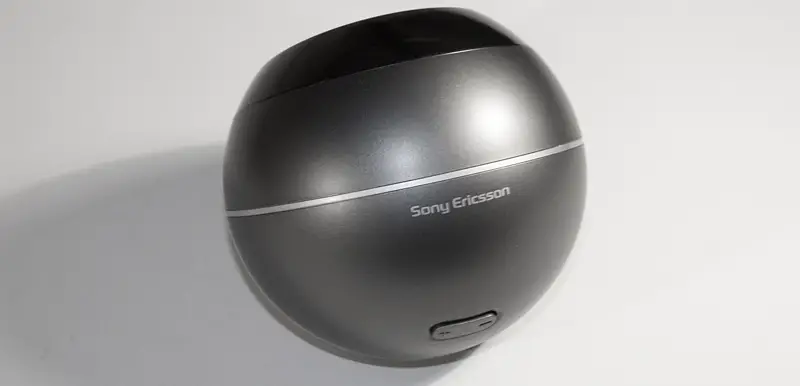 The back is also very minimal, with only the volume controls as far as buttons/ports go. These buttons control the volume of the speaker's internal amplifier, not the device you're playing from, and there are also no playback controls on the speaker which can be a bit annoying. While the point of having a wireless speaker is to control the playback using the device itself, sometimes you might want to take the speaker with you into another room and switch tracks without going back to the device. With a 10 meter range, you can at least a room or two away from the transmitter before it stops working, so some controls would have been nice.
The bottom is where all the connectivity happens. The bottom is open with a rubber edge around half the opening which holds the opening at an angle, allowing cables to pop out the back easily. There are two buttons, power and connect, which do what you'd expect- turn the thing on and off, and enter pairing mode. The charging port is Sony Ericssons proprietary port, which works with the included charger and other Sony Ericsson chargers. As with Apple I almost don't want to call this port proprietary as (depending on where you live) it might be just as easy finding a charger to borrow as it is to find a miniSD or microSD charger. USB would be nice though, but you might be able to use Sony Ericsson USB cables to charge it. With a battery life of about 6 hours (highle dependent on the volume, of course) you will need to recharge it quite often is you use it a lot.
You also have line in and line out, which allows you to connect both audio sources to the speaker and connect something like a home stereo system. Not that this is line out, not headphone out, so you can't use this as some sort of epically oversized Bluetooth headphone adapter without an amp in between the speaker and headphones.
The sound quality of the MBS-200 is what I'd like to call "portablespeakerish". Portable speakers like this has a very distinct sound to them where you don't immediately run away and cover your ears but it's also nothing to write home about. Bass is naturally lacking, as there is no driver large enough to produce and in there. It starts crackling a bit at high volumes which is also typical for speakers like this, and all in all it's very "portablespeakerish". If you have a cheap travel radio, a cheap pair of 2.0 PC speakers or a TV with built in speakers that's pretty much what something like this sounds like. It will fill a room with sound quite nicely, but you won't make the walls shake in any way. Nice for the office, camping, the kitchen etc and that's it.
The line out functionality does mean that you can connect much better speaker systems though, and when you do so you do get good sound quality. Bluetooth is the bottle neck in such a case, but the receiver in the MBS-200 is much better than many Bluetooth accessories out there. Audiophiles won't touch it, but for most people it will suffice. Since the AC cable is hidden as well as it is and the speaker is heavy enough not to be dragged around by the weight of the charging cable (which is an issue with using small Bluetooth receivers in a stationary position) you could connect it to power and external speakers and use it as a permanent Bluetooth receiver if you'd like, without ever using the actual speaker itself.
The MBS-200 is a great speaker. Being wireless, rechargeable and capable of auxiliary input and output the MBS-200 is very self-sufficient and the OLED screen is a nice touch in a world where most Bluetooth accessories communicate their thoughts via blinking LEDs that you need the user manual to decode. The really great thing about it is the price though. You can currently get this speaker right around £20/€25/$35 depending on what country you're in. I couldn't find this thing in any of the usual US webshops, but it's very common in Europe. I paid 180 NOK for it here in Norway which incidentally is less than it will cost you to order a pizza. That is exceptionally cheap for anything that supports stereo Bluetooth audio, let alone something that has a speaker and an OLED screen.