Tuff-Luv Eco-nique Natural Hemp Case for B&N Nook Color review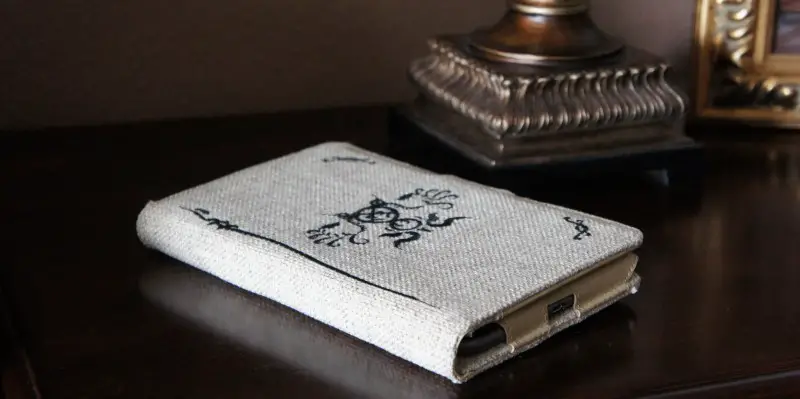 Well, it's Earth Day around the globe today and in celebration here at NBT, we've got a very earth friendly review for ya. The Eco-nique Natural Hemp case ( available for Nook Color, Amazon Kindle, iPad, Sony reader, Artchos 7, XOOM and Pocketbook) from Tuff-Luv delivers solid protection for your ereaders, while keeping things all-natural. Does it hold up to Mother Nature's requirements? Let's read on to see how it stacks up.
Design & Build Quality
Tuff-Luv has developed some fantastic cases over the years. They make cases and covers for everything from cameras and  phones, to tablets. With plenty of styles to choose from, I tend to lean toward the book-style cases for my ereaders more than others. Maybe it's because it reminds me of a book, but I like it. I get good protection and more style than a simple skin or gel cover. The Eco-Nique series is available in several colors (pistachio, dark or light brown), and for several different readers and tablets. The Nook Color case is currently available for Pr-order on their website, and is scheduled to ship in early May.  The case is nicely designed, and brings some added protection for your tablet. It's obviously book-style, but goes a little further to add a strap for extra protection on the right hand side, which will keep the case closed if dropped, or during travel.
Upon opening up the case, you're greeted with portfolio innards, rather than just some leather or hemp in this case. It's always nice to have some more functionality.  You have a leather pouch for documents or notes, as well as an ID or business card holder slot that's clear. I throw my local library card in there, and always have access to it when borrowing Overdrive books. It comes in handy.  For you storage freaks, you also get 3 slots for your microSD cards which sit above the notes pouch. When looking at the inside spine of the case, you can see an elastic strap. I didn't realize this at first, but it's a holder for a pen, pencil or a stylus. That could come in handy if B&N opens up the Nook a little more where a note taking app like Handrite could be useful.
The Nook itself gets fed in through the top of the case, and is secured with a velcro strap. It's wrapped (snuggly) on 3 of the 4 sides with leather, while the back sits plush against the same natural hemp that covers the case. There are of course cut-outs for the Nook loop, the charger, power and volume buttons. The top part of the Nook is secured with a leather strap, which closes securely with Velcro. I would prefer to have a snap button like used on the outside of the case, rather than the Velcro, but I haven't seen any issues at all with it. It's just a preference of mine. It's still just as secure as it was on day one, so no real complaints. The top part of the case is pretty open though, and while the rest of the Nook is very secure (being wrapped in leather), the top might leave it exposed during a drop. The edges do extend out a little beyond the Nook though.
The case is built very well. The hemp is holding up, and I haven't seen anything getting raggedy. The leather is stitched on to the hemp, and the stitching's all in order. There aren't any stray threads or any other issues you might find with lesser quality products. Honestly, that's a huge pet peeve of mine. I like leather products, and the quickest way to ruin them is to have some mediocre stitching that looks like it was done by a monkey. This definitely isn't the case here. I've been using this daily for the last several weeks, and it looks brand new. I've traveled with it several times, in and out of airports, the beach, and in normal use and haven't experienced anything that would make me pause. And frankly Tuff-Luv has an excellent lifetime guarentee, so that should put you at ease knowing that they're one of a couple companies that actually stand behind their product. That's rare to see now-a-days.
Use
Like I said, I've used this case daily for the last several weeks. It's been a great case, and something I feel is better to use every day rather than the B&N Nook case. The big difference is having the more natural ability to fold the front cover behind the Nook when you feel like it. The B & N case is stiffer, and the leather doesn't feel like it's supposed to be used that way, so I generally don't do that. This just gives me another way to hold the Nook when reading. I don't use it that way all of the time, but it's nice to in many situations. The overall feel is really nice as well. I wouldn't say I'm a huge  fan of hemp, but I definitely like the feel of this in my hands. It's soft, natural, and just pleasing to have in your hands.
The design stitched onto the cover is pretty nice too. I like it a lot, and it gives just the right amount of flair. Of course this will vary per the individual, but I feel most people will like it (my wife's a big fan as well). The rear speaker cutout is aligned well and doesn't interfere with any sound coming from the Nook. You won't have any problems using the "Read to Me" feature with the kids books, or just putting on some ambient music. In fact, the speaker cutout is precisely aligned, which is always another quality indicator.
Conclusion
This is an excellent case, plain and simple. I always worry a little with all-natural products because at times the "natural" part might take out the durability. Fortunately, this isn't the case here. Tuff-Luv has done a great job with the design, protection, and quality with the Eco-nique series. It's made very well, feels excellent in hand, not overly bulky or heavy, and is something that anyone can appreciate, not just on Earth day.