Android App: File Manager HD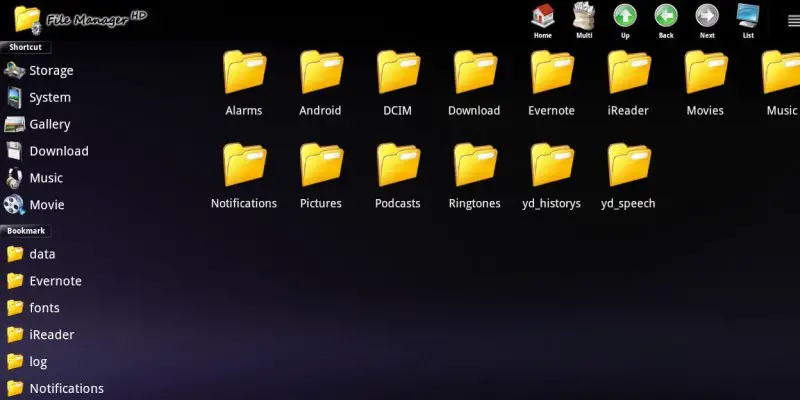 One of the huge benefits to Android is having the option to access most of the system without rooting your device. This of course isn't very native, but instead brought to us through file manager applications. One such was recently released not very long ago, and I've spent some time with it and have really been able to appreciate it. File Manager HD is developed by Rythm Software and is available free in the Android Market. This isn't the first file manager on Android, but rather the first to be optimized for Honeycomb.
Features
* High definition(1280*800) support
* 3 sets of commercial icons for 60+ different file types, toolbar and menu items
* Cut, copy, paste and cancellable progress dialog
* List and grid view for file browsing
* Compress and decompress support
* Search and share files
* Multiple selection and sorting support
* Thumbnail for photo, pictures and apk files
* Support both local and remote(LAN/SMB) file system
* Built-in text editor and swf player
* Fully tested on motorola Xoom
Use
The app is pretty simple and efficient. It makes great use of the extra space available on a tablet rather than a phone. Any time you jump into a folder or sub-section, you still have access to your main directory shortcuts. You choose from system, storage, gallery, download, music and movies. From any of these options, you can manipulate your file management to your hearts content. Feel free to copy, move and delete folders and items at will. Hold down a folder to bring up another menu which lets you compress the folder to save space, or edit it for easier future access. Everything works simple and as advertised, which is really great considering how unorganized some of the apps (default gallery) can get.
Conclusion
This is the best (and only) tablet optimized app on the Android market right now. It's easy, works and stays out of your way. That's perhaps the best thing you can say about a file manager for any system. It's a free, ad-supported app so feel free to check it out here in the Market.