Incipio Smart Feather review
A few weeks back I posted about a review that iLounge did for Smart Cover compatible back cases. When my Gelaskins skin started fraying in the edges (do to stuffing in a bag with other stuff) I decided I should try one for myself. As the $25 Switcheasy CoverBuddy was sold out, the honor of being on my iPad and getting a review on NBT went to Incipio's Smart Feather.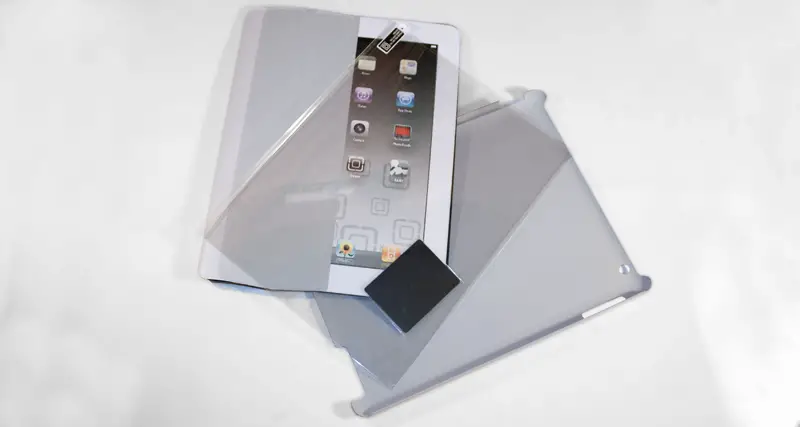 The Smart Feather comes with what Incipio calls a "vanity pack". Basically, they include some extra accessories with  their cases, just like Switcheasy does with some cases (not their CoverBuddy, version of this case). In this case it's a microfiber cloth (not in the picture), a screen protector and a squeegee card for applying it. This case is $10 more than the Switcheasy one, so this helps offset the cost a bit (the fact the Switcheasy one is more expensive in Europe and isn't in stock offsets the rest and then some).Shipping is quick and cheap worldwide (postal mail) and you can get 15% off by using a Facebook code (more info here).
Since this is meant to be used with the Smart Cover, the Smart Feather comes in the same colors as the Smart Covers. I have a gray Smart Cover and the gray Smart Feather matches perfectly. The case also has a special rubber-like texture that is very similar to the polyurethane Smart Cover, so you won't really feel a different between the front and back- which is very nice.
Incipio's Feather cases have been released for many devices, and they're meant as thin scratch covers more than drop protection. It grips onto the iPad on the sides and clicks into place quite nicely. You wouldn't think something that thin could be so secure using that attachment mechnism, but it does. This is why you should go with brand name cases, whereas certain other cases seem to be made from photos of the device.

Cutouts are perfect all around, with the top and bottom being pretty much exposed. Some reviews complain about this, but let's face it- this won't protect from a fall anyways. I use it as it's meant, for scratch protection.
This minimalistic design also means the front of the iPad is caseless, with no lip for it to rest on when lying with the screen down.
One of the key differences between the Smart Feather and some of the other "smart cases" is that it has a lip on the side that actually goes around the hinge of the Smart Cover, locking it in place. This means you have to put the Smart Cover on before the Smart Feather and also remove them that way in reverse. While this makes it impossible to quickly remove the smart cover, it does turn Smart Cover/Feather duo into more of a single case, much like the cases that has "built in" Smart Covers. Whether this is something you want or not I don't know, but it's something to think about when choosing between the available cases of this type.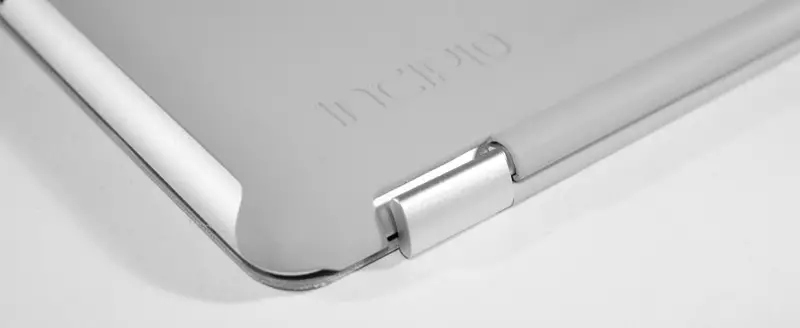 This is what it looks like with the Smart Cover in place and the Smart Feather's lip covering the Smart Cover hinge. Looks very natural.
The Smart Feather and Smart Cover line up perfectly around the case. Both are pretty thin and lightweight, making this a very low profile protection for the iPad 2.
Conclusion
There are so many similar cases out there now that It's ridiculous, and it frankly made my choice a bit random. I haven't been hands-on with the others though so I can only speak from my experience with this one, and I think it's a nice case. For me, this is what I put on my otherwise naked iPad when it's going in my bag, just as scratch protection when I'm outside and might leave it on rocks and things like that while geocaching. In that regard the extra lip that locks the Smart Cover to the iPad is a welcome addition, though it would likely annoy me if I used the case all the time. If you want a similar case without the lip there's the Switcheasy CoverBuddy and several others, and if you want a similar case without Smart Cover functionality at all there's the Incipio Feather. If you factor in the cost of the Smart Cover you're looking at $75-$105 in the US (and more in other countries) so it's not the cheapest combo, but many iPad 2 owners got a Smart Cover at launch and then this is a $35 upgrade compared to e.g buying a $50 full case.