Mobile devices make pretty decent virtual presence systems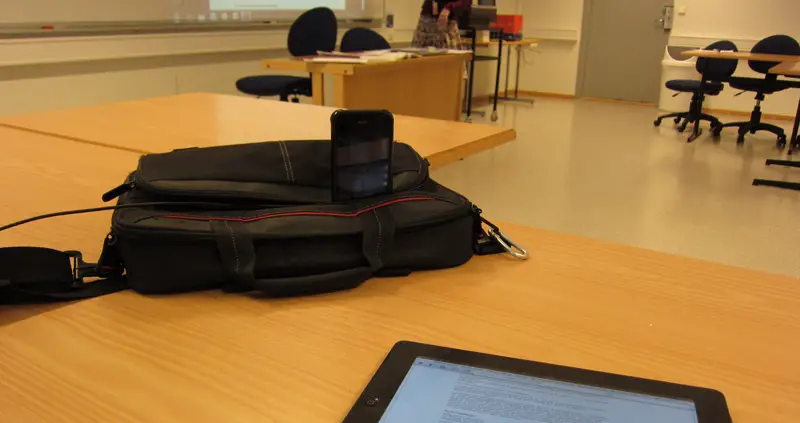 A friend of mine was unable to attend a lecture today due to circumstances at home, but still had the time to sit by the computer during part of that lecture. Just as an experiment I plugged my iPhone into the charge, initiated a video call via Skype and positioned the iPhone so it was filming the front of the class. It turned out to work far better than expected, and he was able to pick up what was being said and roughly what the teacher was doing up by the whiteboard. At the same time as my iPhone served that function, my iPad was also connected to Skype and was used for text chat with him, and  by using my time tested method for scanning documents, he also got a copy of everything the lecturer handed out during the lecture. It would have been possible to do it all on just the iPad, especially if he could get by with only voice, but since I had my iPhone with me anyways I figured I might as well split the task. To be honest, I'm even a bit surprised that Skype was able to handle text chat on one device and video chat on another, both connected to the same person using the same accounts.
While it certainly doesn't replace attending class in person, I find it fascinating how easily and flawlessly you can set up a system like that using consumer electronics these days. With cameras in everything, free bandwidth over WiFi and services that work across devices, video chat can be a more useful tool than many people think. Being able to digitize paper and send it instantly to anyone you want is also somehing I can't understate the usefulness of, and it continues to amaze people who still think of scanning as something that requires an actual scanner.