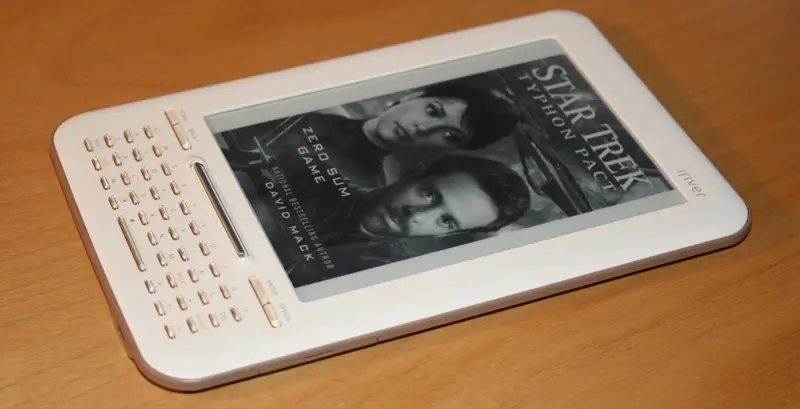 As with tablets, there are underdog manufacturers in the ereader segment. The Kindle is king, and everything else is…well, what every other tablet is compared to the iPad, essentially. That comparison is especially true since the Kindle is not at all technically impressive, and certainly isn't the cheapest of the bunch even though Amazon wants you to believe that by selling $79 Kindles that are partially funded by ads in the menus. The Kindle is, however, king when it comes to software and infrastructure – just like the iPad is for tablets. The iriver Story HD is an ereader that takes a very different approach and goes all out with hardware instead of software. Read on to see how that all turned out.
Not a Kindle
As I hinted at in the opening paragraph, the Story HD is not a Kindle. They are both ereaders, but so fundamentally different in how they work that I don't even want to call them competitors. The Kindle is technologically inferior, but has the Kindle store to brag about as well as secondary features like audio and a web browser. The Story HD on the other hand is an ereader for people who don't want an ebook store, just an ebook reader for their own content. That is also why I picked it over the Kindle, as I wanted an ereader for texbooks and documents, not a portal for buying the latest novels.
Hardware
The Story HD is somewhere in between the Kindle 1, 2, and 3 when it comes to design. It has a keyboard for navigation and a very Kindle 1/2 color scheme, with very narrow buttons that aren't the most ergonomic out there. Navigation is controlled with a four-way wide button directly under the screen, with two function keys on each side of it for going back to the home screen, going one step back, selecting something (enter), and opening the options menu. The keyboard is located under those buttons and generally only functions as text input keys, with the exception of a orientation selection key and a text size shortcut.
iriver focused all attention on reading with the Story HD, and so there are no extra features like audio playback. As such, the only connector you'll find on the thing is the mini-USB connector on the bottom. There is however a sliding power button located on the back (of all places) and a full-sized SD slot on the side. This SD slot is one of the two major advantages of the Story HD, as it will allow you to have basically unlimited amounts of books and documents available. With 2GB of internal memory and up to 32GB per individual SD card, you can load a lot of stuff on it and keep the rest on more SD cards in your pocket. The PDF files that I bought the device for are up to 5-600MB each, so the Kindle 4's 2GB or Kindle Touch/Keyboard's 4GB of memory wouldn't get me very far. An added bonus is that since I have an Airstash, I can manage the Story HD completely with my iPad. That is quite a useful feature for me since I have the capability to scan documents and turn them into PDF files using a digital camera and the iPad, which combined with the Airstash and the Story HD gives me the ability to get a physical paper document onto the ereader in minutes and without a computer.
The screen of the Story HD is 6 inches just like most ereaders, but the resolution is what gives it an edge – and its name. While 768 x 1024 pixels isn't technically HD, it certainly beats the 600 x 800 that most ereaders come with, including the Kindle. In fact, 768 x 1024 is a nice 63% more than 600 x 800, so it's not a small upgrade. The resolution was also a huge part of why I chose this particular ereader, as it makes a world of difference when it comes to displaying documents where you can't just split the text over several pages.
As for the screen technology, it's of course e-ink, meaning that it looks like paper and reacts to lighting like paper, with no background lighting for those dark days at home. Sunlight readability and less strain on the eyes are the two major reasons why ereaders exist, and e-ink displays really have to be seen to understand how different from LCD screens they are. The resolution of the Story HD (which on the same 6 inch screen as other ereaders make the pixel density much higher) actually makes anything displayed on the screen look more like paper than paper in some cases, as a lot of documents are printed with a lower DPI than the screen's PPI.
As for battery life, oh, don't get me started. They rate it at 6 weeks without qualifying that further by explaining exactly how little you can read per day to keep that, but then they save their reputation by saying it's the same as "up to 14,000 page turns." E-ink screens don't use power for just displaying something – only for loading a new page – so 14,000 page turns (if accurate) can be a few days of reading comics or a year of reading a couple of dozen pages to your kid every night.
Software
The Story HD does come with Google Books installed, which I guess is iriver's way of trying to be like a Kindle with a product that is absolutely not a Kindle. To be completely honest with you, the whole Google Books system is more like bloatware than it is anything else. It takes up space on the home screen (asking you to sign in, or if you already are, buy books), you can't turn it completely off, and it makes me feel like I bought the ad-supported version of the Kindle. Since the Story HD doesn't have a web browser or anything like that, it wouldn't even need WiFi if it wasn't for this Google bloatware (aside from system updates, which could be done via a computer).
Since it is indeed on the device though, I will mention the Google ebookstore. It's essentially a bad looking website that initially has just a search field and some legal stuff. It allows you to search for books, which in my case resulted in…well, nothing that made any sort of sense. I don't know if it's that my Google account is Norwegian so I can't buy from them or if there simply aren't many books in there, but the results I got had absolutely nothing to do with what I wanted. I tried a simple search for "Star Trek" since I've been reading those novels for years, and the top hit was "Catalog of Copyright Entries, Third Series: 1967." The same search in the Kindle store doesn't bring up a large back catalog of books either, but they do have all the newest novels and don't offer me legal documents on the side. After that first failure, I tried searches like "master and commander," "lord of the rings," and "harry potter" – all with absolutely no results that were related to the searches. Again, this might have to do with the region settings of my Google account, but the fact that this whole Google Books feature is so incredibly useless from any country where Amazon delivers without issue just proves my point that this is not a Kindle, and it shouldn't come with any ebook store built in at all.
The bottom line is that the Story HD is an ereader for your own content, and the file format support is quite good for that. It supports PDF, DJVU, EPUB, FB2, and TXT files (all very common ebook formats), image files (including zipped image archives for comics) and even office formats like PowerPoint. It's also supposed to support Adobe ADEPT, Adobe's stupid DRM format, but people who have actually tried to use that feature have encountered errors that apparently have to do with the firmware. Who would ever have guessed that DRM would cause issues…
Moving away from the "getting stuff to read" part of the software, the rest of the Story HD software package is also rather simple. For one, it didn't understand meta data in my epub files and started listing the file names instead. To get at least some kind of system I switched to file/folder mode, which is barely passable as a way to keep track of what you have on your device. For an ereader that has the potential to store many times the number of books of other ereaders, it certainly could do better. It does have a built in dictionary though, as well as basic features like bookmarks, jump-to-page, etc.
Displaying documents
The Story HD did disappoint me a bit when it came to displaying documents. I'm not quite sure what it is that does it, but documents are a lot harder to read on the Story HD than on the iPad. I know what you're thinking – it's the physically smaller screen, right? Actually, no. I did an experiment where I took a scan of the opposing sides of a book and displayed one side on the Story HD and both sides on the iPad, meaning that the page on the Story HD was displayed on half the iPad screen. While the Story HD had the resolution advantage in that test and both pages were physically the same size, the page was a lot easier to read on the iPad. I've had the same problem before with my computer screen, where scans displayed on a 1080 pixel tall computer monitor were harder to read than the same scans displayed on a 1024 pixel tall iPad screen. It might have something to do with the PDF engines used, as the Story HD has technology from Adobe themselves while I seriously doubt Apple does. Even with Flashblock on my PC and no Flash on my iPad, Adobe is still making my life miserable.
It should be noted though that this is not a problem at all with proper books, which consists of text that can be adjusted in size to your heart's content. What's more, the Story HD has a feature called reflow that accesses hidden layers of text in PDF documents and shows you this instead of the original PDF file. If you simply scan a document, there will naturally be no such layer as the PDF will basically have images as pages. If you convert documents from text documents, however, you will automatically get this text layer in the file. You can also run scans through Optical Character Recognition (image-t0-text) software, which is what I've done with all of my PDF files (I used this program). When you have this text file in the document, you can always choose the reflow option in the menu and access only the text, images and layout be damned. That way you can change font sizes at will and you'll have no trouble seeing the text. In the Photoshopped image below you can see the difference between the actual scan of the page (left) and reflow mode with the same page showing as just text (right).
Conclusion
The Story HD is not a Kindle. It's a digital piece of paper with an awesome resolution, non-DRM file format support, and expandable storage. Everything else about it is basic, but that's OK because it shouldn't try to compete with the content providers. The Story HD is for those of us who have documents, comics, self scanned books, or libraries full of ebooks from the days before digital reading became popular enough to slap DRM on everything. I could easily recommend this device to a friend of mine who's into Manga (Japanese comics), because the screen resolution and storage capacity makes it the perfect tool for something like that, while the the Kindle would be stupidly unsuited for it. For me, it's a companion device to the iPad, with the ability to be managed by the iPad and give me a second display for when I need to reference something while doing something else – also a task the Kindle could never perform. I would however not recommend this to someone who has read about ereaders and finds the thought of having a bookstore in their hands appealing – because this is not a Kindle. The Story HD is an awesome device for the kind of situations it's suited for, so if you're reading this, iriver, get that Google ebook junk off it and start promoting it properly.
As for price, the MSRP for this thing is $140, but you can probably grab it cheaper. Mine cost $99, which makes it cheaper than any current Kindle offering that isn't ad-supported.