Penultimate updated with photo import option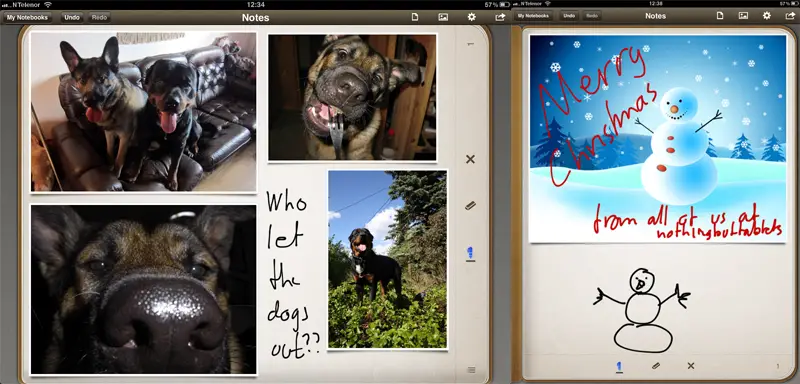 Penultimate is one of those apps that should be on all iPads. It's a note taking app that has the most authentic looking digital ink on the device because it slightly varies the line thickness depending on the speed you write, making it appear as though there is less ink where you do a fast swirl than where you start a letter. A few months ago it got a paper import functionality which essentially let you set various backgrounds for your notebooks, opening up possibilities to use Penultimate for all sorts of form based writing/drawing. Now the app has yet another new feature; photo imports.
The new feature works with both photos from the iPad 2 camera and the photo library, and through that, any photo you get off the web of import from a camera. As with everything that Penultimate offers, the feature has been planned and designed to the smallest detail – which is what sets Penultimate apart form note taking apps that have more features but not the same level of fine tuning. Photos will actually look like photos that have been glued to a piece of paper, which combined with the excellent look of the pen strokes in the app makes Penultimate the perfect tool for those who like "old school" photo albums where you add handwritten notes either below or on the photo itself. In fact, there's a new $0.99 pack of papers available in the built in paper shop which will give you a full range of photo album templates where photos will automatically snap to the outlines intended for them. Photos can also be rotated, scaled, moved, re-ordered (if you have several on top of each other) and they will keep all drawings and notes taken on top of them if you move the photos around. Put simply, it's the most accurate representation of a old school photo album you've ever seen.
Of course the new feature can also be used for e.g. journals and other uses where you'd import photos and take notes on the side. There are hundreds of such apps already, but Penultimate is basically the Apple of note taking apps; it's not necessarily the most feature-rich or frequently updated, but it sets the standard for what a feature should be when it's implemented. I can't wait for the day when Penultimate has the features I rely on in school, such as document important and zoom mode for writing smaller.
There are a few things I'm missing related to the photo import function as well. First off, images can only be rotated in 90 degree increments. I would love to be able to twist and turn them to whatever angle I want. The second issue I quickly ran into was that there really is no color that works well when writing on top of dark photos, as the 6 colors available in Penultimate are all rather dark themselves. I'd love to see at least white, and preferably yellow and more shades of red/blue/green as well.
I also miss a way to add clipart style photos, e.g. photo corners for albums, post-it notes, sticker-like photos to augment existing ones and so on. Unfortunately the app doesn't handle PNG/GIF files properly and adds a white background where it's supposed to be transparent, so at the moment something like this photo of a post-it would always display the white background around it, even if you were to remove that background in a photo editing program. That essentially makes it impossible to create any sort of clipart that is not square or rectangular. I hope this is fixed quickly, and perhaps there could even be a clipart store where you could buy a whole bunch of clipart images for a dollar or so.
The update also included changes to the palm ignore feature, which is designed to detect when your hand is resting on the screen and ignore any input from that part of the screen. The new changes are both under the hood and in form of a setting which lets you select how your hand is normally resting on the screen; 3 positions each for left and right handed positions. This is such a crucial feature in a note taking app, but I tend to never use it because none of them work perfectly. That's not the developers' fault though, but rather Apple's direct fault for not giving developers the access they need to interpret touch screen data in a way that would eliminate this problem once and for all.
All in all though, this update to Penultimate has yet again given the app a whole new set of uses that I'm sure will be very well received by its users. I would encourage people to buy the $0.99 paper pack as well as that helps the developer keep going, and $1 for a whole pack of papers is a heck of a lot more reasonable than the $14 that the first set of papers cost before the developer changed it due to popular demand (to put it mildly).
[
Penultimate
]