The Ricoh eQuill is an e-ink tablet for businesses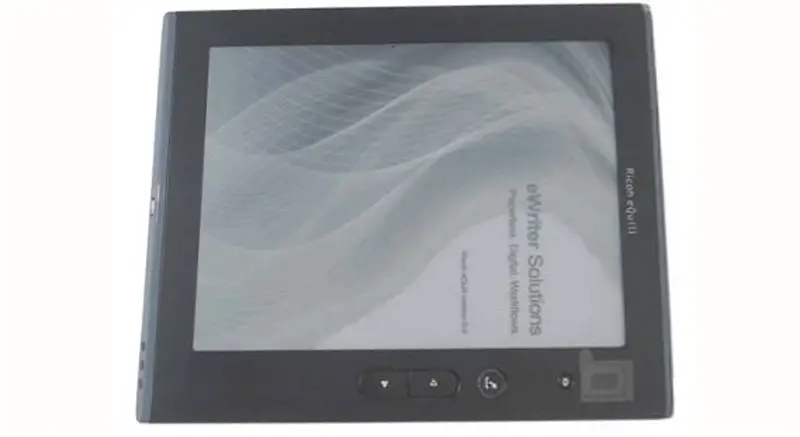 Replacing paper with tech is a process that has been ongoing for years. Just last week I saw a truck driver deliver items to a grocery store and use an old Windows tablet to keep track of…whatever it is they keep track of. The huge leap the market has seen in the last couple of years have made it easier to extend the paperless philosophy to all aspects of businesses, not just where it absolutely has to exist. The e-ink based Ricoh eQuill is a new tablet that aims for that particular segment, and it just hit the FCC (who approve electronics for sale in the US).
Unlike your traditional ereader, the eQuill has a larger 9.7-inch screen, a higher 825 x 1280 resolution and document signing functionality. Puts simply, it's an electronic version of a standard A4 piece of paper. With WiFi and 3G built in it can augment the 8GB of built in storage with access to files directly from servers, which should come in handy in such situations I mentioned at the beginning.
While this isn't as sophisticated as an iPad or Honeycomb tablet, it should prove more useful for purely document related tasks. The rated 20 hour battery life is also likely to mean that it will last a heck of a lot longer in mobile situations where one document is displayed for a prolonged period of time, seeing as how e-ink screens don't use power when just displaying something (only when flipping pages).
No info on price or exact release date just now, and this is not likely to pop up in consumer electronics stores anyways, but it's expected to launch soon and cost $500 or less. The Kindle DX is a similar device for consumers, though personally I think that even $379 is too high for a ~10-inch ereader when 5-6-inch ones are down to $100-150.
[
Google+
Reader" target="_blank">Liliputing]