How to turn your Android tablet into an IP camera
Have you ever wondered what the babysitter does with the kids while you are at work? Or maybe what your dog or cat is doing while you are in the other room? Well why don't you turn your tablet into a webcam, and find out for yourself! My wife and I have used this to see what our dog does when we are out of the room. Our dog is a little strange sometimes, and it's funny to watch her when she thinks we aren't in the room.
What you are going to need for this is the app IP Webcam, and then another device to view it on. This can either be a computer, another tablet, or even a smartphone. When I have done this, I used mine and my wife's smartphones as the cameras, and then used my tablet as the viewer. If you are using another Android device as the viewer, then you also need an app for that. I use tinyCam Monitor Free for that purpose. All three of the devices I have used this with are Android, but the Apple appstore has IP camera and camera viewer apps, so  there is no reason why this wouldn't work with both an Android and Apple device working together. The easiest way to use this is for all devices to be on the same WiFi network, and that is the way I am going to be talking about today. There are ways to be able to view your camera from anywhere on the internet, but that is a little more complicated than I want to get into today.
Once you have the apps installed, it's pretty easy to get started. Open up the IP Webcam app and you are greeted with a page full of options. None of these settings need to be changed to get your camera up and running. You can leave them all as they are, and just click the very bottom one labeled "Start server". If you do want to change some setting before you get going, then they are pretty self explanatory. You can adjust the resolution, quality, orientation, password, port, audio settings, and a couple other things if you want. Once you click "Start server" you will be take to a screen that shows your camera, have a web address at the bottom, and two buttons at the top labeled "How do I connect?" and "Actions…" Your webcam is now up and running.
If you decide to view your camera in a web browser, then simply type in the address that is displayed at the bottom of the camera. If you decided to add a password, you will be prompted to input that. What you will see next is a screen with a whole lot of different options that looks like this: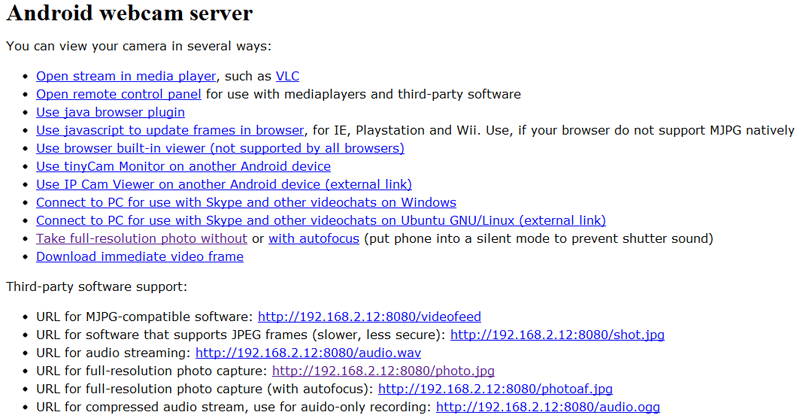 The third through fifth options in that list are the easiest way to get it up and running. The third option requires you to have Java installed, the forth option uses javascript in your browser, and the fifth option is the easiest if you are using Google Chrome or Mozilla Firefox. As you can see from the list, you can also use the commands to do some other things like take a picture of what you see on the camera, or record the audio, right to your computer.
The other way to view your camera is through another app. I've tried a few of them and tinyCam Monitor Free is the best that I tried. As you can see in the list above, it is also the one recommended by the makers of IP Webcam. Here's what you need to do in order to get tinyCam setup to view your camera. When you first open up tinyCam you need to go to manage cameras, then add camera. There are a whole bunch of setting here, but we are only really concerned with three to four of them. The first thing you need to do is set the camera vendor to IP Webcam for Android. The model will be set to generic automatically, which is where it needs to be. For hostname you add the IP address you see on your camera, and enter the port number (the last four digits after the IP address). For example, if your camera says it's address is http://192.168.2.14:8080 you would set the IP address to 192.168.2.14 and the port number to 8080. If you setup IP Webcam with a password, you can enter that and the username in login settings. Otherwise you can hit back twice to take you to the home screen, and then hit Live View. This should take you to viewing your camera.
Live view is setup to be able to access multiple cameras simultaneously. You could use this to run a home security system if you wanted. I've had two IP Webcams running on two smartphones and viewed them both at the same time. There are a lot of options in both of these apps to be able to set them up for just about whatever you need. As I mentioned earlier, you could also do this on Apple products, but I don't know what apps are available and how they would work out.
[
IP Webcam
| 
tinyCam Monitor Free
]