Whiteboard Pro – Home Notes is an excellent Android home screen note widget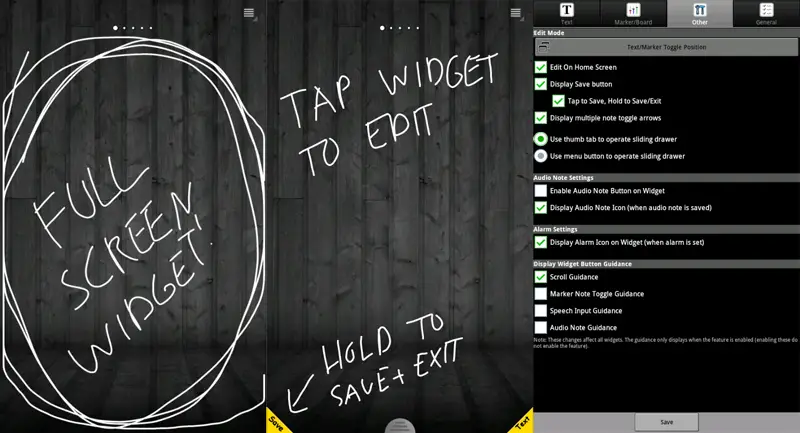 With Android I feel like a spend more time uninstalling software than I do anything else, because there is a lot of software out that that should never have made it to the Market, or at the very least have been marked better. A good note app for the home screen has been one of the widgets I've tried to find over the last few weeks, with no luck – until today. Whiteboard Pro – Home Notes is everything I ever wanted in such a widget, in fact I have a widget idea sketch saved somewhere that in hindsight describes this widget perfectly.
The app is both a widget and an app, and the way they work together is quite brilliant. You click the widget and get brought into the app where you can do text notes, drawings, and audio notes, and then save the note to be displayed in the widget. What makes this different from similar apps is the amount of customization possible. The widgets are fully scalable if your launcher supports that, and the app works perfectly with widget sizes that it doesn't have as default options. The way I have it set up is to have a fully transparent full screen widget on one of my home screens with no borders or anything that would indicate there's a widget there. When I click on it, it opens the main app which is set to be transparent as well so it looks like all that happened was some interface buttons popping up. I then jot down some notes and hit save, and it brings me back to the widget screen. The first 2/3 of the image above shows screenshots from the home screen and the main app respectively – as you can see, it basically looks like I'm editing on the home screen directly in the second screenshot.
The way I have it set up is just one option though – there's a ridiculous amount of options available to make the app and widget function as you want. It's one of the most universal widgets I've seen on Android as so many widgets go bonkers when met with unusual screen sizes, resolutions, or home screen setups. The app has only gotten around 5000 downloads so far which is why you're unlikely to stumble across it in the Market, but it's definitely worth the $1.
[
Android Market
]