Archos 80 G9 Turbo now available with 250GB hard drive option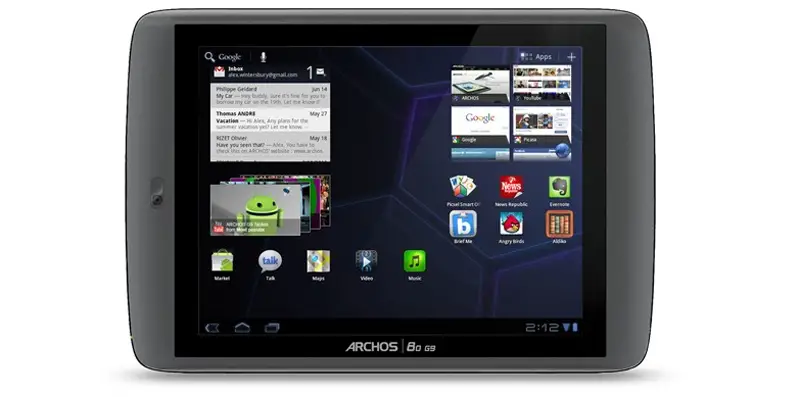 Archos is at it again with an update to their Archos 80 G9 tablet. The Turbo edition of the tablet is now available, sporting a 1.2Ghz dual core CPU and a hard drive option with 250GB storage. Other specs include an 8-inch, 1024 x 768 capacitive display, powerful video support, front camera, HDMI-out, your usual array of sensors and up to 7 hours of video playback.
As with most Archos products however, the low price comes at a cost (pun intended). There's no mention of whether the screen is glass, which likely means it's not. 1024 x 768 is also not exactly the most brilliant choice of a screen resolution and aspect ratio on a device that is primarily a media player. Some audio codecs are also Archos' usual "pay to use", which increases the cost. The battery life definitely isn't great, and coupled with a weight of 599 grams for the hard drive model makes me seriously question the usefulness of this. I think there's a lot of confusion when it comes to storage these days, which isn't good for the consumer. First off, tablets ship with up to 64GB of internal storage. While SDXC cards aren't officially supported by many tablets, simply switching the file system to FAT32 instead of exFAT will make a lot of them compatible. Then you have external flash drives which come with capacities up to 256GB, not to mention both wired and wireless external hard drives. With of all those storage options available, as well as cloud services, I don't see much point in compromising on other specs in order to get the 80's hard drive.
If you do still want it though, at least it's somewhat cheap. Err, not really. The 16GB version is $320 and the 250GB hard drive version is $370.
[
Archos
via
Liliputing
]