Phoenix Suns start using Android tablets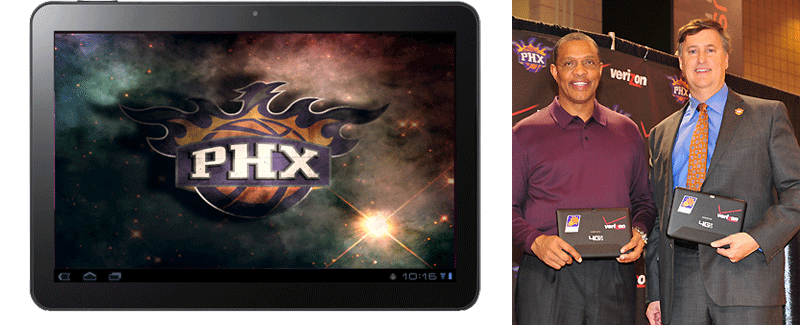 The Phoenix Suns will become the first NBA organization to utilize tablets on a large scale. The Suns organization, Samsung, and Verizon teamed up to bring more than 100 Galaxy Tab 10.1's to members of the Suns organization.  The player's tablets will be used for playbooks, travel itineraries, practice videos, and scouting reports. Some will also be used by those in the Suns management for business development, in-game promotions and presentations. Team announcers will also be using the Tabs in place of cue cards and other related functions.
The NBA limits the use of the Tabs during game time situations. Players will not be allowed to bring them to the bench, but coaches can have them. Coaches will not be able to show video from the current game however. One coach said that the Tab will help with play calling by being able to call up a particular play diagram faster than they have been able to on paper.
Overall this is a huge move for the Suns organization, and the use of tablets in the NBA as a whole. As long as the Suns have a positive experience, and so far reports are saying that it has been positive, then I can see the rest of the NBA following suit fairly quickly, with possibly the NHL, NFL, and MLB not far behind. If there is one thing that is true in sports, it's that if an owner sees something like this as a competitive advantage, they will be quick to mimic the Suns organization.
[
Computer World
]