Pokémon Yellow scam hits the app store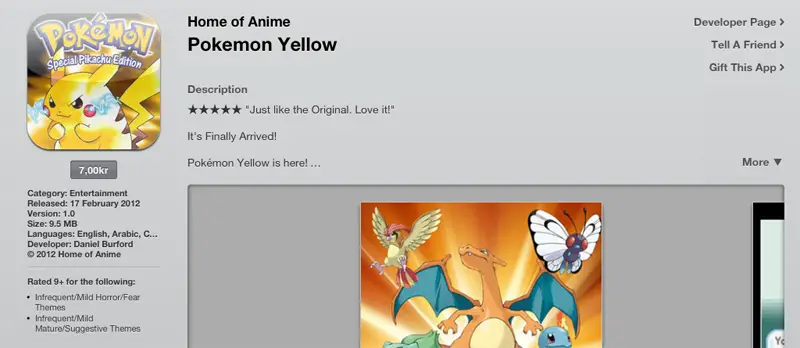 Apple is very strict about controlling what goes on the App Store and make sure everything follows its rules. That's why Taposé isn't out yet, and why OnLive's main app is so far Android-only. Apple's reviewers don't really care about what an app does as long as it follows the rules though, as the newly released app "Pokemon Yellow" clearly demonstrates.
The app has the name of the classic Game Boy game, and a description that would suggest it's both a game and a great one at that. "Pokemon Yellow is here", "Addictive Pokemon Gameplay", "Press Quotes: Fantastic and addictive gameplay" and so on. If you pay $1 for the app and try to open it, however, all you see a Pokemon image before the app simply crashes.
So, what has happened here? It has some sites a bit baffled, and people want to know why it doesn't work, how Apple released a pirated version of a Nintendo game, and so on. I took a look at the description, then downloaded the app and started exploring the app's files on my jailbroken iPad. The verdict? Read on and I'll tell you.
What has happened here is simply that a developer has used Apple's own rules against it. The app description doesn't actually say that it's a game. It's classified under "entertainment", and the description is written in a way that is still kind of true if this is just an app showcasing the original game. There are a lot of those out there, and this is actually not the first one to pull this "looks like a game, but isn't"-trick. They often contain very basic information and screenshots from the game, but never state outright that they are games. Everything in the description can be "excused" by saying "that's the original game, not this app". No user would ever accept that, but apparently Apple does. From the files found in the installation folder, there is absolutely no game in this app. It's full of various PNG images referring to things like sharing on Facebook and commenting, but nothing that would suggest a game; no sprites, nothing.
Why was this approved by Apple? It doesn't technically break any rules. It doesn't claim to be a game, it just looks like one to anyone who sees it. Apple has no rules against poor quality apps, which is why they can claim that the App Store has hundreds of millions of apps to begin with. In Apple's eyes, low quality apps simply go unnoticed and help bring up the total number of apps, so why ban them? If you want to make and app that simply displays "I like cake", you can, as long as it doesn't break any rules. Want to create an app that displays a Pokemon image? Until Nintendo complains about the name (which is cleverly(?) misspelled "Pokemon" instead of "Pokémon") or images, there's no reason to deny it. As for the "crashing", it might be the way it's designed, or simply a bug – but don't expect a game behind there even if it gets updated to work.
Clearly this is a scam, but one that is based on clever word play and tricking people who should know better than to believe that Pokémon Yellow has been released on iOS by a developer called Daniel Burford. As for Apple, this is a downside of the way it conducts business, and by no means an isolated incident. While powerful, useful apps like Taposé and OnLive get tied up in paerwork for months, apps like these get published daily. Welcome to Apple, enjoy your stay.
If you want to check out this app, hurry over to the App Store before it gets pulled. Apple will no doubt remove it once it hears of this story traveling around the net, but since we're the only site I've seen to point out that this is a common thing on the App Store, I doubt very much that anything will be done about the source of the problem.