Officially supported Minecraft companion app hits the App Store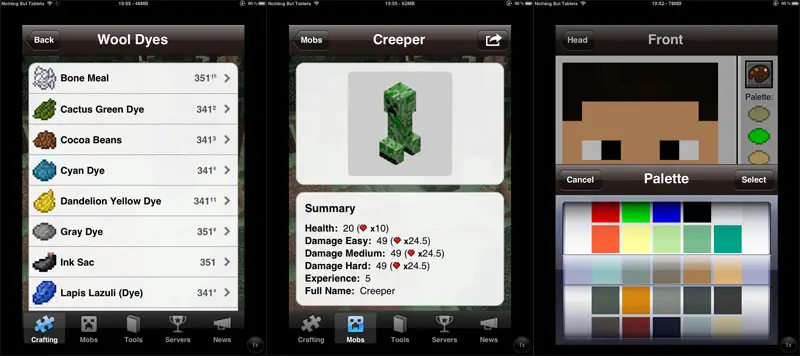 Apps as on-the-side resources for games is becoming hugely popular, with games like Mass Effect, Call of Duty, World of Warcraft, and a ton others having official apps – or even several. While Mojang, the creator of Minecraft, still tinkers around with the pocket edition of Minecraft which is an actual game, they now seem to have gotten involved with the range of Minecraft companion apps as well. A new app in the App Store is called Minecraft Explorer and claims to be officially supported by Mojang, though not actually made by them. The app is, like many other such Minecraft apps already, more or less an app version of the Minecraft wiki. It lists all the blocks, how to craft things, info about mobs, and so on.
It does however have a few aces up its sleeve, namely a skin creator and a server list. The skin creator lets you create skins for your character on the iOS device itself, while the server list is basically a way for server owner to get some publicity. Unfortunately, both these features are $1 in-app purchases that come on top of the $1 cost of the Pro version of the app (no ads). For the skin creator that unlocks the feature, while for the server list that's the cost server admins have to pay to list a server – so no cost to you if you're just a player and want to browse the servers. You can't actually join Minecraft through this app though, so it's just a way to see potential servers.
The other bit of bad news is that this is an iPhone app. There's no iPad version, and no Android version for that matter. The fact that this is supported by Mojang is going to help sales, but I'm not overly impressed with the lack of other versions or the business model they use with the paid server listings and skin creator unlock.
[
iTunes
via
Touch Arcade
]