GameStop starts selling Android tablets and BT controller in the US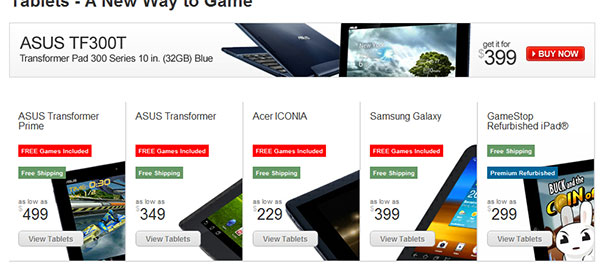 A couple of months ago it became known that GameStop would start offering up tablets in its US stores. That day has now come, and the company has announced that it is offering tablets in 1600 stores nation-wide in the US. What's interesting however is not that we now have yet another retailer for tablets out there, but rather how it's doing it. GameStop is a video game store after all, and it's well known that those types of stores make most of their money on games and accessories, not consoles. In the case of Gamestop, used games is also a big part of its business.
Well, I sort of already gave you the answer on how the company intends to make money on this. First off, the tablets that it offers comes with some games pre-installed, which sort of makes it more game related than just a fresh tablet. More interesting is however the introduction of a Gamestop-exclusive Bluetooth controller that will work with "a selection of games". We're no stranger to game controllers for mobile devices on this site, and while our Android game controller guide deals with less consumer friendly (yet way more powerful) ways of dealing with game controllers, the Phonejoy controller we reviewed not long ago is more or less exactly the kind of thing that Gamestop is now offering. Out of the box it's not compatible with a whole lot, and naturally Gamestop isn't going to push this as an emulator accessory, or tablets as portable PS1s and N64s. In other words it's not really doing anything new as much as it's bringing it to the masses – but that's not something that should be underestimated.
The game controller is one way that Gamestop will be making money on this, and it seems that dealing with used devices is going to be another. The press release states that both consoles, games, and iPods, iPhones, and iPads can be traded in when you go to buy a new tablet, and there's also a section of the websites that offers refurbished iPads right now. By tempting console owners with fancy new tablets, Gamestop encourages people to trade in their consoles, which Gamestop then sells at a higher, yet cheaper-than-new, price.
It's always great to see a new retailer invest in Android, but I hope that Gamestop knows what it's doing. Very big titles have been announced for Tegra 3, specifically Borderlands 2, and that's a game that will not only make good use of a controller, but also bring tablet gaming to a whole new level. On the one hand I'm glad that Gamestop is lending a hand in the battle to inform people that you don't have to use the touch screen for controls, but on the other hand the Gamestop's "works with select titles" system is just so ridiculously limited compared to what you can do with some third party apps, and more importantly root. Still, tablet gaming has come a long way in a year.
[
Gamestop
via
Android Central
]