Asus announces Transformer AiO, hybrid Windows desktop/Android tablet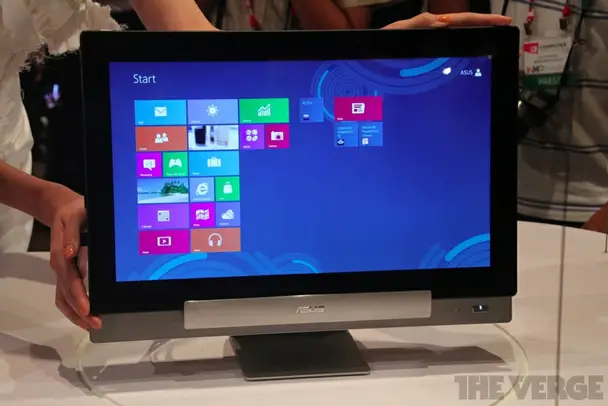 Asus is at it again with releasing weird new products, and one of the new devices that the company showed off today is the Transformer AiO. AiO stands for All in One, and at first glance it looks like an 18.4-inch Windows 8-powered all-in-on desktop computer, but much different from other similar computers we've seen over the years.
What makes this special though is that you can pull off the entire screen, which is then a standalone 18.4-inch Android tablet. The tablet only holds the hardware needed to run Android, making it as portable as something that has an 18.4-inch screen can be, but the trick here is that while in tablet mode it maintains a remote desktop connection to its Windows 8 dock, meaning that you still get the Windows 8 functionality on it as long as you're on the same local network as the dock.
I find this solution particularly interesting, because remotely accessing a more powerful computer that runs Windows is something I've been doing from iOS and Android for ages, and I've been vocal about what I think of the potential for this kind of system. I have to admit that this is the first time a Windows 8 product has appealed to me, but this one really does. The potential is huge for someone who doesn't already have several computers and tablets, as this can serve as a workstation one second and be a relatively good bedroom TV the next. 18 inches is a lot for a tablet, don't get me wrong, but the same reasons that make Toshiba's 13.3-inch Excite tablet interesting apply for an 18.4-inch device too – just on a larger scale. It's a new type of tablet meant for around the house, and having it be part of a desktop computer setup makes a lot of sense – at least for those who don't need multiple 24-inch monitors to feel like they can be productive.
The specs are still somewhat of a mystery, though. The dock will run on an Ivy Bridge processor and have a discrete graphics card, but the tablet has got to have both an ARM based chip and a whole bunch of other hardware too. I'm most concerned about what the battery life of such a thing would be – for use around the house you do have access to an AC outlet for the most part but this has to be able to live a bit off the charger, too.
Price is also going to be a deciding factor. As cool as this one-in-all solution is, the fact is that it doesn't have any features (screen size aside) that I don't already have beside me here now (between my dual 24-inch monitors and three Splashtop-enabled devices), I dare say I have a more flexible setup right now. For this to make sense it needs to be an alternative to a PC you buy for someone who isn't already a power user, and with prices for such computers being lower than ever, Asus really has to hit the mark perfectly to avoid people simply grabbing a better desktop PC, larger screen, and something like a Transformer TF300 on the side. Time will tell how good Asus's aim is, I guess.
[
The Verge
]