How to get HTC's official Notes app on your rooted HTC EVO 4G LTE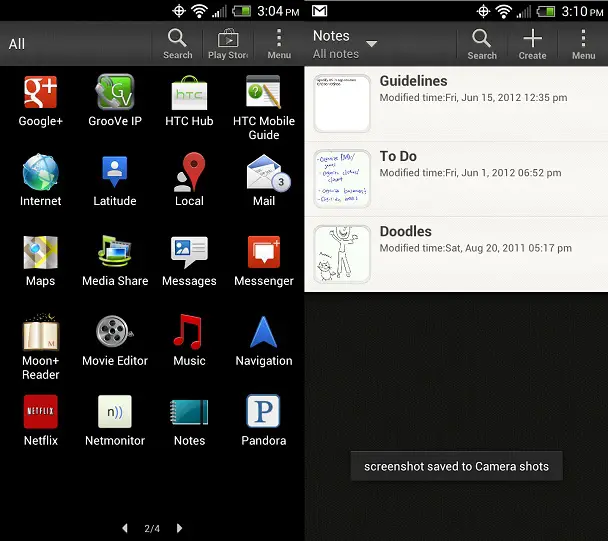 For some reason, Sprint and/or HTC decided to leave out the Notes app on the HTC EVO 4G LTE – the same one that appears on the AT&T HTC One X, and even on last year's HTC EVO View 4G. But luckily, if you're rooted, it's fairly simple to get it back, and it adds some nice functionality to the handset, all thanks to the work of puertoblack2003.
If you have a custom recovery installed on your rooted EVO, all you have to do is download this zip and flash it in recovery.
If you're like me, and you soft-rooted the device – in other words, you've only got Superuser installed and you didn't unlock the bootloader or flash any custom recovery – then there are a few more steps involved:
Download this zip, and then unzip the contents.
Using your favorite file explorer (I prefer Root Explorer), copy these three .apk files into your system / apps directory on your phone: Htc3DRichNotesWidget.apk, HtcNotes.apk, and HtcNotesProvider.apk.
Change the permissions of all three files to match all the other files in this directory. (In Root Explorer, this is rw-r–r–.)
Next, copy these two files into your system / lib directory on your phone: libnotes_jni.so and libnotesprovider_jni.so
Change the permissions of these two files to match all the other files in this directory (this is the same as step 3).
Reboot your phone.
Once your phone reboots, you'll now have a handy shortcut to Notes in the app drawer, along with an option to sync your notes to Evernote in the Accounts & sync menu. You can sync any notes you've created in Evernote with your EVO 4G LTE this way, along with notes you may have created on the EVO View 4G. The Calendar app also gives you the option to create a note for any events in your calendar.
So far, that's all I've been able to uncover, but I'm sure there are other ways that Notes integrates into Sense 4.0 that I just haven't found out about yet – so let me know below how this works for you, especially if you find any additional functionality that I haven't discovered!