Kickstarter spotlight: Collusion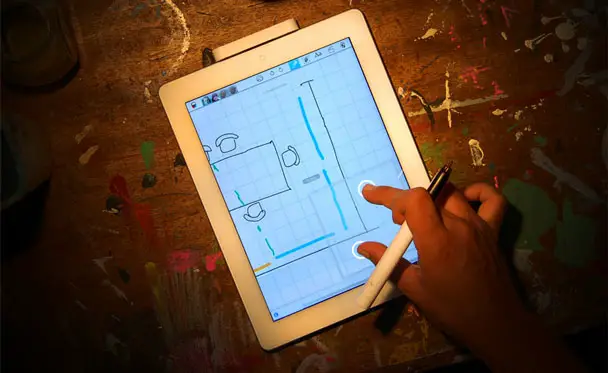 I check Kickstarter every day, and I normally decide fairly quickly whether or not something is worth writing about, not worth writing about, or possibly even a scam. One project that has left me undecided, however, is Collusion. It's a digital pen for the iPad that comes with an app for annotating documents, taking notes, drawing, and collaborating in the process. The only problem? It appears to be the $90 iPen with $60 added to the price – but is it really?
If you remember back to my iPen review, I talked about its advantages over a normal stylus and how it working with my favorite note taking app is a huge plus. The iPen, like Collusion, uses a receiver plugged into the top of an upside-down iPad to sense a pen that circumvents the touchscreen entirely and in doing so provides a more accurate, palm-less pen experience.
I contacted the project creators to get a better idea of why they're launching a product that seems to exist already, one that was funded on the same site – and the reply was that Collusion integrates pen, app, and the cloud, and is therefore different. Furthermore, the iPen similarity has been brought up in the project comments, and have been responded to by the Collusion creator. The reply is surprisingly rude for someone who tries to get backers on his side, but basically breaks down the product and price difference into quality and integration factors. He points to the iPen being made as cheaply as possible, and that Collusion is going to go a different route to ensure quality.
Considering how much uproar was caused by the iPen's release, with issues ranging from physical defects to sluggishness, mixed in with the creator's infamous dishonesty, it's easy to see how a higher quality product would be merited. The choice to go for a self-contained eco system with an accessory that only works with one app is a further attempt to limit poor end user experiences by making sure the implementation is perfect and doesn't depend on other developers. With the iPen's usability varying from horribly to good depending on what third party app is using it, this is yet another understandable choice.
Still, I remain unconvinced. I have no love for the iPen creators, but rather the opposite, and at the end of the day I sit here with an existing $90 iPen that works beautifully with the app I was already using for notes: Goodnotes. $150  (MSRP, $140 on Kickstarter)for a promise to make a better product that I have to switch apps for doesn't sit quite right with me, but then again I haven't tried the Collusion pen so I can't compare. At the very least this company seems to be passionate about its product, whereas the iPen creator…wasn't. It will be interesting to see come September how existing iPen owners react to Collusion, as there are sure to be a few of those among the backers. With almost $80,000 out of $100,000 raised with 25 days to go, it's a good bet that we'll find out.
[
Kickstarter
]