RIM's L- and N-Series BlackBerry 10 devices leak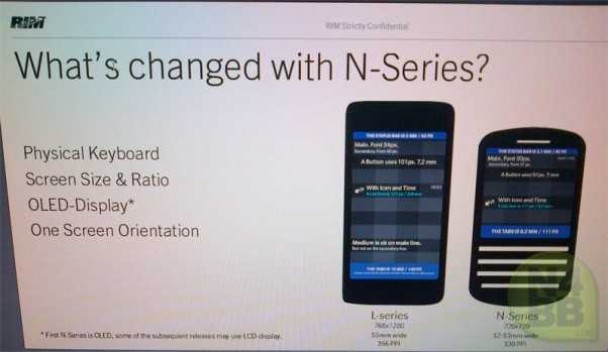 Google I/O is this week, meaning that a lot of focus will be turned toward Android 4.1 Jelly Bean and the Nexus tablet that the company will introduce. But RIM is going to release a new operating system in the near future, as well, and today its L- and N-series BlackBerry 10 phones have been leaked.
The L-Series phones will be similar to the BlackBerry London that we've seen before. It'll include a 768 × 1280 display, which will give the device a staggering 356 PPI. Meanwhile, the N-Series will have a 720 × 720 display that makes 330 PPI. In comparison, the iPhone 4/4S' Retina display only has a PPI of 326 – meaning that the BlackBerry devices have sharper displays.
These sharp displays will show off BlackBerry 10, but the L- and N-Series will show them differently. The L-series is a traditional candybar-style phone, while the N-series is a traditional "BlackBerry-style" phone; that is, it has a square display and physical keyboard. Obviously, the two phones will show UI elements in different ways, and you can kind of tell from the picture how each will display the OS.
I hope that these new BlackBerry devices are popular. They seem to offer some really awesome hardware already, so hopefully the software can match it. I guess we'll find out when BlackBerry 10 is released this fall.
[
N4BB
]