Windows 8 image reveals new features for Xbox media apps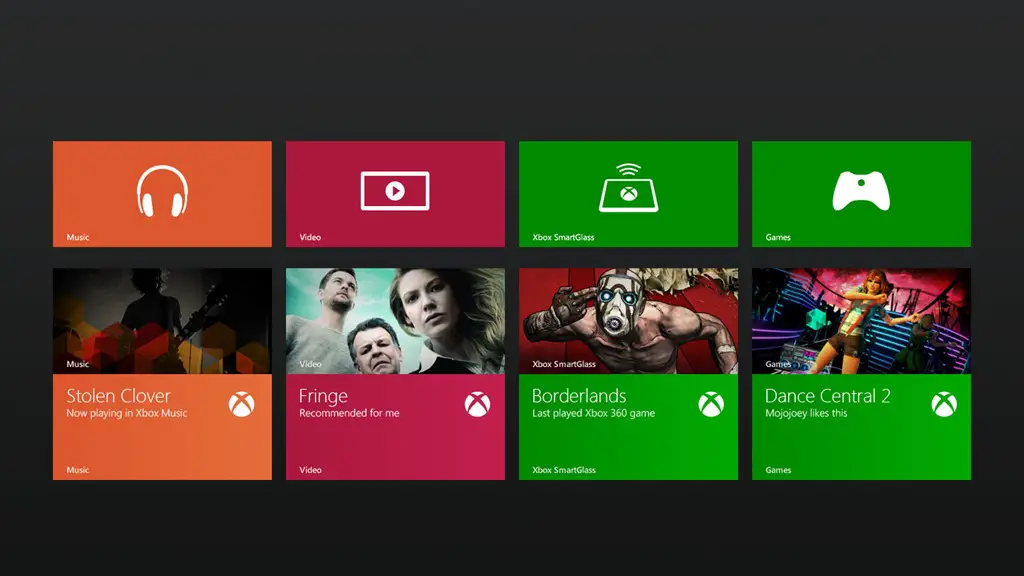 Microsoft announced Xbox Music–the next generation of its Zune entertainment service–and Xbox SmartGlass at E3 this week, but many of the details regarding this new suite of Xbox-branded media apps remain shrouded in mystery. A new screenshot in a post on the Windows Experience Blog, however, appears to have revealed a few additional details about the upcoming versions of Xbox Music, Xbox Video, Xbox SmartGlass, and Games.
Music: Of the four apps, Xbox Music is probably the most unchanged. The default live tile is identical to the one found on the current Music app. Strangely, even the word Xbox is missing from the live tile. The music playback experience, however, is somewhat different. The live tile now appears to switch between artist imagery and the artist's name with the words "Now playing in Xbox Music." The Xbox logo is also clearly visible.
Video: Like Xbox Music, the Xbox Video live tile doesn't actually mention the word "Xbox" anywhere. The app's logo has also been changed from a 4:3 display to the now more common 16:9 display. The app will also recommend movies and television shows right on the live tile, occasionally switching to the recommended content's promotional graphics.
Xbox SmartGlass: The successor to the Xbox Companion app, Xbox SmartGlass prominently displays a wirelessly connected slate sporting the Xbox logo on its live tile. More interesting, however, is the fact that it can display your last played Xbox 360 game, along with the game's artwork. Strangely, this is the only Xbox media app to actually feature the word Xbox on its live tile.
Games: The name of the fourth and final app has been shortened from Xbox LIVE Games to simply Games, in keeping with the naming convention for Music and Video. It can also display the name and artwork for games that your friends have liked. This doesn't appear to be tied into pages friends like on Facebook, since it displays a Gamertag rather than an actual name. Will the next update to the Xbox Dashboard include a way to 'like' games?
The release of these apps is still a few months out, but it looks like Microsoft has some very exciting features up its sleeve.
[
Windows Experience Blog
]