Accessory review: IPEVO 360 Degrees Rotating Folio for the new iPad and iPad 2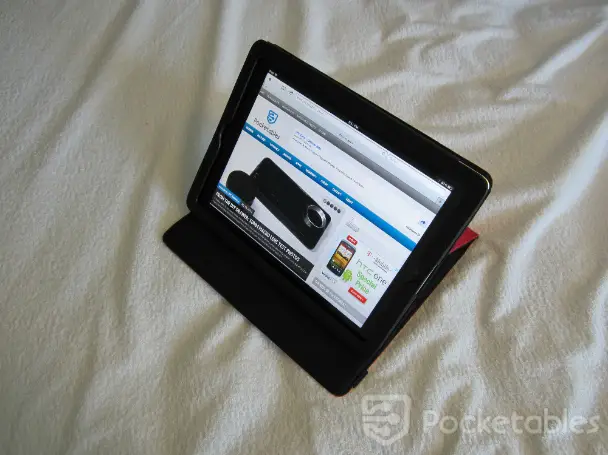 I've complained before about the iPad; while it's great device, it doesn't offer good ergonomics or a way to easily prop it up so you don't get tired by doing it yourself. After every ergonomics complaint, though, I always give praise to accessory manufacturers that make solutions to the problem.
I've already reviewed an accessory from IPEVO and it wasn't the greatest case I've ever used. So when I got another IPEVO product – the 360 Degrees Rotating Folio – I was kind of worried that I'd have to write another somewhat negative review for one of the company's products.
Did my fear come true, or did IPEVO make some better decisions with this case? Read on to find out!
Packaging
Again, IPEVO uses a lot of cardboard to transport the Folio case (as it will be called in this review) from one place to another. It gets the job done, so, like last time, I can't complain.
Design and Quality
I used to think that leather cases were the best: they offered great protection while feeling great in the hand. But then IPEVO sent me two of its cases to review, and now I think otherwise.
The Folio case that I picked is red. The material used is not leather or rubber or even plastic, but a nice fabric. It looks and feels like suede – until you get close enough to see all of the little bits that add up to tell you that it most definitely is not suede. Still, it feels great and offers enough protection to be comparable to other leather cases.
This is the front of the case when it's closed. There's a nice elastic strap that can be stretched to the back to hold the case shut. In the picture above, it's on the front so you can see it.
This cover also supports Apple's automatic sleep/wake function, but I had a few issues with it actually locking the device. I don't know why, but sometimes the screen would stay on even after the cover was shut. I even woke up one morning to a dead iPad!
This is the back of the case. The strap is securely holding the case together. You can also see the fold that allows the iPad to be propped up when the case is open. You'll see that a little later.
Like most cases, this Folio case has a flap that attaches via velcro to keep the iPad secure. Thankfully, this flap is much more pliable than the other IPEVO case that I tried. It offers enough flexibility to easily strap the iPad in while still providing enough strength to keep it there.
Once the iPad is in the case, this is how it will look. The 3.5mm headphone jack and sleep/wake button are easily accessible.
Here's the volume rocker and silent switch. Again, everything here is easily accessible. You can also see here how nicely the case fits with the iPad. I have the new iPad, and this is a universal case, so your results may vary, but I was pleased with how nicely my iPad fit.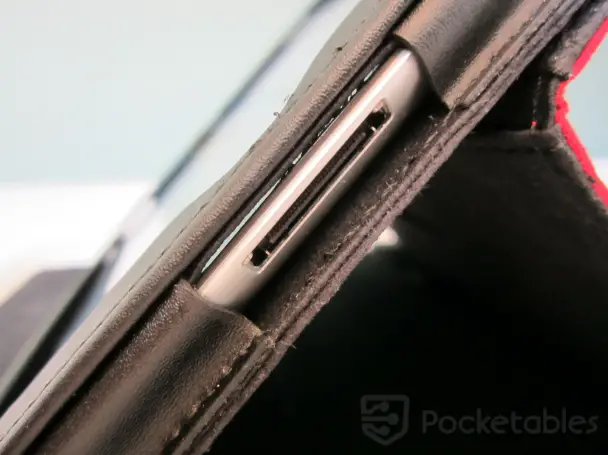 Here's the 30-pin connector and the case's opening for it. There is plenty of room for even the biggest of connectors to fit.
Functionality
The biggest feature of this case is its ability to hold the iPad up in one of four positions. The case is branded as a 360 degrees case, but there's no way to hold it up at any other position than those four . Still, this little ring lets you turn the iPad in a 360 degree rotation – which is where the name comes from – and be able to position it in one of the four positions. For reference, those four positions are two horizontal and two vertical.
These notches are essentially what hold the iPad up. The bottom of the part of the case that holds the iPad is what rests inside these little grooves. Unfortunately, there are only three, so you're confined to four angles – if you count the iPad being perfectly flat an angle. I guess I've become spoiled after using ZooGue's Leather Case Genius for a while now: that case has a nearly infinite number of angles at which you can prop up the iPad because it uses velcro instead of predetermined grooves.
Whether you like the selected angles is of course subjective, but I will say that the third groove (the one closest to you when you hold the iPad) was the best position for just about any task. I could type easily without becoming fatigued while still watching videos while laying down.
And, of course, you can use the iPad in landscape or portrait orientations. I almost always use my tablet in landscape, but the Atari Greatest Hits app includes some games that have to be used in portrait, so it's nice that this option is available to me.
Whichever orientation you choose, the case always holds the iPad up very securely. There's no doubt in my mind that this is a very quality case.
Conclusion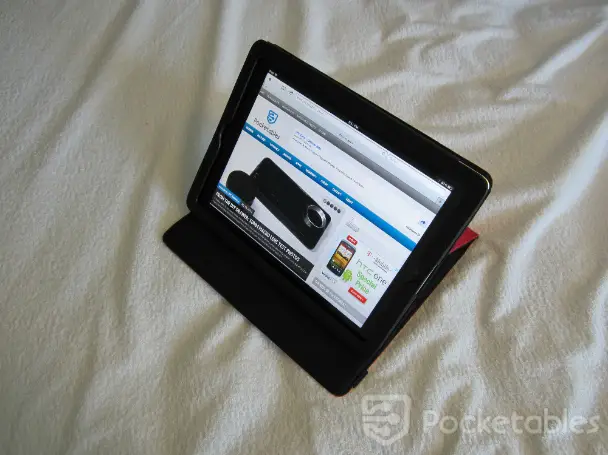 Like I said at the beginning of this review, I was a little worried that this IPEVO case would be like the last one I used. Thankfully, it's not. Aside from the lack of more grooves for different positions and the odd – but not frequent – sleep/wake issue, this is actually a perfect case. It'll still be my daily driver, replacing my own ZooGue case, but I hope there's another iteration in the works that adds either velcro or a few more grooves so I can put my iPad in the 100% perfect position.
IPEVO is currently selling its 360 Degrees Rotating Folio for the new iPad and iPad 2 for $45.00 in red, black, black denim, and gray.