Get a $25 HTC Watch credit for your HTC EVO 4G LTE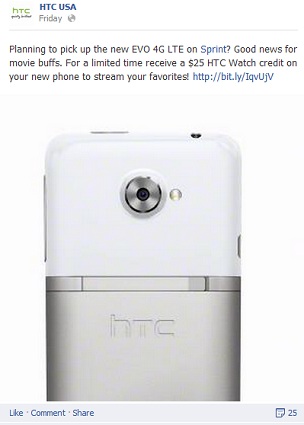 In case you need any more motivation to pick up an HTC EVO 4G LTE, HTC recently announced on its Facebook page that it's giving away $25 worth of credit in its HTC Watch video store to anyone who activates the service on their device. Straight from the horse's mouth:
Planning to pick up the new EVO 4G LTE on Sprint? Good news for movie buffs. For a limited time receive a $25 HTC Watch credit on your new phone to stream your favorites! http://bit.ly/IqvUjV
It's not clear when this offer will expire, and whether it's good for new and existing HTC Watch customers. To be on the safe side, I went ahead and created a new HTC Watch account with one of my disposable email addresses, and lo and behold, the $25 credit appeared. (Note: the image below is my balance after one movie rental.)
The only catch I've noticed is that this credit can only be used on movie or TV show rentals, not purchases. This wouldn't be a problem normally, but the selection of titles available for rent is significantly smaller than the selection available for purchase. There's also no easy way I've found to sort titles that are rent-only.
Also, some people have encountered problems with rooted devices, even after temporarily unrooting. YMMV.
Still, free money is free money, and this will definitely help out on my next long roadtrip or plane ride.
[
Facebook
]