Get Jelly Bean's Sound Search on your Ice Cream Sandwich device today, no root needed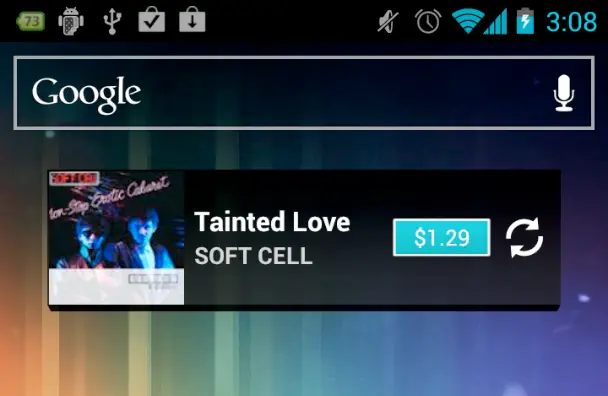 One of the features that Google introduced for Jelly Bean is called Sound Search. Like the name implies, this widget (which is rumored to later become a fully fledged app) listens to a piece of music, scans it, and then comes back with that song and a way to purchase it.
But, if you don't want to wait to get in on the musical fun – and you have an Ice Cream Sandwich device – you can download an .apk or .zip file (.apk for non-rooted users; .zip for rooted ones) to install it. Once you have it installed, you are ready to go. The service that powers this widget is ready to go for Ice Cream Sandwich and will obviously be perfected by the time Jelly Bean is released later this month.
As of right now, the app sends you to the Google Play Music store. "Tainted Love" by Soft Cell is currently $1.29 – thank goodness I have Spotify! Still, having an in-house solution for music recognition is kind of cool. Right now it's only tied into Google Play's Music store, but I wonder if Google won't tie it into some of its other services, too.
I guess we'll find out what Google plans on doing with Sound Search later this month, but for right now, you can download the .apk through one of the mirrors in the list linked below. The only prerequisite is that your phone is running Ice Cream Sandwich.
Let us know in the comments if you install it and how you like it!
[
Download
via
Mobile Phones Fan
]