Legacy Play Store revives purchased app list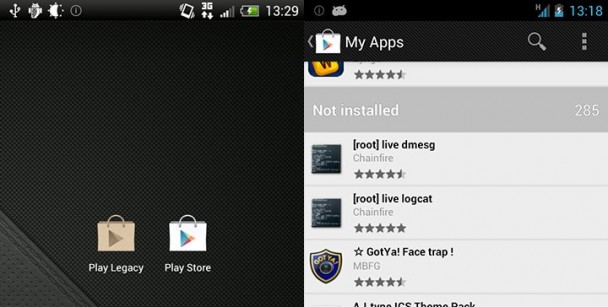 In the past, I've complained a bit about how Google handles the "My apps" section of Google Play. I requested that Google add filters to make it easier to find past apps, but also touched on the fact that they removed a feature that I actually used quite a lot: the list of purchased apps that aren't installed. I figured I would just have to deal with the inconvenience (which, admittedly, isn't much), but once again independent developers have come through with a solution to the problem caused when Google removed features from its own app.
Found on the MoDaCo forums, the solution is a simple app called Legacy Play Store. As you might expect, the app is basically a legacy version of the Play Store which retains the "not installed but purchased" application list, and can be installed alongside the current Play Store version which you can still use normally. If you want to get your list of purchased apps, all you need to do is open the app and go to the list. It is a bit of a roundabout way to get the information, but at least it works. Installing the app is simple too, pre-Android 4.1 build can just install it normally, and with Jelly Bean you simply need to push the app to /system/app to manually install it.
I had to do the manual install for my Android 4.1 Galaxy Nexus, but so far everything has been working quite well. The original Play Store still works, there have been no force closes, and I can download and install purchased apps from the Legacy Store without issue. Installing this app may seem like a lot of work just to get the purchased app list back, but it is certainly worth it for me, and obviously some other Android users as well.
[
MoDaCo forum
]