Nokia N9 shown running Android 4.1 Jelly Bean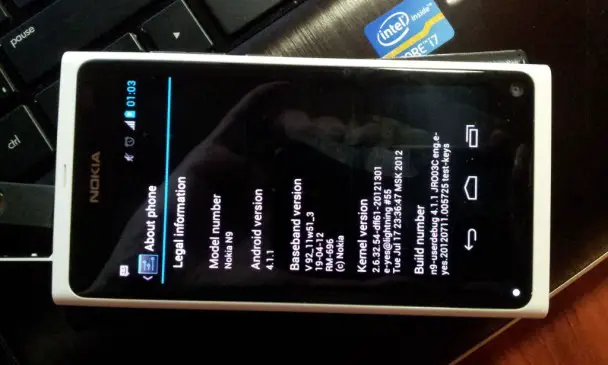 Although Nokia has long abandoned it, The MeeGo powered N9 smartphone seems determined to live on through independent development, even despite very low sales in the US. Back in February, it got an unofficial build of Android 4.0 Ice Cream Sandwich, and now there is even a startup that aims to keep the stock MeeGo OS relevant, albeit through new hardware.
Most recently, it appears that the 1GHz single-core N9 will be able to stay relevant once again, this time thanks to a build of Android 4.1 Jelly Bean. The image you see above was posted on Twitter by a Russian developer, presumably part of the NITDroid project. While you can't download the N9 ROM yet, the progress he has made is actually quite promising. A video on his blog even shows voice calls working, although because most of it is in Russian it is unclear what other features of the ROM are functioning properly. Still, it is quite impressive that Android 4.1 is already working on a device that wasn't even designed for Android in the first place, and it will be interesting to see how the ROM works when it is eventually released.
Oddly enough, this obscure Nokia smartphone actually seems to get the latest version of Android working quite quickly, which is actually a bit amusing when many other Android devices don't yet have custom Jelly Bean ROMs, not to mention official updates. Of course, the build pictured above is obviously very early, and probably won't be ready for general use any time soon. However, now that the N9 costs little more than $400 on Amazon, I'm quite tempted to try one out. Only good things have been said about the hardware and industrial design, and it seems to get Android updates nearly as fast as my Nexus!
[
Twitter
via
Eastern Morning Herald
]