Aside from the original HTC EVO 4G, the HTC One X is HTC's first smartphone to induce such a massive response from consumers. And rightly so, because the HTC One X represents quite a lot for the Tiwanese company, who hasn't really had a hit since the aforementioned EVO. With the HTC One series, they have changed nearly everything about their smartphones, and it shows.
Of course, not everything is perfect: there have been some WiFi troubles with the One series, and John even decided to return his AT&T HTC One X because of  some of AT&T's policies about prepaid plans and device updates. However, I'm not here to talk about AT&T's prepaid policies, even though I'm a big supporter of off-contract plans. Instead, I've been using an AT&T One X, which is available from AT&T for $199 on contract, with unlimited data and minutes, in order to formulate an opinion of the device that isn't tainted by AT&T.
My first and last personal HTC device was the original HTC EVO 4G, which was a great phone. However, since then, HTC's phones haven't had the same appeal, and I switched to Samsung's Galaxy S line and finally the Galaxy Nexus. While I prefer and use Samsung smartphones now, I was actually personally interested to see if HTC could make a comeback with their One X series. So, without further delay, let's continue on to my full review of HTC's flagship device.

Quick Specs
The AT&T HTC One X is nearly identical to the international version (other than the processor), and packs a decidedly impressive sheet of specifications. It all starts with the 4.7-inch 720p HD super LCD2 display with a resolution of 1280 x 720 and pixel density of about 312ppi. This is backed up by a 1.5GHz dual-core Qualcomm Snapdragon S4 processor, 1GB of RAM, 1800mAh battery, and 16GB of storage. All this gets packed into a frame that measures about 134 x 70 x 8.9 mm, and weighs only 130 grams or 4.59 ounces.
Cameras are a big feature of the One X, and HTC has put quite a bit of effort into making the camera on the One X one of the best on the market. The 8MP rear camera has a 28mm wide angle lens, BSI sensor, autofocus, a special HTC ImageChip, smart LED flash, 1080p video recording, HDR recording, f/2.0 aperture, and the ability to take high quality images while recording video. The front camera is more basic, but still impressive with 720p recording for video chat and other functions.
The One X is also loaded in terms of connectivity, and includes NFC, a g-sensor, ambient light sensor, digital compass, proximity sensor, gyroscope, Bluetooth 4.0, Wifi B/G/N, HDMI through the MHL port, dual microphones, 5 pogo pins on the back, and the standard 3.5mm headset jack.
Packaging
John actually covered the HTC One X unboxing on launch day, and you can see his unboxing video below. My opinions on the packaging are similar, and although the visual design could use some work, the box does its job in delivering the HTC One X all in one piece.
Hardware
Since I've been talking about how HTC has completely changed their vision with the HTC One series, I feel compelled to start with something of a disclaimer in this section. The One X isn't your standard HTC phone. It isn't much like the EVO 4G, Rezound, or Incredible; even the Sensation isn't really too similar. Yes, the same HTC design cues are all there, but the One X is really an entirely different beast.
The main component of the new One X design is the unibody polycarbonate casing reinforced with metal, which gives the device its overall feel. I have to say, compared to Samsung's metal reinforced plastic, the polycarbonate feels much more high quality. The soft touch finish feels great and provides just enough grip, and the smooth curves and transitions across the entire device make it feel like a luxury product. Interestingly, a couple of my iPhone using friends commented on how "feather-light" the One X was for its size, although they also said it didn't feel as solid or high quality as the iPhone. I have a feeling that a device as light as this one never will though, because much of the iPhone's sturdy feeling comes from its weight.
That shouldn't really be a problem though, as the One X is put together very solidly and doesn't flex or bend at all. It doesn't have the solidity provided by weight, but that is just fine with me. Even if it falls on the large side of smartphones, the One X is still comfortable to hold, as well, thanks in part to how light it is as well as its smooth curves.
Moving on to the device's ports, you can see that the back houses the speaker, five pogo pins, and the camera and flash. With the speaker, what you have is the standard speakerphone that works well enough for phone calls, but isn't adequate for music or podcasts for any amount of time. In-call volume is very good, and a welcome change from Samsung's quiet speakers, but the quality inherent with these small speakers means you won't be wanting to use it for anything other than calls.
Details on the camera can be found further on into the review, but the pogo pins are worth a mention now. HTC makes a few docks and accessories that use them, although it is worth noting that the AT&T pins and international pins are in different places, so accessories for one won't work with the other. Outside of HTC's accessories, pogo pins are a good thing to have on a device and have plenty of applications, especially since the One comes with five and should be able to do video out through them.
Moving around the device, you will find that the top is probably the busiest side in terms of ports and buttons. From left to right you have a microphone, 3.5mm headset jack, microSIM card tray, and power button. The headset jack is self explanatory, but the SIM tray is a bit odd. In order to extract the SIM, you have to use a provided tool to push into the hole next to the tray. I don't know about anyone else, but I'm fairly sure that in regular use I would lose that tool quite quickly. Fortunately, any small pin should be able to get the SIM out, but the design still isn't ideal.
I don't have any complaints with the power button other than the feel is just a little bit too soft and squishy. It is raised enough to be easy to find and is in the standard position on the top of the device, but the tactical feedback just isn't quite enough. It hasn't really caused any problems in use, but it would be nice if the button had just a little more feedback or click when pressed.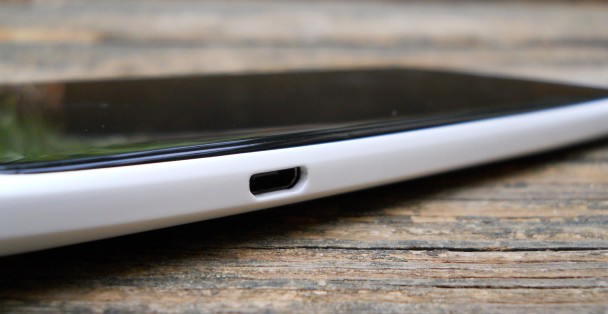 On the top left side of the phone you will find the microUSB MHL port, with nothing else to clutter up the left side. While the placement (about three quarters of the way up the device) does seem a little odd, it doesn't cause any problems. In fact, because the power button is on the side it is possible to have the device propped straight up while charging even without a dock, which wouldn't be possible if the port were on the bottom.
The right side of the device houses only the volume rocker, almost directly across from the microUSB port. Overall, the volume rocker worked fine, but the same complaint I have with the power button also applies. Compared to my Galaxy Nexus, the buttons don't have enough resistance and click when pressed, and are just a tad too mushy.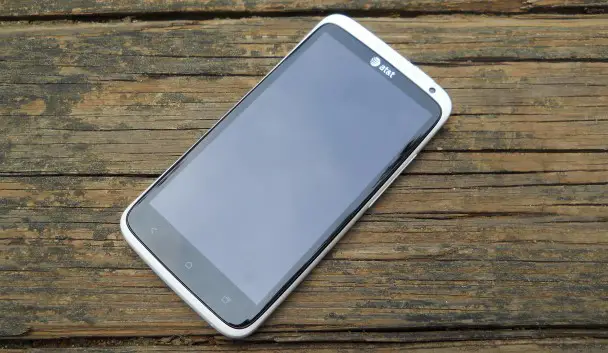 Since there isn't anything on the bottom of the device, we can move right along to the front. Obviously, the main attraction here is the glossy black glass covering the display. I've seen and use a lot of black slabs, but this one is slightly different. Instead of being perfectly flat, the glass is curved towards the edges, and even appears to have a bit of the "contour" effect found on the Galaxy Nexus. There aren't any sharp edges, and the glass very smoothly transitions into the bezel. Along the bottom, you can see the three capacitive buttons that HTC included, and while it got rid of the menu button as Google suggested, it still hasn't totally transitioned to software buttons like those on the Galaxy Nexus. I don't mind the hardware buttons on the One X, as they blend in nicely and add to the look, but it would be nice if HTC complied with Google's suggestions, if only to unify Android device design. Additionally, I did notice the tiniest bit of light bleed from around the buttons in dark conditions, so they aren't quite perfect.
Finally, on the top of the device you will find a single subtle AT&T branding, the front facing camera, and what appear to be a laser etched grille for the speaker. Needless to say, this precision and simplicity only serves to compliment the One X's already excellent design, while still allowing the speaker and front camera to function properly. In addition, HTC has included a welcome notification light behind the speaker grille, which can't be seen when off but shows up easily when on. It's a simple touch, but one that adds a very nice additional feature to an already great phone.
Even if my iPhone-using friends disagree, I have to use the old phrase that the HTC One X "oozes quality." The unibody casing looks great, has a great in hand feel, and is very light. On the front of the device, the glass blends almost seamlessly into the white bezel, and everything looks like it was carefully designed and built. I certainly haven't  extensively used all of the other HTC devices, or even the Galaxy SIII, but I still have to say that the HTC One X, in terms of hardware quality and design, is HTC's best smartphone ever, and also one of the best designed Android handsets on the market today.
Screen
I know this is something of a cliche within reviews, but if I had to pick one word to describe the HTC One X's display it would be stunning. Were I to pick more, they would include beautiful, dazzling, brilliant, gorgeous, impressive, sensational, spectacular, striking, and impressive. I can't even begin to emphasize how good this display looks in person – it's so good that I stopped for a good thirty seconds when I first turned the device on just to look at it.
Beyond just general feelings, the specifications of the One X's display also suggest a top notch panel. The 1280 x 720 resolution on a 4.7-inch display affords a 312ppi pixel density, to my eyes indistinguishable from the iPhone's 326ppi. Colors on the One X are a bit more muted and natural than on Samsung's Super AMOLED displays, but the brightness is much better. I'm not sure exactly how to describe it, other than AMOLED displays are darker with vibrant colors, whereas the LCD2 display on the One X is much brighter with more muted colors.
Another thing that makes this display look so awesome in person is that the image almost appears to be floating above the display. Other reviewers have said it, and I didn't believe it. Nevertheless, although it is hard to explain, that perception holds true in person; another way I might describe it is that it looks almost like there is a high-quality printout of a screenshot on a demo device, or that the display almost manages to look like a magazine page. It is that good.
The only place that the One X display has any problems is with blacks, and that's only because it isn't a Super AMOLED. The One X has very good blacks, but they simply aren't the same as the true blacks on AMOLED displays. In regular use though, this isn't a problem at all, and just for comparison the One X display makes the 720p AMOED display look downright poor most of the time.
Software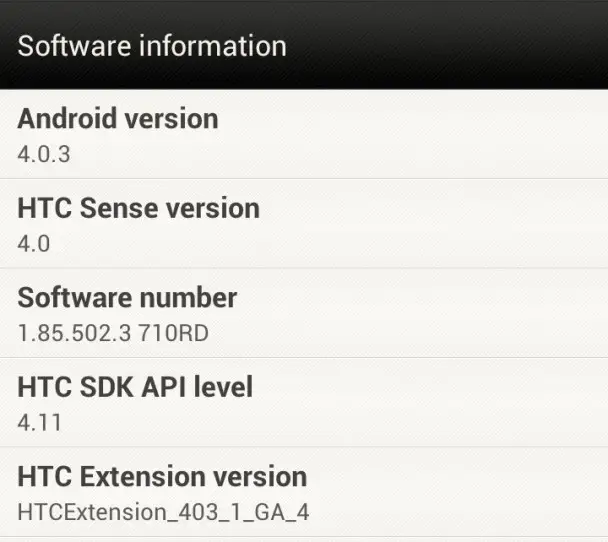 The One X comes with Android 4.0, but unless you keep up with Android versions and update news you wouldn't know it. That is because the One X also ships with HTC's (in)famous custom skin, HTC Sense. However, Sense 4.0 is quite a bit different from many previous versions. HTC's changes have been toned down ever so slightly, many things have been redesigned, and more of Android 4.0's features are allowed to shine through.
Let's begin with the lockscreen and homescreen. Interestingly, the lockscreen on the One X is one thing that is actually quite similar to past HTC Sense versions, such as those found on the HTC Sensation. The Sense 4.0 version, however, has been improved with some more behind the scenes features. You can still drag apps into the ring to launch them (the app choices seem to be linked to the homescreen dock), and the music control functionality has added compatibility for most players, including Google Play Music and Pocket Casts. Calendar notifications also display well, with the option to dismiss right on the lockscreen.
The homescreen in Sense 4.0 has been toned down a bit, and has a more traditional style launcher dock at the bottom of the screen. It performs much like the stock Android launcher, and you can create folders by dragging icons over each other, change the wallpaper by long pressing, and move widgets around by pressing and holding. The widgets can be added through a "Widgets" section in the app drawer, a change that comes with Android 4.0. A small but nice feature that I would like to point out is the color changing notification bar, which is semi transparent and changes to blend in with whatever wallpaper you have. It looks great, and adds a nice touch of style to the homescreen setup.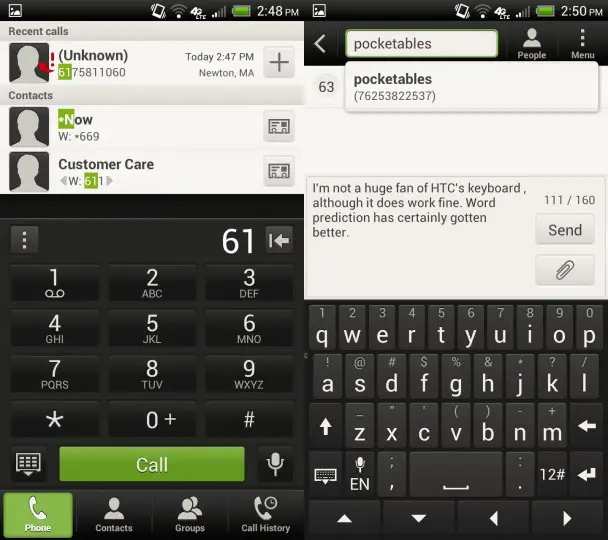 HTC's dialer looks a bit bland, but functions quite well with recent calls, easy contact search, contact lists, and call history. I didn't really have any problems, but I also didn't find any nice time saving features. Basically, you have a themed version of the dialer that works as you would expect it to.
I can't say I really like HTC's keyboard, although I also didn't find anything wrong with it. It works fine, but I am used to the placement of the stock Android keyboard, and I think that the directional arrows along the bottom waste valuable screen space. I'm also not a big fan of the default vibration on every keypress, but fortunately that can be changed easily enough with a setting. I do have to say that word prediction and correction has gotten much better, and with the current keyboard it is much easier to type fast and just let the keyboard correct for you.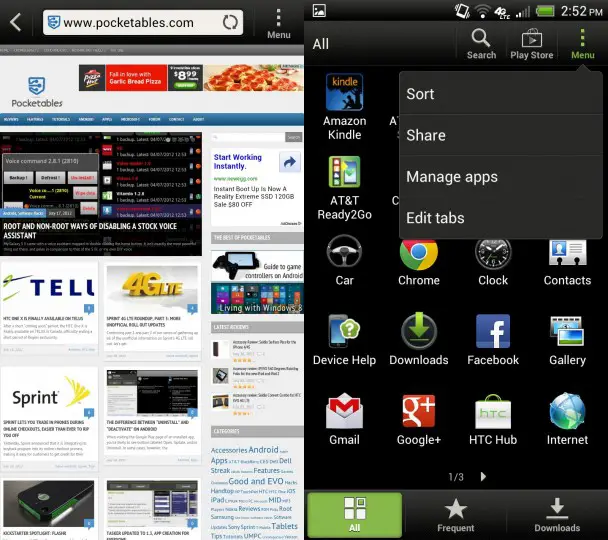 During my use, the browser in Sense 4.0 worked quite well, loaded pages quickly, and seemed to work properly. Unfortunately, it did have one fatal flaw that caused me to quickly switch to Chrome for heavier browsing. Unless I'm missing an easy shortcut, accessing the open tabs requires an extra tap on the menu button in the corner, and although it doesn't seem like much, it made my experience with HTC's browser feel clunky. As far as just loading pages, it is quite quick and works well, but navigation falls a little short. I do, however, like that the browser goes fullscreen, unlike Chrome and most other Android browsers.
The app drawer, which you can see to the right, has been changed from the past vertical scrolling to Android 4.0's new horizontal scrolling. HTC has actually added extra customization to this drawer, and allows users to change and customize the bottom tabs, as well as the sort order for applications. (In stock Android, alphabetical is the only option.) I didn't really get into the customization, but it is nice to know that the options are there, and I actually may like HTC's app drawer a bit better than the stock Android offering, something that usually isn't the case for me.
The gallery software in Sense 4.0 is full of plenty of visual flair, but mostly just works as it should. Albums are sorted into stacks, and within albums you can easily select or slide through images. Basic functions like the universal share menu are built in, and there is even a basic image editor which allows you to crop and add some effects.
I'll talk more about the camera software in the "Camera" section below, but it makes sense to also mention it here with the gallery app. As you can see, the software is quite simple and straightforward, and I like how it utilizes the entire screen to display the image, unlike stock Android. The only real complaint I have is that, due to the simplicity of the camera display, it is a bit difficult to switch between the front and back cameras. I don't think an extra button for that would have hurt, but otherwise HTC's camera software looks pretty good.
There have been quite a few complaints about HTC's multitasking system on the One X, but I can't say I really have any. I can tell that it is a slightly different implementation than on my Galaxy Nexus, because there is just a touch of lag when resuming apps, but other than that I have found no practical difference. If there is something wrong with HTC's multitasking software, then I can't find it, unless the way the recent apps gallery shows only three apps and looks a bit odd is a problem for you.
The notification bar in Sense 4.0 is quite interesting because it has been toned down from previous versions of Sense. Gone is the scrolling list of recent apps, and gone is the tab at the bottom with access to quick settings. Instead, there is a single shortcut to the main settings menu in the top right, and nothing else. There isn't anything wrong with this, and I actually somewhat prefer this cleaner look, but I do find it a bit odd that HTC removed features that were previously present.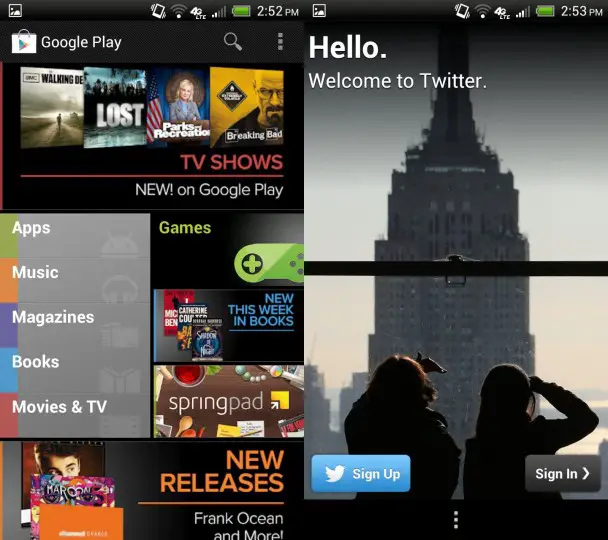 An interesting side effect of HTC's hardware buttons is how they handle apps that require a legacy menu button. John actually covered it in his HTC EVO 4G LTE review, but I figure it is also worth a mention here. In the image to the left, you see how menus are supposed to be handled now that Google has eliminated the menu button. On the right, you see what happens when an app that calls for a legacy menu button is run on the One X. Since it doesn't have virtual buttons by default, the software adds the virtual button row for a single button, which looks quite odd and wastes a lot of screen space.
I'm not against hardware buttons in theory, but now that Google has decided to go for buttonless phones, I think it would be nice for manufacturers to follow suit. It would help prevent ugly inconsistencies like this one, and hopefully convince app developers to comply with design guides as well. Until developers do so, however, apps that need a menu button are going to look a bit weird on your One X.
A bigger complaint about the software is actually partially AT&T's fault, and that is the bloatware. As you can see, the default homescreen configuration includes an entire screen dedicated to AT&T's services that I don't want or need. Sure, they can be easily disabled through the settings, but it is still extra work for the consumer to do. Not only that, through my use of the device I was pestered by update notifications for these apps, which required manual updates because of permissions changes. It isn't really a big deal to update an app normally, but I didn't really want to read the new permissions or manually update quite a few apps that I didn't even use. This may be a minor problem, but it is one of the main annoyances I found with the HTC One X's software.
Overall, I have to say that Sense 4.0 is a huge step forward from previous versions, and a much smaller step back from stock Android. Still, in my opinion, Sense is a step back, but that may just be because I have used stock Android for years. For any new user, past Sense user, or someone who is less of an Android power user, Sense 4.0 will be nearly perfect. I actually like some of the visual changes now that they are more subtle, and in some areas HTC has actually added functionality that wasn't there before. It isn't exactly my style, but I have to admit that HTC Sense 4.0 is nevertheless very good.
Performance
Although the AT&T One X may be powered "only" by a dual-core Snapdragon S4, you would never guess it based on the performance. I'm not the biggest fan of the Tegra line anyhow, and the new Snapdragon S4 benefits from better processor design and may even be better than the Tegra 3. Since most apps don't utilize even two cores, much less four, in my time with the One X the processor felt very snappy, and I don't recall any significant lag. However, if you're one who prefers benchmarks to personal experience, you can find plenty in the next section.
Benchmarks
As always, these are not necessarily any indication of real world performance, but are provided as an objective measurement to see how a device theoretically stacks up.
Quadrant
Vellamo
Linpack single and multi-thread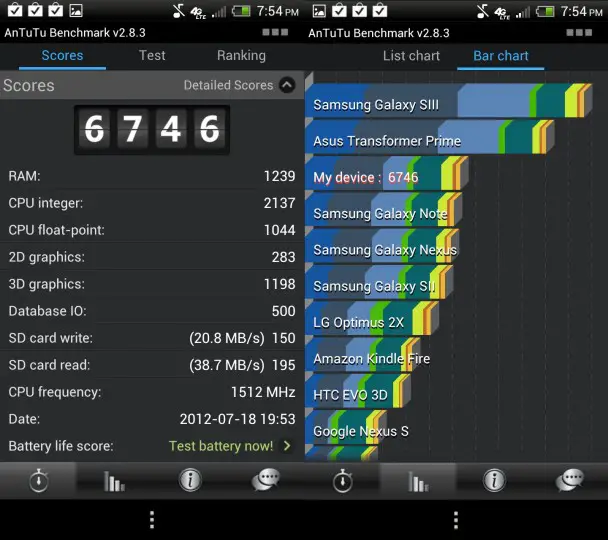 AnTuTu
Phone Calls
I often forget to even mention call quality in smartphone reviews, simply because there is so much else to talk about. But fortunately, since I remembered, the One X doesn't give me any reason to talk negatively about call quality. The rear speaker is plenty loud for speakerphone calls, the front speaker is clear and fairly crisp, and the microphones pick up my voice quite well. There were no complaints from people on the other end, and I even got one comment on how clear the microphone sounded. There also wasn't a single dropped call, even on long ones, and it is also worth noting that LTE still works even when in a call. I don't have any other AT&T devices to compare reception with, but nearly everywhere the One X has strong signal and makes clear voice calls and fast data connections.
Connectivity
Although they may not have the best off contract policy or prices, AT&T's voice and data networks both performed admirably in my use. AT&T is known for having the fastest 3G of any carrier, but that is pretty much old news now. Everywhere I went with the One X, AT&T had good LTE coverage, even going from Atlanta to Nashville. So as not to distort my view of AT&T's speeds, I didn't run a speed test until today. Subjectively, AT&T's speeds were quite fast, and websites loaded almost instantly. In fact, I don't think I connected the One X to WiFi more than a couple times, just because LTE was just as fast. Even Netflix streaming worked consistently, and HQ YouTube videos payed quite well. Regardless of speedtest performance, AT&T's data network will keep you connected just fine, and is just as fast and impressive as Verizon's.
WiFi signal is good as well, although not as strong as some Motorola devices I have used. Fortunately though, I never had any trouble with the WiFi connectivity problem that plagued some devices. Bluetooth 4.0 also worked as expected, although the phone did have a bit of trouble connecting to my Bluetooth car stereo and making phone calls.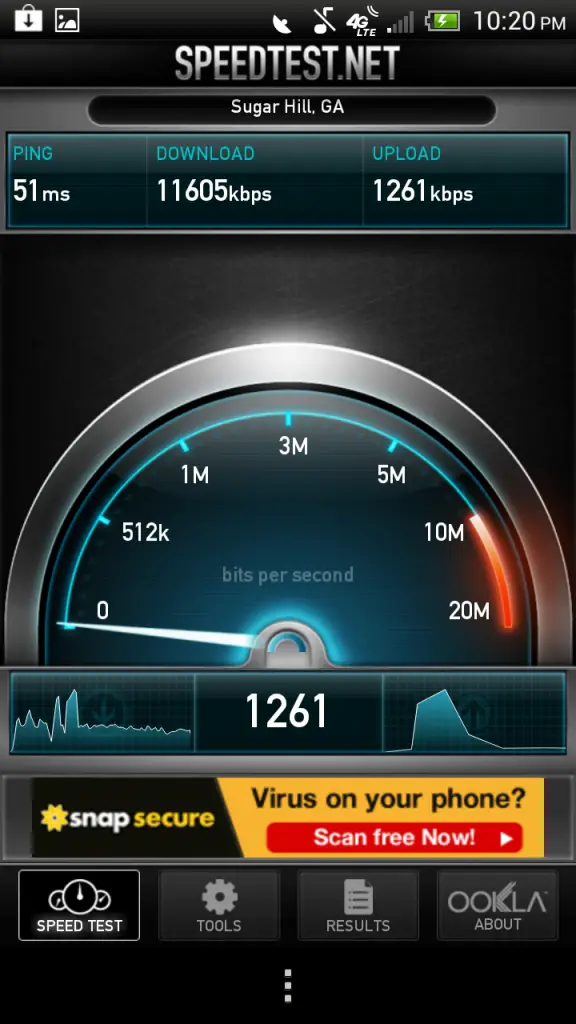 Camera
I mentioned before that the camera in the One X was one of the big selling points, and something that HTC spent a lot of time on. When you use the One X's camera, all that hard work and great hardware really shows.
To begin with, HTC's camera software is some of the best that I have used, and in some ways even better than stock Jelly Bean. The interface is beautiful, while remaining very simple, and yet there are plenty of settings to use if you need them. Burst mode is there to take quite a few shots in a short timeframe, Smart Flash software adjusts the flash based on distance, and there are numerous photo effects, settings, and video editing tools that are easily accessible through the menus.
The detailed hardware specs can be found above, but I did want to highlight HTC's ImageChip a bit more here. The chip is supposed to help keep everything in focus, whether shooting video, taking images, or both (which is also possible), and it seems to work great. It seems to basically take less effort to produce a good picture with HTC's camera hardware and software, as opposed to some other smartphones, where the settings and situation have to be just right to generate a good picture.
Still, the camera in the One X is still a smartphone camera, and doesn't have all the features or quality of even a normal point and shoot. However, I can't see a situation where I would carry both the One X and a point and shoot, simply because HTC has managed to make the One X so good that it wouldn't be worth it. Sure, there would be the occasional shot where the One X doesn't quite do it, but those times will be so few that it really isn't worth carrying around a separate gadget. If I want a really good photo, I'll grab the DSLR, but if not then the One X will certainly suffice.
Of course, images speak louder than words, so below you can find some unmodified (very large image alert) sample shots with the HTC One X's camera in various lighting which should give you more of an idea of the camera quality. (Click to enlarge)
Battery Life
After using some past HTC devices, my expectations for the One X's battery performance were fairly low. I'm sure many of you remember the EVO, and how it took about three spare batteries to make it through the day. Luckily, battery life is yet another one of the areas where HTC has reformed and improved their product.
During an average day with perhaps 20 minutes of calling, an hour or two of web browsing, a few 3D games, and some camera use, the1,800mAh battery in the One X performed quite well and made it to the evening with about 40% battery to spare. With heavier use though, battery life takes an understandable hit. In an evening of heavier camera use and LTE web browsing, the One X fell to the same 40% in about five hours.
Basically, whether or not the One X lasts all day depends on how you use it. I will say that standby time is good, and that overall the One X seems to be one of the longer lasting Android devices I have used. It certainly isn't the best, though, so while I don't think most users will be scrambling for the charger throughout the day, if you are a moderately heavy user, then you run the risk of the phone dying right around dinner time. This could be a bit of a problem because the One X has an integrated battery, which can't be replaced by the user. Still, I don't think most people will have trouble making it through the day; it's only if you really start to push the device that you may drain the battery. So, the One X's battery life will be perfectly fine for most people, but it isn't quite in the same long-lasting class as the Droid RAZR MAXX.
Below is a sample of what took up the battery during my heavy usage, but as always your results may vary.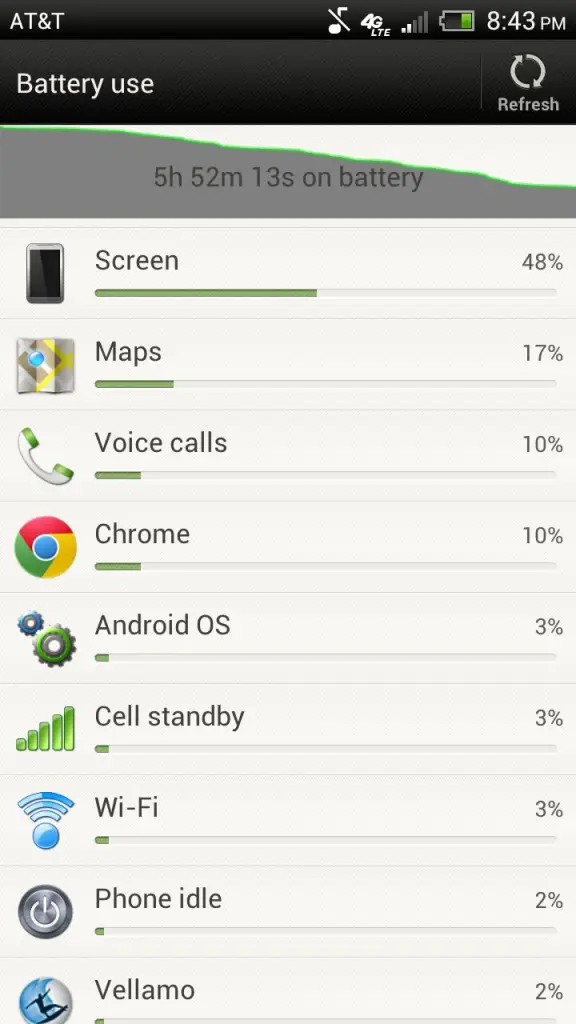 Conclusion
With the slight disclaimer that I have yet to use the Samsung Galaxy SIII, I have to say that I am fairly confident in saying that the HTC One X is the best Android device I have ever used. It takes the best industrial design I have seen in an Android device, and combines it with top-notch specs and the best version of HTC Sense yet, as well as an updated version of Android
So, why am I going to continue using my Galaxy Nexus and not buy an international One X? Well, I'm a big fan of stock Android, and I find it quite helpful to always be updated to the latest Android version quickly. Also, the Galaxy Nexus's sticker price of $350 is a lot easier to swallow than the unlocked One X price of about $650. If money were no object and the One X ran stock Android, I would pick it over the Nexus any day.
However, if you are in the market for a new Android device, the One X should be at the top of your list, and only challenged by the Galaxy SIII. I would have no reservations about suggesting this device or its variations to anyone as an example of the best of Android smartphones, and the only thing that would concern me for a minute is the fairly average battery life. While it won't power through multiple days, the HTC One X is by far the most sophisticated and polished Android device that I have ever used, and should please nearly anyone shopping for an Android phone.