Review: Verizon Samsung Galaxy S III
Perhaps the only smartphone to get close to the amount of hype that Apple gets every time they release a new iPhone was this year's Samsung Galaxy S III. Leading up to the announcement, there was quite a few rumors, a lot of speculation, and a good bit of unreasonable expectations. In fact, after the smartphone was finally announced, it even seemed as if some were disappointed by Samsung's offering, simply because it wasn't quite as revolutionary as the rumors had suggested.
However, while it may not have lived up to the excessive hype (and who could expect it to), the Samsung Galaxy S III is still an incredibly impressive smartphone. Along with the HTC One X, it can be considered the standard for the "best of the best" Android devices. I've been using a Verizon version of the S III (available for $199 on contract) for a little while now, and am thoroughly impressed by Samsung's smartphone. But, is this the Android smartphone worth renewing your two year contract for? And how does it compare to the similarly impressive One X? These are difficult questions to answer outright, but the full review that follows should serve to shed some light on the Galaxy S III itself, and perhaps even make it easier to compare to the competition.
Quick Specs
Nearly everything about the Galaxy S III is top of the line, especially the impressive specifications. For starters, the S III includes a dual-core Qualcomm snapdragon S4 processor clocked at 1.5GHz, paired with a massive 2GB of RAM. Then there's the impressive 4.8-inch HD Super AMOLED display with a resolution of 1280 x 720, 16GB of internal storage, 2,100mAh battery, and Adreno 225 GPU all packed into a frame 5.38 x 2.78 x 0.34 inches.
Connectivity includes the standard WiFi b/g/n, 3G, and microUSB hardware connector, as well as Bluetooth 4.0, Verizon LTE, NFC, gyroscope, and GPS. The S III also includes the cellular hardware necessary to work on many GSM networks, making it an effective world GSM device.
The S III includes two cameras,  an 8MP rear and 1.9MP front sensor. The 8MP rear camera includes quite a few nice features, including touch to focus, image stabilization, simultaneous HD video and image capture, and should theoretically be one of the best Android cameras.
Packaging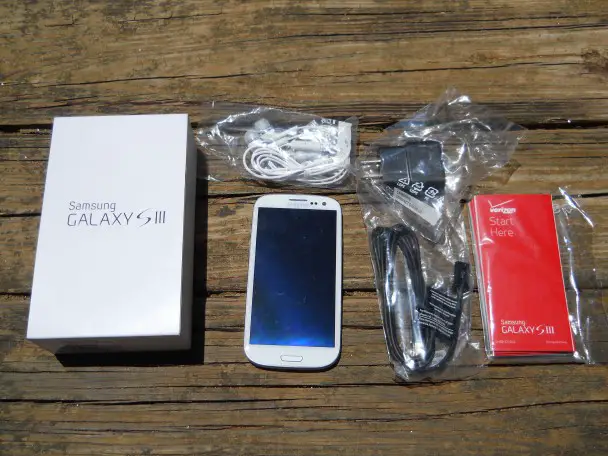 Both Calob and I have done unboxings of the Galaxy S III, and since the packaging seems to be the same across all versions, there really isn't much reason to go on about it. Suffice it to say that Samsung packaged the S III well, and didn't let the carriers ruin the look of their perfectly good boxes. It may be superficial, but the iPhone never has carrier branding on the box, while Android devices often do. As such, it is nice to see an Android manufacturer taking the time to put some thought into nice packaging, even if it is still just a cardboard box.
Hardware
Samsung has always come under a bit of fire for their smartphone designs, and have gotten a reputation for making "cheap feeling" or "plasticky" devices. And it is true that Samsung puts a lot of plastic in their phones, but they have good reasons and are getting better at hardware design with every device they release. This is why I decided to begin the design portion of this review with a small qualifying statement: Yes, the Galaxy S III is a traditionally Samsung phone, composed mostly of plastics. It still feels like a plastic device and is very glossy, so some people won't like it from the start. However, this is probably the best built plastic phone on the market, so if you can deal with the glossy plastic feel then you will be otherwise pleasantly surprised.
For example, I just want to start off by talking a bit about the glossy white plastic back cover that so many people seem to hate. I will admit that it does look a little cheap, attracts fingerprints, and doesn't have the greatest in hand feel. It isn't really bad though, and in the image above you can see why I think Samsung continually chooses to use plastic parts despite ridicule. I managed to bend the back cover so far that the ends were touching, and it simply sprung back into the proper shape when released. The iPhone's glass may be pretty and HTC's  polycarbonate may feel good in the hand, but I must admit that Samsung's plastic designs are very durable.
Getting back to the front of the device, as usual we have the massive 4.8-inch display as the main feature here. Especially on the side, the bezels are quite thin, making the phone remain fairly small despite its large display. Below the display, you have the oddly shaped physical home button and two Android navigation buttons. The home button has a satisfying click, but sometimes flexes, and makes noises that make it seem a little flimsy. It is good enough that I trust that the button will work for at least the term of a 2 year contract, but the design isn't perfect and feels just a bit flimsy.
The two capacitive Android navigation buttons are nearly invisible with the display off, but light up when the display is on. On the left, you have the menu button (which Google is trying to get rid of) and on the right, you have the back button. I don't mind the placement of the back button, but I really think Samsung should get on board with eliminating the menu button. Admittedly, they don't have any of the digital menu button issues found on the HTC One X, but I would still much rather have a multitasking button in place of the menu button on the S III. Not only does using the menu button feel like a step back from the interfaces on the One X and Galaxy Nexus, it is also keeping Android devices from having a standard control scheme, and doesn't motivate developers to update their apps to follow Google's navigation guidelines.
Moving to the top of the device, you have the phone speaker, light sensor, and front camera. The nondescript Samsung logo actually looks good, as does the slight silver speaker grill. I'm not so sure about the black dots that are the sensors and camera, but with a white devices there's really no way around that. As far as the speaker goes, it is plenty loud, and sounds good in calls.
I've already talked about the feel of the back cover, so here I'll just mention the camera, LED flash, and loudspeaker found on the top portion. The camera will be discussed in more detail later, as well as the speaker, but just know that the speaker is quite loud, and sounds surprisingly good for a small smartphone speaker.
At the top of the device, you will find the 3.5mm headset jack as well as the slight nick in the back cover that allows you to get inside the device. I'm partial to headphone jacks on the bottom of devices (a trend I think Samsung started), but this one is fine where it is as well. As far as taking the back cover off goes, you will almost certainly feel like you are breaking the device when you try it, but that is just the nature of this kind of setup. There's also a noise cancelling mic in the silver band, which although you can't see it, does a good job with making phone calls clearer.
The right side of the device houses the power button, in a spot just about where your thumb rests when you hold the device in your right hand. It might not be ideal for lefties, but I've become accustomed to this setup on my Galaxy Nexus, and actually prefer it to the top oriented power button on other devices. The power button actually feels more solid than the home button, and has a nice click to it when pressed. A flimsy power button is one of the things that really bothers me with a device (it might have to do with having to return multiple HTC EVO 4Gs with bad power buttons), but fortunately I have nothing to complain about here.
The bottom of the device houses a centered microUSB port, as well as the main microphone. I don't have much to say about the USB port, other than it works fine, but I would prefer if it weren't on the bottom of the device. It isn't a big deal, but I usually use a non-charging vertical dock to charge my smartphones, and when the USB port is on the bottom of a device I either have to charge it upside down, or risk stressing and breaking the USB connection. Realistically, though, this is a small complaint.
Finally, the left side of the device houses the volume rocker, almost directly opposite the power button. It has the same solid click as the power button, and if there's anything to complain about it's that the rocker is just a little bit too short. The angle in this picture doesn't help, but I would estimate that the volume rocker is no more than an inch long, which sometimes means that you may end up turning the volume the wrong directions a few times.
I should also mention here the silver band which runs along the edge of the phone. It isn't metal, but is finished to look like it, and I think it does a good job of making the S III look good. From the front, the silver band gives a nice contrast to the white, and just in general compliments the looks of the S III.
I have, however, heard that the Perl White is a cheaper looking color than the Pebble Blue, which has a metallic finish. I'm personally partial to white phones, but I can see how the brushed texture and look would work better than the smooth white plastic on my S III. Still, I have to say that overall, if you can get past the glossy plastic feel, the S III is a very well built device. There isn't any noticeable plastic flex like in some of the old Samsung devices, the buttons click nicely, and the smartphone actually doesn't feel like it is going to fall apart in your hand.
It may not feel as solid as some competitors, but it is also light, thin, and feels great in hand thanks to the rounded edges. I slightly prefer the feel of the HTC One X's polycarbonate, but Samsung has still done a pretty great job designing the Galaxy S III. So, while Samsung's design style may not be for everyone, if you like Samsung phones or can even tolerate the plastic look and glossy feel, then you will find the S III to be one of the more durable and best built smartphones on the market
Screen
I raved quite a bit about how good the display on the HTC One X was, and I'm about to do the same thing about the Galaxy S III. Unfortunately, I wasn't able to compare the displays side by side, but realistically that won't matter.
The Galaxy S III has a Super AMOLED HD display with a 1280 x 720 resolution, the AMOLED being something that is a feature of nearly every Samsung phone. Unlike the One X, instead of bright and clear whites, the Galaxy S III boasts pure blacks and vibrant colors. These pure blacks are great for quite a number of reasons, and loved by many including  Andreas. In fact, since the Galaxy Nexus comes with an AMOLED display, Google seems to have designed Android 4.0 to take advantage of that by making the notification bar and virtual navigation buttons blend with the body of the phone, and including many dark and black theme elements.
That doesn't mean that the S III's display isn't bright, though. In fact, compared to the AMOLED display on my Galaxy Nexus it is quite bright, and probably comes close to the impressively bright display on the One X. As far as colors, the S III is like any other AMOLED device in that they are very saturated and overly stated, but somehow that actually looks good with Samsung's interface. With a pixel density of about 306ppi, the Galaxy S III comes close enough to the iPhone's "retina" display, while boasting better colors, darker blacks, and being much larger. I loved the display on the One X, but I have to say that I have always been partial to AMOLED, and I think the S III's panel is ever so slightly better. I love the bright colors, the increased brightness has improved sunlight visibility, and the blacks are as good as ever. I won't go as far to as to say that it is the best display on the market, but the Galaxy S III certainly has the best, brightest, and most colorful display that I have ever used on a mobile device.
Software
Samsung has preloaded the Galaxy S III with Android 4.0.4 Ice Cream Sandwich, which is just one version behind the current Android 4.1 Jelly Bean. Of course, as usual they also included their own custom skin, TouchWiz. Unlike HTC Sense, which some users feel has added features since its inception, TouchWiz has traditionally been in the same class as MotoBlur: Just an extra layer of stuff you don't need on top of Android.
However, with Android 4.0 and the Galaxy S III, Samsung has made some big changes to their skin. It may not be to the liking of some users, but it is certainly much improved over past versions. Samsung's tones are slightly more understated, and Android gets to shine through just a little bit more.
Samsung has done quite a bit of customization on the lockscreen, however, and the Android ring unlock is nowhere to be seen. Instead, the entire lockscreen simulates a pool of water, and you can swipe in any direction to unlock it with a nice ripple effect. You can also swipe up from any of the icons at the bottom of the screen to launch the respective app, and missed calls or notifications will also show up on the lockscreen and can be opened directly. I'm not a huge fan of the swipe anywhere lockscreen, but it does have plenty of features and the eye candy is actually quite nice, even if the water sound effects get a bit annoying.
Samsung's TouchWiz launcher has been almost completely redesigned, and now has more of an emphasis on simplicity and empty space than the previous versions. In fact, I was actually pleasantly surprised by how smoothly it ran as well as how good it looked, especially considering previous TouchWiz versions. The launcher does include a subtle transition effect between screens, as well as an overview of all current homescreens, but overall the launcher has gotten much simpler and cleaner. As someone who always advocates for stock Android, I hate to say it, but I think I actually like quite a few things about the new TouchWiz launcher.
Being fairly simple, the TouchWiz launcher only includes most of the basic features. You can customize the dock and icons, as well as change wallpapers for the home and lockscreens independently. However, dragging two icons together to make a folder no longer works, and it actually took me a second to remember that I might need to use the menu button to perform that action. It would be nice if Samsung got with the times and did away with the menu button, just because it would make navigating different Android devices more uniform, but including it in the interface is simply a minor annoyance.
An interesting extra feature I found is that Samsung's share menu includes an option you don't normally see, namely WiFi Direct. Unfortunately, I was unable to test a transfer, but I am glad to see that catching on. In addition, Samsung also includes S Beam, which works via NFC. However, I was unable to use it to beam anything to my Galaxy Nexus, and my Galaxy Nexus didn't want to beam anything to the S III either. Maybe it's just a fluke, but Samsung straying from the stock Android Beam for no reason really wasn't a good idea.
Getting back to the more normal features, in addition to the homescreen I really like the customizable app drawer as well. The clear theme looks great, and the minimization style really compliments the rest of the OS and makes the app drawer very simple to use. Like most modern Android smartphones, the drawer scrolls horizontally, but unlike other Android phones scrolling through the app drawer simply loops you back to the beginning instead of bringing you to the widgets screen. If you want to add widgets, then you have to tap on the tab. Also, that little download arrow in the corner brings up a separate list of downloaded apps, which could be useful at some point.
All of the stock Android apps have been reskinned to fit the TouchWiz theme, so while all the functionality is still there, they do look a bit different. For example, the calendar clearly has a sort of physical leather bound "planner" theme going on, while the dialer has just been customized to fit the theme. Personally, I think the calendar looks too busy and the dialer is a bit ugly, but that is generally what happens with themes. I can see how the themes fit into the rest of the OS, so since they don't really seem to mess anything up, I would say Samsung has done a passable job at customization.
Some of Samsung's added features and apps include S Memo and S Voice. I can't really say that S Memo was very useful on a device without a pen, but it did work for the quick drawing or note. I don't really see much use for it in actual use, but others may disagree.
As many of you may know, I have been using and am quite impressed by Google Now. As such, I was prepared to be disappointed by Samsung's S Voice. I wouldn't go quite so far as to say that S Voice was in fact a disappointment, but I would say that it is quite underwhelming. It is much slower to recognize voice than Google Now, and it also doesn't return answers that are quite as good. Usually, it gets everything right, but without quite as much polish as Google Now. For example, if I ask Google Now if it will rain tomorrow, the voice tells me "yes, it looks like rain tomorrow" or "no, no rain tomorrow,' while with S Voice, I simply get "here is the forecast for tomorrow." I understand that S Voice was developed and released before Google Now was announced, but at this point I think it would just be better if Samsung updated the S III to Android 4.1 and exchanged S Voice with a skinned Google Now.
The notification shade on the S III has been lightly customized, mostly just by adding quick settings to the top. Interestingly, these quick settings include nearly everything possible other than WiFi. Instead, WiFi connection becomes an ongoing notification, but only when the device is connected. I don't really see the point of the notification when a toggle would work just fine, and the decision to separate out WiFi just doesn't make sense to me. Other than that, though, the notification toggles do add functionality, and notifications work normally.
In addition to the notification shade, the S III also includes an LED notification light on the top left of the device that lights up when you have a missed notification. This is a small but valuable feature, and very helpful in various situations. There is even a menu where you can customize the LED's behavior, although there isn't much in the way of options.
Samsung includes Swype as their default keyboard, and it works fairly well. It isn't too different from the stock Android keyboard, which I like, and also includes the traditional Swype functionality. Word prediction isn't quite as good as stock Android, HTC's keyboard, or SwiftKey, and got words wrong a few time in my use, but other than that the keyboard is quite good.
Also, as you can see above universal search was still working on my Galaxy S III as of today. I didn't get any updates while I had it, but for now the nice universal Android search is still installed and working fine.
Samsung's web browser is also fairly good, and has all the features you would expect. Basically, it appears to be a skinned version of the stock Android browser, with a different tab switching animation. Pages loaded quickly and displayed properly, and I didn't experience any problems. In addition, open tabs were easy to access via the button at the top right corner, something I complained about on the One X.
Multitasking actually hasn't been changed much from its stock form by Samsung, and the only additions are the Task manager and Remove all shortcut. Although I didn't have to use either, I can see where they would be useful, and since they don't seem to mess up the stock task switcher they might as well be left in place. I do have to say that I prefer the stock Android task manager, even the lightly customized Samsung version, to HTC's page switcher, simply because it works faster and, in my opinion, looks better.
Although I still can't say that I really like TouchWiz as a whole better than stock Android, I must admit that this version is much better than past versions, and actually improves the looks of stock Android in some places like the launcher, and occasionally adds functionality as well. I like the app drawer and homescreens, and while most of the app theming isn't my style, it isn't really a problem. I would still prefer stock Android personally, but I can finally see how someone might actually like TouchWiz and find it useful. Samsung has finally succeeded in making a skin that is fast, looks good enough, and adds features, and I am actually quite impressed. In fact, I think that Samsung may have done a better job with this version of TouchWiz than the latest HTC Sense. Regardless of which is better, the fact remains that TouchWiz has finally "grown up," so to speak, and should work great for a majority of Android users.
Performance
Once again, we find that the US version of a flagship smartphone ships with a dual-core processor while the international version gets a quad-core. However, that isn't a problem in actual use, as the S4 is extremely powerful, especially at 1.5GHz. Applications open quickly, transitions and animations are smooth, and loading screens are seldom seen unless there is something to do with the network. Partially, this is because many apps don't take advantage of two cores yet, let alone four, so the optimized Snapdragon's individual cores power through most applications.
Not only that, there are quite a few people who believe that the Snapdragon S4 dual-core processor is superior to many quad-core processors, thanks to better design. In fact, some benchmarks seem to confirm that theory. I can't say I've directly compared them, but based on the performance I have experienced, I can say that the dual-core S III is amazingly fast and should suit any user, and if someone were to claim that the S4 was also technically faster than the Tegra 3, I would believe them.
Benchmarks
For those who don't like anecdotal performance measurements, here are the standard Android benchmark tests.
Quadrant
Vellamo
Linpack multi thread (left) and single thread (right)
AnTuTu
Phone Calls
With any smartphone, phone calls often get overlooked because there is so much other stuff to cover. Of course, they are nevertheless an important part of buying a phone. Fortunately though, with the Galaxy S III you don't have to worry much about phone call quality, simply because it is good enough that it doesn't matter. Generally, you notice problems much easier than you notice good things. So, it should be noted that I never once had a problem with the S III's call quality, be it dropped calls, static, volume, others not hearing me or not being able to hear other.
Overall, the call quality on the S III was very good, aided by Verizon's reliable network. The earpiece speaker is clear and loud, and the loudspeaker is one of the louder ones I have heard on a phone. It certainly fills a small room, and while I wouldn't want to listen to music or watch TV with it, the sound is plenty good for phone calls. The dual microphones also work well cancelling noise, and any speech was always picked up and transmitted clearly even in noisy environments. As such, the phone function on the Galaxy S III is quite good, in that you don't ever have to worry about it. You won't have to strain to hear or talk or worry about dropped calls, so you can spend more time utilizing the many other features of the smartphone.
Connectivity
I've used quite a few Verizon devices, and their LTE performance and coverage has always been great. The Galaxy S III is no different, and Verizon LTE blazes through all kinds of tasks. Web pages load instantly, Netflix and YouTube streaming is clear and beautiful, and any other data service rarely has to buffer. Even regular 3G coverage and speed is good, thanks to Verizon's widespread and solid network here in Atlanta. Of course, once you switch to LTE, you won't ever want to go back to 3G unless you have to. In the screenshots below, you can see the reason why. Not only is LTE often faster than my home internet, it is often more reliable. If that isn't good performance, I'm not sure what is.
Samsung devices are traditionally known for having a somewhat weak WiFi radio, and the Galaxy S III is no exception. It shows lower signal than Motorola or HTC devices I have used, but fortunately manages to stay connected almost as well. In fact, it is even possible that the WiFi "bars" are misleading, as the S III seems to have very good wireless performance even when it says that the signal is low. Anyways, the S III does get better signal than my Galaxy Nexus, so it should be an improvement on something that already works fine.
Camera
I talked about the camera software in the software section of the review, but what about the quality of the images that come out of it? Well, I've never been much of a photographer, but I think that the camera on the Galaxy S III will suit even the pickiest smartphone camera users. It still won't replace a real point and shoot, but the Galaxy S III is about as good as it gets with regard to smartphone cameras.
Based on my limited experience with the iPhone, I would have to say that the Galaxy S III actually has a better camera. Bright light shots look great, landscapes turn out nicely, and even dimly lit shots manage to look pretty good as well, although low light is the one area where the iPhone may perform better. I was especially impressed with close ups, and while it's no macro lense, the S III's camera does a good job catching all the details. Of course, it makes much more sense to let the images speak for themselves, so below are some samples (warning, large images), starting with bright light, then moving indoors. (And yes, I do play that violin occasionally.)
Battery Life
Battery life was never a strong point for my Galaxy Nexus, but Samsung has historically been slightly above par in terms of how long their batteries last. With the 2,100mAh battery in the Galaxy S III, I expected a good bit of performance despite the large display, and I wasn't disappointed. The S III is estimated at about 12 hours of straight talk time, and about half that in constant use. I wouldn't doubt either of those numbers, as my results were almost as impressive.
I haven't yet found a good objective way to measure battery life, but I did subject the S III to my standard test of a day of my personal "average" use case, as well as a day of "intense" use. With average use, the S III was quite impressive, and ended a long 12 hour day with about %45 battery. Even with intense use, the S III was impressive, and managed to power through nearly 12 hours. As you can see in the screenshots below, the beautiful display eats most of the battery. Also, the graph on the left shows nearly six hours of intense use, with the screen on for quite a while, providing at least a bit of evidence for my claim of 12 hours of intense use.
Conclusion
I've been a long time user of Samsung smarpthones since the original Galaxy S, and my current personal device is a Galaxy Nexus. Still, I wouldn't consider myself a Samsung fan, as I switch smartphones often enough. Anyhow, my point is that when I first read about the Galaxy S III announcement, I was underwhelmed. On paper, the Galaxy Nexus looked close enough, and I didn't really think the S III was as big of a deal as some were making it out to be.
Those opinions all changed when I opened the box. Not only is this the best designed and built Samsung phone ever, it is also among the best of all smartphones in terms of design and looks. In addition, the hardware is top notch and fast as anything, the display is beautiful, the camera takes great pictures, and the software is in fact halfway decent. In short, this is one of the best smartphones I have ever used, and I only say one of the best because the S III isn't quite perfect. Personally, I prefer the design to the One X because it is light, thin, and looks good, but if you can't get over the glossy plastic look and feel, however, you're simply not going to like the phone. And really, the S III and One X are both good enough that something like that could be the deciding factor in a purchase. Still, whichever top Android device you decide to buy, you can't really go wrong. They all include great hardware and good software, in addition to plenty of additional features.
Getting back to the Galaxy S III, though, I just have to say this: While the design is a matter of preference, there is no way to argue with the beautiful display and snappy performance of the hardware. It has minor flaws, such as small software annoyances, and the glossy back cover. But these are just that, small. As such, regardless of your stance on Samsung smratphones or plastic phones in general, it is safe to say that the Galaxy S III is an extremely good Android phone, and among the three best smartphones on the market today.