SplashTop now gives existing users a free lifetime upgrade to Anywhere Access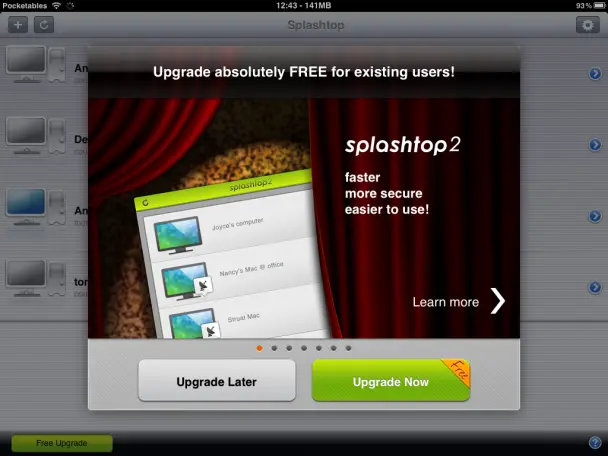 SplashTop is an app favorite of ours here at Pocketables, and is a success story in general when it comes to mobile apps. Starting out as a single $5 app, it has climbed to be many people's choice for remote computer access on both iOS and Android, with some devices even shipping with it, and multiple apps spawning from the original. The success of the app has perhaps made the developer a bit greedy though, with the main app now being $10, and some versions of it even reaching a $50 full price. As much as I like the app, I've not been happy with this development, and a while back I almost swore off the app when Splashtop 2 was released for the iPad, switching out the old, free, Google account-based login system for a proprietary one that charges you $10 a year to access your computer from outside a local network.
Apparently, I'm not the only one who had a problem with that particular "new feature". In what's nothing but a well formulated damage control email, Splashtop just announced a free upgrade to a lifetime Anywhere Access account for anyone using the service before the switch to the new account system was made. That might sound like a generous offer, but there are those of us who still remember back a year when Splashtop was starting out, and remember that the only reason it is where it is today is that it started out as such a cheap solution. The fact that it's using its position in the market to now raise prices at every chance possible isn't exactly what you would call being true to its origins.
Either way, existing Splashtop users should be able to open up the Splashtop 2 iPad app (Android versions of the new app are still in development) and either sign up using the information banner or log in to see if the lifetime access has been added, like it was for me. New users have the option to grab Splashtop 2 for a discounted $2 price celebrating the update launch, but remember that an additional $10/year comes on top of that if you want to leave your house.
Download: iTunes