Verizon Samsung Galaxy SIII unboxing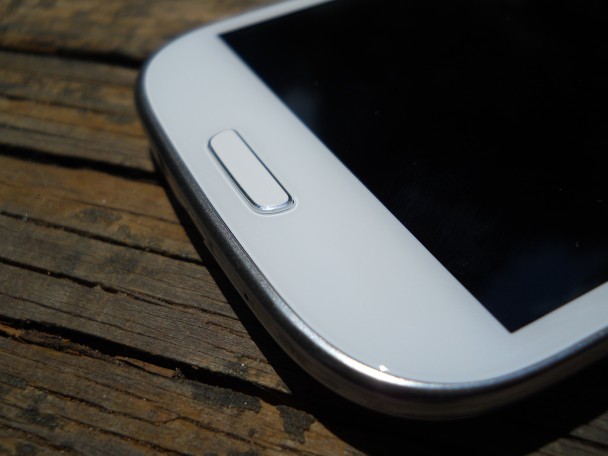 Calob got his Sprint Galaxy SIII last Monday, and did a nice unboxing of the Samsung smartphone. I wasn't planning on doing another for the Verizon SIII, but when I opened up the box I decided to for two reasons: First off, my Galaxy SIII is the white version, not "Pebble Blue," and I also have a slightly different preliminary opinion on the hardware. So, what follows will be my unboxing and first impressions of the white Galaxy SIII from Verizon.
Since the Verizon Galaxy SIII has packaging nearly identical to what Calob covered in his post, I'll skip describing it in detail. All I have to say is that I agree about the quality of the packaging, and that Samsung seems to have used some leverage to make sure all of its Galaxy SIII's were packaged well, without any extra carrier advertisements and such on the box. As far as accessories go, there's the standard USB/AC cable and start guide, but the included Samsung headphones are a nice extra touch. (Although I'll never use them.)
Here's a shot of the white back cover of the smartphone. Unlike the HTC One X, the back cover does come off and you can replace the battery and SD card. However, in order to have a removable battery cover Samsung obviously had to sacrifice the unibody casing found on the One X. Still, I wouldn't go as far as to say that it feels like a low quality or flimsy product. It certainly feels like a light and plasticky Samsung phone, and the back cover could do without quite so much gloss, but overall this is one of the best feeling Samsung Android phones.
Unlike some other Samsung smrtphones, the back cover doesn't flex, and the smooth curves make the entire device feel great in hand, almost like a smooth stone. (Perhaps that's where Samsung go the idea to for the Pebble Blue color.) The thinness doesn't hurt either, so while this is a fairly large phone it doesn't feel like a brick in hand. Samsung may have sacrificed some of the "quality feel" to make the SIII thin and light, but I think that was their goal from the beginning, and they have done a pretty good job with it.
As a size comparison, here's the SIII next to both the Galaxy Nexus and Nexus 7. It is worth noting that the SIII is the thinnest of the group, and that it is about the same size as the Galaxy Nexus despite having a larger screen. The rest of my Galaxy SIII review will be coming sometime later this week, so for now feel free to ask any questions you may have about the device in the comments below, and I'll do my best to answer them.