Would you pay for FaceTime over 3G?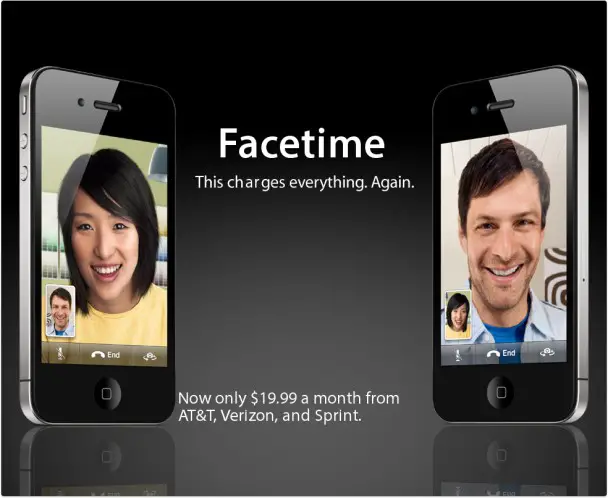 If you live in the US, you'll know that AT&T is one of our four major national carriers. And if you've ever had the chance to deal with AT&T, you'll also know that it's one of the worst.
Today, the company's CEO, Randall Stephenson, was part of the Fortune Brainstorm Tech conference in Aspen, Colorado. While on stage there, he was asked about the recent rumors regarding AT&T's possible plans to charge for Apple's FaceTime service when it's used over the carrier's network, a feature that was introduced last month during Apple's WWDC keynote.
The CEO was very coy about this potential extra charge, saying only that he's "…heard the same rumor…" and that "…it's too early to talk about pricing."
I think it's obvious that he was trying to keep the exorbitant prices a secret until his company is ready to announce them, but that brings up a good question: will anybody actually pay for the ability to use FaceTime over cellular data?
Personally, I never use FaceTime; the obvious answer for me is a big "no!" But I know there are quite a few people who do use the service to keep in touch with friends and family members who aren't close enough for face-to-face communication. It's a popular service – and that's exactly why AT&T wants to get started on monetizing it.
Of course, between capped data plans and lackluster speeds on iPhone hardware (due to its current lack of LTE), it seems like a moot point to charge for FaceTime. It's a service that requires fast bandwidth to work properly, which ultimately leads to its use of a lot of data – data that is capped by AT&T.
Skype and other video-calling apps should be taken into consideration, as well. Since FaceTime is an iOS-only service, it can only work with iPod touches, iPhones, and iPads. All of these devices – since they are running iOS – have access to Apple's App Store, which happens to contain a number of third-party video-calling apps. And if it's on the App Store, chances are that it'll be cross-compatible with most iDevices, so FaceTime can be replaced very easily.
Some of those apps even work over cellular data already, without AT&T or any other carrier affecting your bill.
With a variety of video-calling options available to iOS users, is there a need to pay for cellular FaceTime usage? FaceTime is a great service, but if it will save me money to use it on WiFi and another service on 3G, then I'm obviously going to do that instead of paying the monopolistic carriers any more money.
What will you do if AT&T (or your own iPhone-carrying carrier) decides to make you pay for cellular FaceTime access?
[
TechCrunch
]