Dropsync for Android update adds more sync methods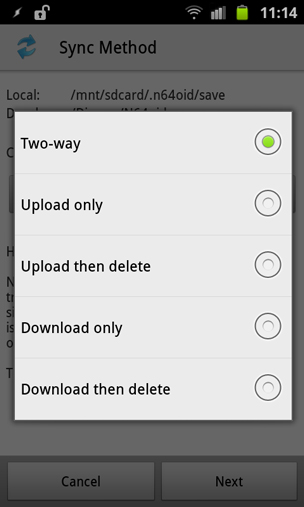 There are two apps that I would pay a lot to have on iOS: Tasker and Dropsync. Dropsync is an app that allows you to sync files on your Android device with Dropbox in ways that the official Dropbox app can only dream of. I use it for so many things, from automatically syncing both photos and screenshots from both my Android devices, to syncing backup files from apps, exported files from Tasker, text files that Tasker uses for things like my DIY todo list and online status update, save files for games, music, and so on. Dropbox owes the developer of Dropsync money, because it's the reason I use Dropbox and not Google Drive or something else.
Dropsync just got an update, and it's a good one. Dropsync's big strength is two-way sync, and now you can also use four other upload methods: upload only, upload then delete, download only, and download then delete. You can for instance create a "send to mobile" folder in your Dropbox using the #download then delete# feature, and have any files put in that folder essentially be moved to the device instead of copied. Another example would be to set your camera folder sync to "upload then delete," which would store the photo in Dropbox and delete it from your device- a great option for devices with little internal memory.
If you're an Android user with a Dropbox account, this is definitely an app you should try out.
Download: Google Play