Leaked ad outs the next Sony eReader, available in September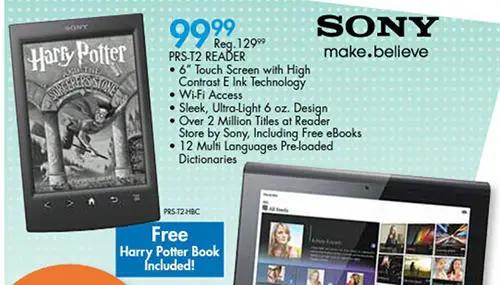 Sony's next eReader, the PRS-T2, will go on sale in September for $99.99 and will ship with a free Harry Potter ebook. It will have the same Pearl e-ink screen as the Sony Reader T1 that's in stores now, and will also come with a microSD slot, what looks to be touch-sensitive pads that will act as navigation buttons, Evernote Clearly (to save blog posts and news articles from your desktop browser to read later on the ereader), and Facebook integration. It will also most likely be running a heavily-skinned version of Android.
All of this is according to leaked images obtained by The eBook Reader blog. Unfortunately, while the images we've seen look legitimate, there's really nothing groundbreaking here. The device looks to be only a very minor upgrade from Sony's current product, and it doesn't really offer anything that will cause die-hard Kindle or Nook fans to think twice about their next ereader purchase.
Still, at the same time, competition is always a good thing. I'm glad to see that two manufacturers aren't completely dominating the ereader market, but I would have liked to see a bit more innovation – perhaps the first ereader to contain LTE connectivity, or an HD e-ink display. One can always dream, right?
[
The eBook Reader
via The Digital Reader:
1
|
2
]
Thanks, Nate!